The Cringeworthy Way Joaquin Phoenix Closed The Oscars Has People Talking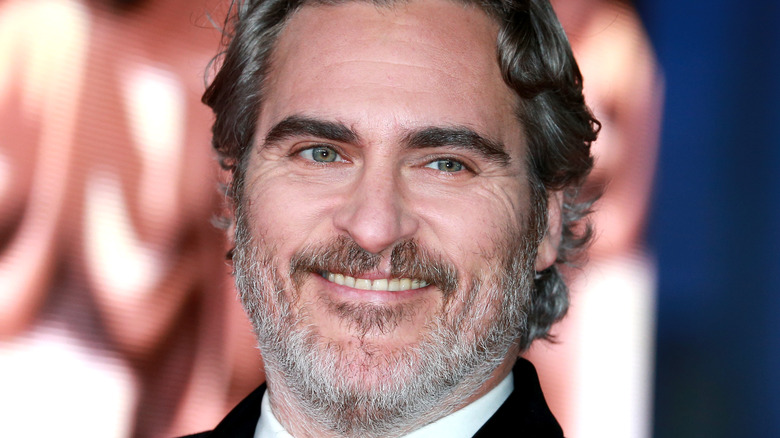 Shutterstock
There's really no other way to put it: 2021's Oscars ceremony completely jumped the shark. There are plenty of theories out there as to why the show's producers decided to try a lot of new things this year. The ongoing coronavirus pandemic is high on that list. But that doesn't quite excuse the debacle that viewers witnessed, particularly what happened right at the very end. This is the third year in a row that the awards weren't hosted by anyone, and the producers also opted to change the traditional order of the awards by giving out the prize for Best Picture third-to-last instead of at the show's conclusion. It turns out there might have been a bigger reason why they made that last choice, but it didn't pan out the way anyone planned.
Chadwick Boseman, whose death in 2020 shocked many, had been the expected winner of Actor in a Leading Role for his performance in "Ma Rainey's Black Bottom." As viewers saw, he didn't win, and the end of the show was confusing and chaotic. That confusion was aided and abetted by last year's Actor in a Leading Role winner, Joaquin Phoenix.
Many viewers were surprised when Anthony Hopkins won the award for Actor in a Lead Role over the late Boseman, especially since Boseman had been steadily winning at previous award shows, and his widow was in attendance and prepared to give a speech. Unfortunately, Boseman's loss caused the show to close out in a sobering, disappointing fashion.
Joaquin Phoenix didn't seem thrilled to be there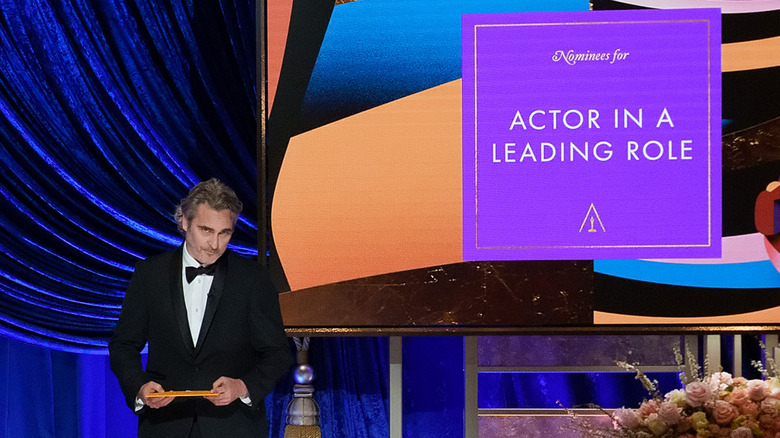 Handout/Getty Images
Per Vulture, "They trotted out last year's winner Joaquin Phoenix, visibly against his will, to mumble about what it means to be an actor before presenting the award to ... Anthony Hopkins, for 'The Father.'"
Entertainment Tonight noted that not only did Phoenix skip the red carpet, he also decided to wear the same tuxedo he wore at last year's Oscars. There could be a lot of reasons why he made these choices — the coronavirus might have had him nervous about crowds on the carpet, and maybe he's just thrifty — but his overall demeanor was off-putting. As BBC noted, "Never exactly Mr. Personality when he isn't in character, Phoenix muttered that he was supposed to talk about the transformative magic of the acting process, but he couldn't think of anything to say. Without introducing any clips or describing any of the individual performances, he went on to name the five nominees."
As one person noted on Twitter, "Truly the most spectacular anti-climax to an awards show of all time. Joaquin Phoenix doesn't want to be there giving an award to someone who isn't there. Like the ending of a New Hollywood movie from 1973. Perfect."