The Pause On The Johnson & Johnson Vaccine Has Been Lifted. Here's How People Reacted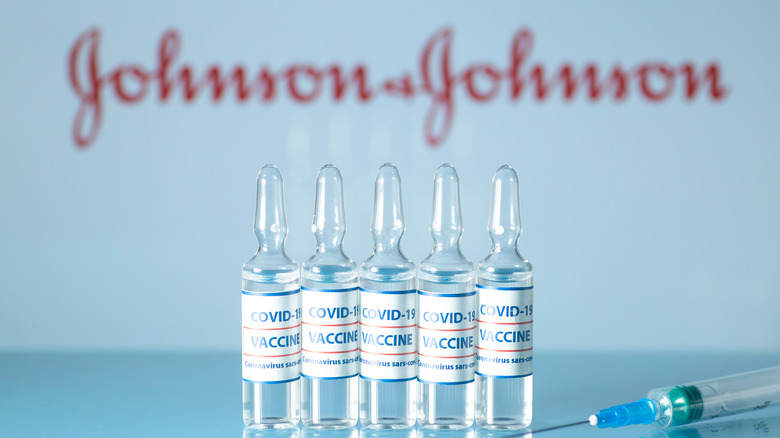 Shutterstock
Late last week it was reported that the Johnson & Johnson vaccine would be back in full effect, following a brief pause. The one-shot COVID-19 immunization was set to carry a warning for women under age 50, as they may be at risk for developing brain blood clots after getting vaccinated.
Now that the Johnson & Johnson vaccine has been reevaluated, with experts noting the benefits outweigh the risks — consider that only a small number of people developed blood clots out of nearly 7 million getting vaccinate — Dr. Anthony Fauci said, "people will realize that we take safety very seriously" (via ABC News).
But that does not seem to be the main takeaway from the reenactment of the vaccine, with Yahoo! reporting that a Washington Post and ABC poll shows a whooping 73 percent of Americans who have not yet been vaccinated say they would not get the Johnson & Johnson shot. Meanwhile, half of those surveyed said they thought the Moderna and Pfizer vaccines were safe.
The pause was a public relations disaster, yet a necessary one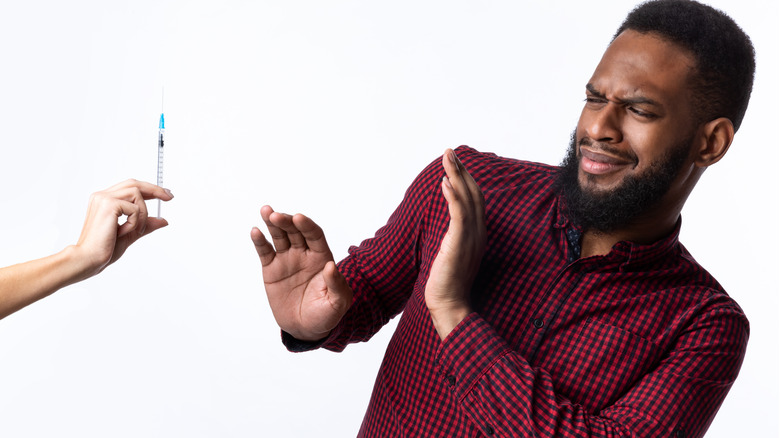 Shutterstock
To be fair, the poll that found nearly three quarters of Americans would not get the one-shot COVID-19 immunization was conducted before the pause on the Johnson & Johnson vaccine was lifted. But as The Washington Post reports, "broad mistrust" is a byproduct of the FDA and CDC's decision to take the vaccine out of the rotation for a period of time.
Now, some are wondering if the government did the right thing in pausing the vaccine in the first place, with vaccine expert Paul A. Offit opining, "In the name of transparency, in the name of openness, we scare people."
Of course, not telling the public about the serious, albeit rare, blood clots would have been seen as a coverup, notes The New Yorker. And, although the pause was ultimately a public relations nightmare for Johnson & Johnson, the outlet points out that the risk of contracting coronavirus still outweighs the very slim chance of having a serious side effect from a vaccine.