Inside Eddie Vedder's Relationship With Musician Beth Liebling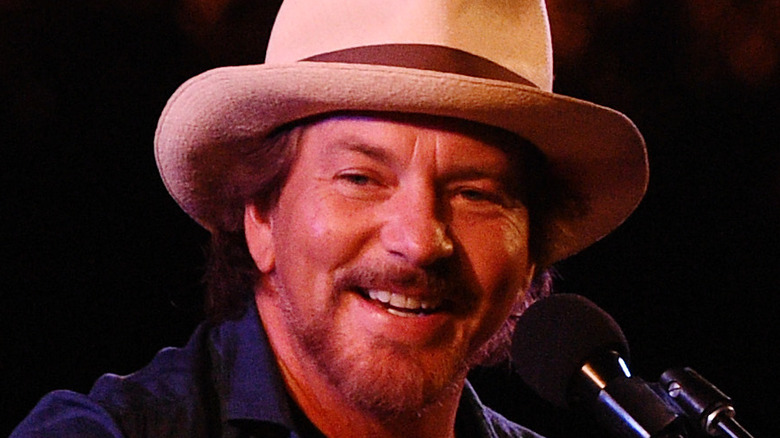 Kevin Mazur/Getty Images
Eddie Vedder, best known as the frontman and lyricist for Pearl Jam, has generally been quite private about his relationship with his first wife, Beth Liebling. The pair began dating as teenagers, both pursuing careers in the alternative music scene of the early '90s. While Vedder found success with Pearl Jam, Liebling co-founded Hovercraft, an experimental instrumental grunge band that, for better or worse, wasn't quite as palatable to mainstream audiences.
When speaking to the LA Times back in 1994, Vedder told reporters, " I think I'm probably a very difficult person to deal with....I think Beth has to deal with a lot. I don't want to get into our personal relations....But I just know that without her, I'd be a kite without a string–a nothing man." The pair were married later that year, though the phrase "Nothing Man" evokes the Pearl Jam song of the same name, about someone who has squandered the goodwill of the woman who loves him, which may have been unintentionally prophetic.
Vedder and Liebling divorced in 2000, a particularly difficult year for Vedder made harrowingly tragic by the Roskilde Music Festival where nine Pearl Jam fans were crushed to death in an overfilled mosh pit (via SPIN).
Eddie and Beth have been private about their relationship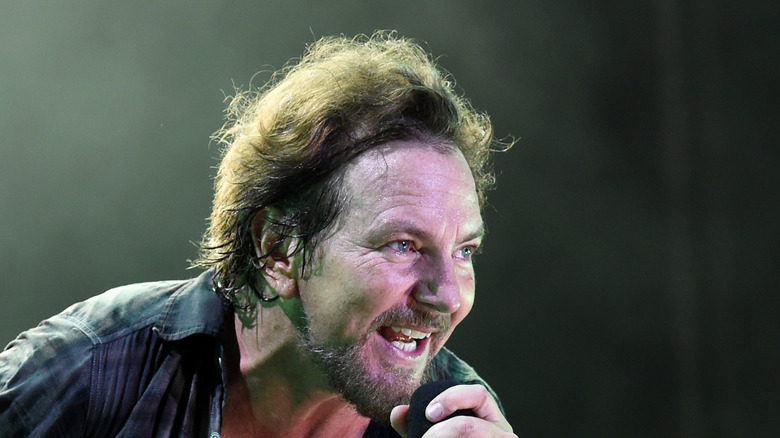 Kevin Mazur/Getty Images
In an interview with Rolling Stone, Eddie Veder wouldn't open up about the end of his relationship with Beth Liebling, but was described as devastated about the divorce, as well as the Roskilde tragedy. "You can imagine what kind of fetal position I was in," he recalled. "I just remember thinking that there was no way out. I was listening to 'The Who by Numbers' and there's a line in 'Slip Kid' – 'There's no easy way to be free.' I was thinking, 'I couldn't agree with you more.'"
Veder later married model Jill McCormick in 2010, and the pair share two daughters – Olivia and Harper – and their marriage seems to be a happy one. Meanwhile, Beth Leibling returned to music in 2015, playing bass and singing in the band Teleportal, which released its first album, "Devour," in 2019.
On May 8, VAX LIVE: The Concert to Reunite The World, a multi-channel pre-taped music event designed to promote worldwide COVID-19 vaccination, will feature performances from Vedder, Jennifer Lopez, Foo Fighters, H.E.R. and more, (via Global Citizen).