Who Is K-Pop Boy Band NCT 127?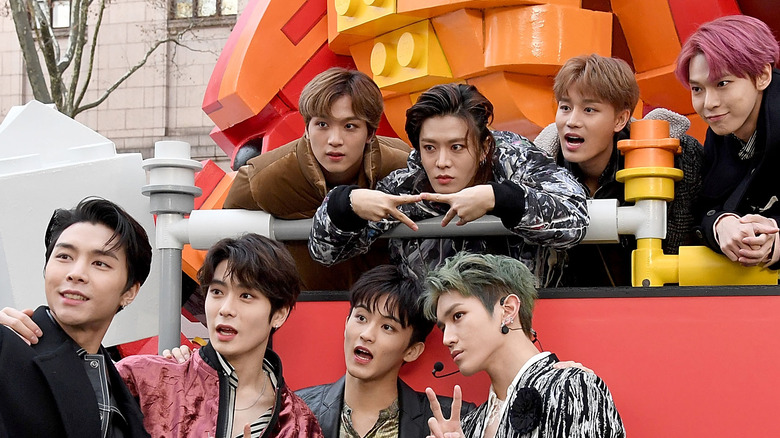 Kevin Mazur/Getty Images
Selena Gomez is set to host Vax Live: The Concert to Reunite the World, a concert aimed to encourage hope surrounding the COVID-19 vaccine, and NCT 127 is one of the many acts featured in the upcoming event. But who are they?
Two years after their English debut single, "Regular," the 10-member K-pop boy band, which was initially assembled in 2016 – Lee Donghyuck, Lee Minhyung, Kim Jungwoo, Dong Sicheng, Jung Jaehyun, Kim Dongyoung, Nakamoto Yuta, Suh Youngho, Moon Taeil, and Lee Taeyong – continues to make a name for itself with new singles, including "Kick It" and "Superhuman," while also touring the country.
While NCT 127's members aren't all based out of Seoul, Korea - with Youngho being born in Chicago, Minhyung from Canada, Yuta hailing from Japan, and Sicheng from China - Good Morning America revealed in September 2018 that Seoul is an integral part of the band's identity.
What does NCT stand for?
Andreas Rentz/Getty Images
According to a report from MTV News in October 2018, NCT stands for Neo Culture Technology, which is a concept from South Korean's biggest record label, SM Entertainment. As the outlet explained, the concept aims at localizing Korean pop bands with region-specific groups. And, when it comes to NCT 127, the band is the Seoul-based unit of the label. The "127" in the band's name is an indicator of the longitude of Seoul and there are 18 acts listed under the NCT fold.
The outlet went on to reveal that the phrase "culture technology" is a strategy put into place by the label's founder, Lee Sooman, and serves as a way to bring Korean pop music to the world.
When NCT 127 appears at Vax Live: The Concert to Reunite the World, the group will be performing alongside a number of big name acts, including the Foo Fighters, Jennifer Lopez, H.E.R., J. Balvin, and Eddie Vedder of Pearl Jam. The concert will air on numerous television networks and online platforms on May 8, 2021.