Justin Bieber's New Hairstyle Has The Internet Seeing Red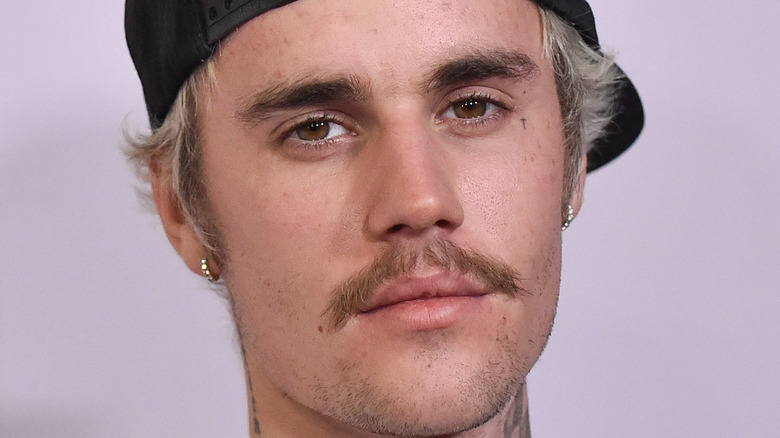 Shutterstock
On Sunday, April 25th Justin Bieber debuted a controversial new look on his Instagram account. In a series of posts including a poolside picture of him and his wife Hailey Bieber, a standalone slideshow of Bieber, and a selfie, Bieber revealed that he put dreadlocks in his hair. Dreadlocks have deep roots in black culture and are widely considered insensitive and inappropriate for white people to wear (via CNN).
It's important to note that this was not Bieber's first time sporting dreadlocks. In 2016, Bieber was accused of cultural appropriation when he wore his hair in dreadlocks to the iHeartRadio Music Awards (via Refinery29). After receiving criticism for his look, Bieber took to Instagram to share a post seemingly mocking the people that were against his haircut (via E! Online). In the video, he impersonated his fans saying, "'Dude, are you gonna do anything with your hair or are you just gonna leave it like that, dude?' Yeah, some girl came up to me, like, 'I love you Justin, but like, that's like my least favorite of yours.'" Though Bieber did eventually shave off the dreads about a month after debuting them.
Justin Bieber is wearing dreadlocks again
Justin Bieber's fans are very angry with the pop star for wearing dreadlocks again, especially after receiving such harsh criticism the first time. His Instagram photos showcasing the hairstyle are flooded with disapproving comments from his fans. One user in particular commented under his selfie, "literally what is wrong with you??? how do you make an album about justice? post about Black Lives Matter then turn around and post yourself wearing dreads???? I love you but this isn't right and you know it isn't."
Bieber has been very outspoken about the Black Lives Matter movement. He posted on his Instagram account in late 2020 "I want to use the platform I have to remind people that racism is evil and it is ingrained in our culture. I want my Black brothers and sisters to feel supported, seen and valued. If this bothers you I just want you to know I'm not going to stop talking about it. Ever." Bieber also used a recording of Martin Luther King Jr. saying "Injustice anywhere is a threat to justice everywhere" on the opening track of his most recent album "Justice" and included a track titled MLK Interlude, which drew a lot of criticism (via Billboard). As of right now, Bieber is continuing to share photos of himself on his Instagram account wearing the dreadlocks and is showing no signs of remorse for his cultural insensitivity.