What Should You Wear To The Kentucky Derby?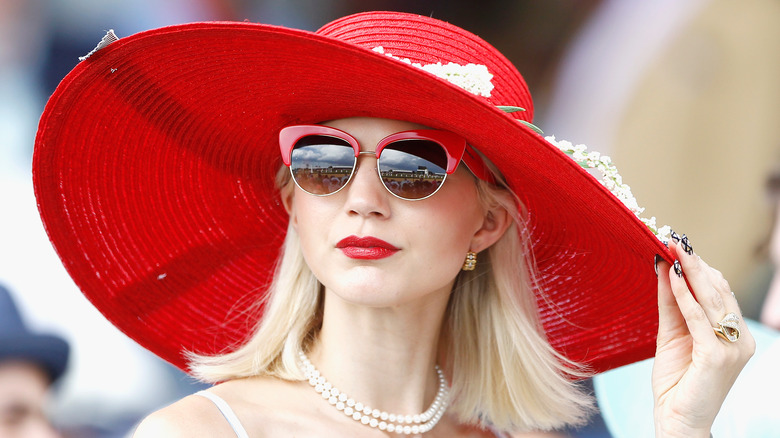 Michael Hickey/Getty Images
The Kentucky Derby – also known as The Run for the Roses — takes place on May 1, 2021 in Louisville, Kentucky, and everybody knows that even though there are horse races going on, most people are paying attention to the fashion. Kentucky Derby attendees are particularly known for their fancy spring attire and theatrical hats — a tradition dating back to the late 1800s, when the first-ever Derby was held. 
"In the late 1800s to early 1900s, hats signified a certain societal status," the official Kentucky Derby website reads. "But while the accessory became less fashionable over the next decade in society, it has remained a time honored tradition at the races until this day."
In order to appeal to women in its early days, the website added, the Kentucky Derby was marketed as one of the biggest fashion events of the year, and (obviously) still is to this day. And while the styles we've seen at the long-running sports event have noticeably ebbed and flowed with the fashion trends of each decade, those who are attending the festivities (or watching from afar) are probably wondering what the perfect Kentucky Derby outfit is.
What women should wear to the Kentucky Derby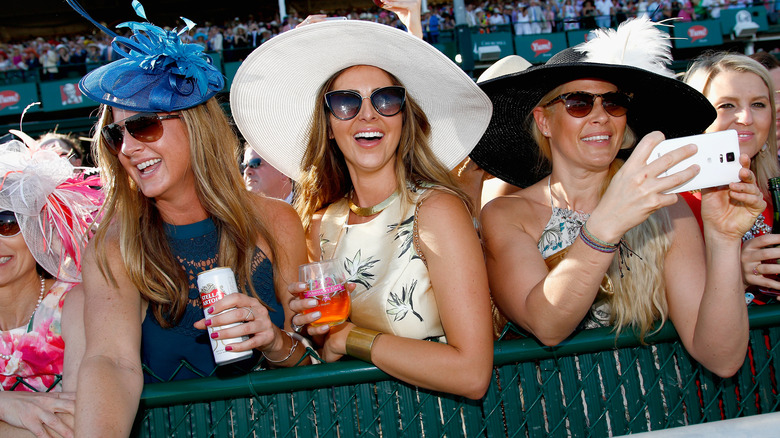 Michael Hickey/Getty Images
The unwritten rule of the Kentucky Derby — which costs more to attend than you think — is that you absolutely need to wear a hat — you'll stick out like a sore thumb otherwise and look wildly underdressed for the big event (via My Bucket List Events). Whether you want to go all out with feathers, ribbons, a wide brim, or a bright color, the good news is that you can tailor your hat to your specific style — there's no need to wear something you don't feel comfortable in or doesn't fit your aesthetic. You can even opt for something a little more subtle or chic — as long as you make sure your head isn't naked, you've already got part of your ensemble ready to go.
While many women opt for a spring dress — don't forget that an A-line dress looks good on everyone — women aren't technically required to wear a dress to the event. In fact, many women over the years have donned sleek pantsuits, full-length jumpsuits, and other alternatives in place of traditional garments. If you're lucky enough to be attending the Derby, you might even be rubbing shoulders with celebrities like Kim Kardashian, so you absolutely have to dress to impress. 
As far as shoes and accessories go, you'll want to wear chunky heels, wedges, or even flats, thanks to the cobblestone pathways and grass that make up the majority of the grounds. Pack a clutch and a bigger bag to carry a change of shoes and extra layers in case it gets cold.
What men should wear to the Kentucky Derby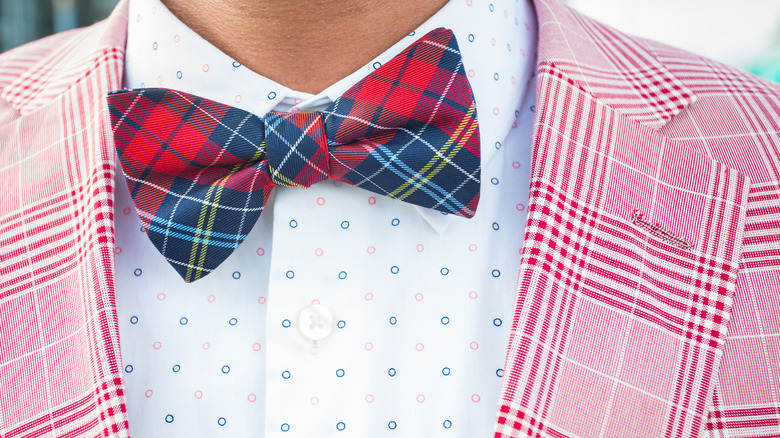 Shutterstock
If you're a guy who's been a little shy about showing off your love for pastels and patterns, then the Kentucky Derby is most definitely your time to shine. According to the Kentucky Derby's official site, men should opt for pants (or in some cases, shorts) in "sun-drenched, tropical colors in bold stripes or busy plaid and bright pastels." However, if funky patterns and colors aren't really your style, you can always go for a more classic look and rock navy, grey, white, or any neutral. Add a shirt in a pattern like gingham, and bring the entire look together with a suit jacket that plays into the patterns and colors you choose.
While hats are the most important part of every woman's outfit, guys should concentrate on finding the perfect tie — either a necktie or bow tie — and a sleek pair of dress shoes paired with fun, patterned, or pastel socks for an extra pop of color. Finish the look with a classic boater hat, and you've got yourself one fantastic Kentucky Derby outfit!
The most important thing to remember when dressing for the Kentucky Derby is to have fun with your style, and to wear an outfit that you not only feel comfortable in, but reflects your unique sense of fashion.