Meghan And Harry Just Made A Big Demand Of World Leaders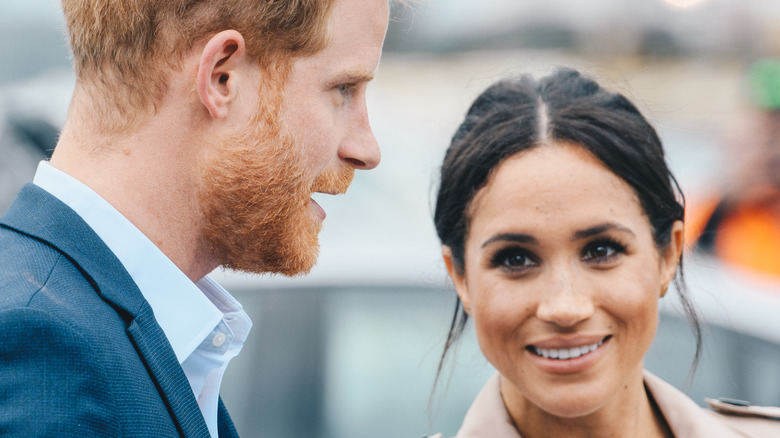 Shutterstock
Meghan Markle and Prince Harry may have stepped back from royal life and duties, but even while they're not technically working royals, they're still using their platform as global celebrities to reach out to the world's leaders about the ongoing pandemic. Specifically, the couple is asking world leaders to share vaccines with other countries in an effort to "recover and heal – together," per Daily Mail.
They're doing so as campaign chairs for VAX LIVE: The Concert to Reunite the World, organized by Global Citizen. The event, scheduled for May 8, 2021, will be hosted by Selena Gomez with performances by Jennifer Lopez, Foo Fighters, Eddie Vedder, J Balvin, and H.E.R. and appearances by Chrissy Teigen, Ben Affleck, Olivia Munn, and more. The goal of the event is to help get more people around the world vaccinated.
In a statement, the Duke and Duchess of Sussex called for vaccine equity across the globe, stating, "Over the past year, our world has experienced pain, loss and struggle – together. Now we need to recover and heal – together. We can't leave anybody behind. We will all benefit, we will all be safer, when everyone, everywhere has equal access to the vaccine. We must pursue equitable vaccine distribution and, in that, restore faith in our common humanity. The mission couldn't be more critical or important," (via The Guardian). This is, of course, not something that they can do alone. It requires the support of leaders worldwide.
Meghan and Harry are working to spread the vaccine worldwide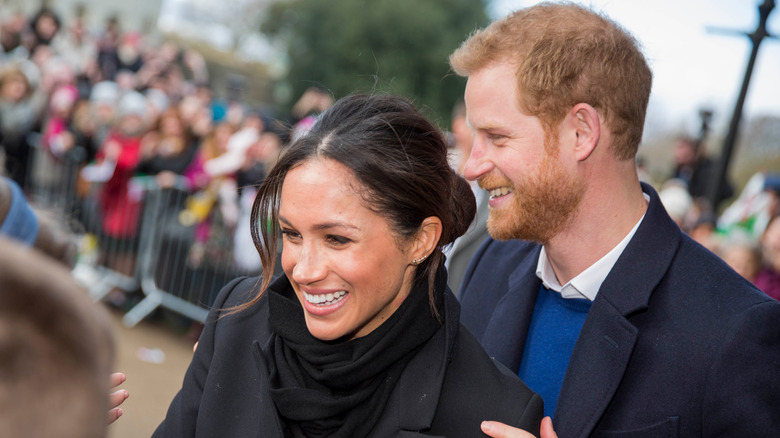 Shutterstock
The couple has also been working to raise funds for COVAX, a global initiative working towards vaccine equity that encourages pharmaceutical companies to offer vaccines at non-profit levels and wealthy countries to donate vaccine doses to lower income countries (via Harper's Bazaar). According to UNICEF, some 130 countries haven't been able to administer any vaccine doses within low and middle income countries most negatively impacted, (via NPR).
While not directly because of Prince Harry and Meghan Markle, President Joe Biden has pledged to help India, which is undergoing a drastic rise in coronavirus cases and deaths, with ventilators and other PPE, and he has also said the US would share up to 60 million AstraZeneca vaccines to other countries, (via The Washington Post).
In the U.K., the office of Prime Minister Boris Johnson, however, stated in March 2021 that the country didn't have a surplus of vaccines to be able at the time to share them with other countries, (via Reuters). However, the Prime Minister's Official spokesman, stated, "We committed in February to sending excess doses from the U.K.'s supply to the COVAX procurement pool and to countries in need once they are available," (via Daily Mail).