Who Is The Woman Behind Tristan Thompson's Alleged Latest Affair?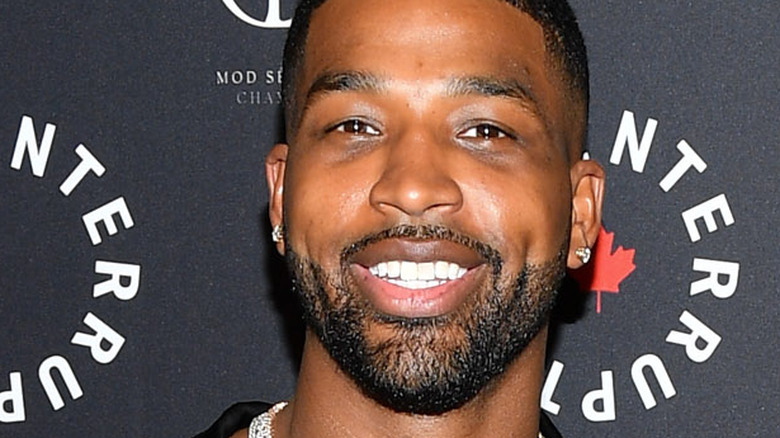 George Pimentel/Getty Images
Is Tristan Thompson cheating on girlfriend Khloe Kardashian again? The NBA player has been accused of being unfaithful to the mother of his child for the third time. Kardashian and Thompson began dating in 2016, and their relationship progressed quickly (via Us Weekly). By 2017, the couple announced that they were expecting their first child together, and that's when things got rocky. Just days before Kardashian gave birth to the pair's daughter, True, photos of Thompson kissing another woman surfaced online. The couple eventually split but reconciled months later. In 2019, Kardashian ended the relationship again after Thompson allegedly hooked up with a family friend, Jordyn Woods. In early 2020, the duo quarantined together, which reportedly helped to rekindle their romance. They were said to be fully back together, before model Sydney Chase brought forth brand new cheating allegations.
Chase claimed during a recent podcast interview that she and Thompson had been intimate multiple times in recent months (via Stylecaster). However, Chase says that she didn't know Thompson was cheating on Kardashian at the time of their fling. "I did not know he was in a relationship. He told me he was not in a relationship anymore," she admitted. In the aftermath of the interview, Sydney Chase is speaking out about the situation again.
Who is Sydney Chase?
Sydney Chase's name is making headlines after she claimed that she and Khloe Kardashian's boyfriend, Tristan Thompson, had an affair. Chase, a 23-year-old Instagram model, has been gaining fame on the social media app with over 22,000 followers, per The Sun. In addition, she's also a close friend of "American Idol" alum Erika Perry. Following the bold claims about Thompson, Chase took to TikTok to share an update on the situation (via Page Six).
"Yes the Tristan rumors are true. The last time we had contact — besides when he messaged me after finding out about the interview, it was the day after his daughter's birthday party," Chase stated. The model also apologized for sharing personal information about the basketball player during the interview. "That's not okay and I shouldn't have done that," she admitted. "In the interview, things got misconstrued while we were drinking. We first met [in] November — November 11th to be exact — and that's when everything started," Chase added. She also claims that when she found out that Thompson was still in a relationship with Kardashian, she ended their fling. While the latest cheating allegations are causing a stir across the internet, neither Khloe Kardashian nor Tristan Thompson have publicly commented on Chase's claims.