Botched Doctor Reveals Most Fatal Procedure In Cosmetic Surgery
Shutterstock
If you have ever gone under the knife or considered plastic surgery, chances are the risk of dying was not at the forefront of your mind. Unfortunately, as with any surgery, that risk exists, but it's typically tiny for most procedures (via Healthline). But, as doctors Terry Dubrow and Paul Nassif know, procedures can go south unexpectedly. 
During an appearance on Today with Hoda and Jenna, the pair discussed their E! series "Botched." The duo works to correct plastic surgery mistakes after people emerge from a cosmetic procedure that did not go as planned. Dr. Dubrow noted that uncertified and untrained doctors perform 50% of the plastic surgery in the United States, which is part of why so many people end up unhappy after going under the knife. 
The doctors spoke about various surgeries that people seek throughout the country and the world each year. While the majority of those surgeries end with positive results, some do not, and Dr. Dubrow told The Morning Show Australia that at least one procedure carries a much higher risk and fatality rate than others, like rhinoplasty and breast augmentations. This particular enhancement is the fastest-growing in the field of plastic surgery, which makes the fatality rate even more alarming. At least one out of every 3,000 people who underwent this procedure died (via Real Self), making it the most deadly.
Here's the reason why people still want this risky cosmetic surgery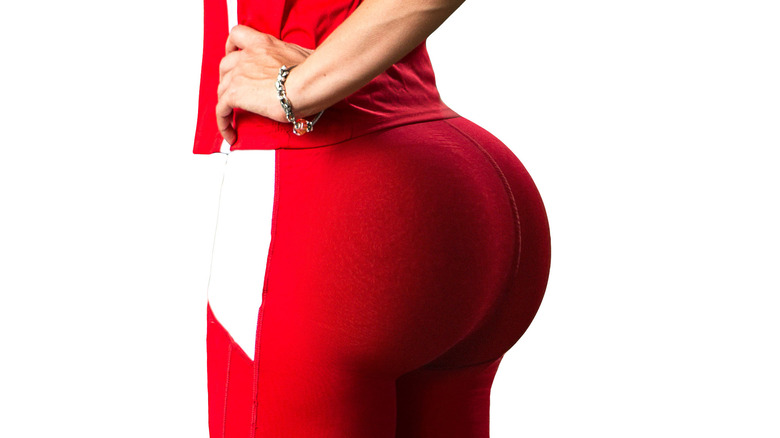 Shutterstock
The "Botched" reality TV star revealed that a widely popular procedure is causing life-threatening problems. "Unfortunately, the fastest-growing procedure still is the Brazilian butt lift — which is a buttock augmentation taking fat from one part of the body and putting it into the buttocks," Dr. Terry Dubrow told The Morning Show Australia. "The reason I say 'unfortunately' is because it turns out to be the most fatal procedure." 
Dr. Dubrow and his partner, Dr. Paul Nassif, told Today with Hoda and Jenna that they suspected that reality TV stars with enhanced backsides like Kim Kardashian and others helped drive people's increased desire to get the buttocks augmentation, which carries a lot of risks. Dr. Dubrow explained the reason why it can be more deadly than other cosmetic surgery. "There's a very short distance between the skin of the buttocks and the veins that lead back to the lungs. If you get fat into that vein, it can be very fatal," he said (via The Morning Show Australia). 
If you do plan to get a cosmetic procedure, Dr. Dubrow recommended ensuring that your physician is board certified. If you want to try the risky buttock enhancement procedure, be sure to discuss it with an appropriately trained doctor first to assess your risks.