Body Language Expert Noticed This About William & Kate's Anniversary Video - Exclusive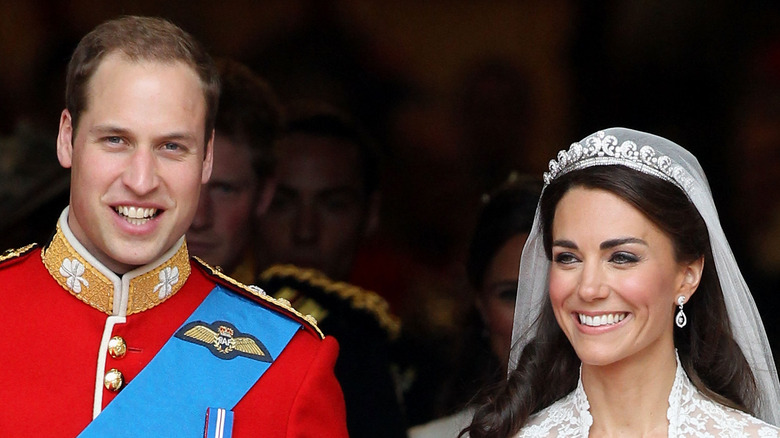 Chris Jackson/Getty Images
For their 10th anniversary, Prince William and Catherine, Duchess of Cambridge (or, Kate Middelton, if you prefer) have gifted us all with a glimpse into their family life. In a new Instagram video, signed "W & C," William and Kate celebrate their anniversary by walking through the UK's grassy, windswept hills and beaches with their three, laughing, slightly muddied children and highly energetic dog. In another shot, the future British monarchs are roasting marshmallows and sitting on hay bales. In a third, Prince George and Princess Charlotte are playing, gleefully on a teeter-totter. The video's landscape (as shot by British filmmaker Will Warr) would be reminiscent of the untamed countryside that Charlotte Bronte describes in "Wuthering Heights," except that the video is so chock-full of love that it can't be gloomy. 
It's nothing short of captivating, and body language expert Lauren Cohen, thought so too. Cohen, who is also an executive and career coach, sat down exclusively with The List to talk about what she saw in William and Kate's 10th-anniversary video. "Even if this is a highly choreographed video, there are still tells through facial expressions that reinforce that William and Kate have strong love and affection for each other and for parenthood," Cohen reflected. Cohen doesn't think much in the video was faked, either. Here's why. 
Body language expert calls William & Kate's anniversary video 'natural' and 'pure'
"What's beautiful about it is that no one is looking at the cameras and it is as natural as a video could possibly be in a situation like this," Cohen told The List. "The kids would balance better if they knew their way more and they retook this video 10 times, meaning it was a pure, brief snapshot." As short as it is, watching the video also gives us a solid idea about the Duke and Duchess of Sussex's family dynamics.
"The way Kate follows in the back and William leads from the front when they show the family walking beautifully demonstrates their positions," Cohen observed. "This is not to say Kate is always behind William but it shows that she makes sure everyone is safe and that the children are tended to. She basically always has his and the children's backs." For example?  "She's holding the little one's hand high and the way their fingers are intertwined shows their connectivity. The lifted arms also give him a sense of pride and encouragement and empowerment," Cohen says. 
Followers of the royal family might recall that William and Kate courted for a long time before tying the knot. Photographer, Arthur Edwards, recalled to Vanity Fair that "I asked William why he waited for so long to make it official and he told me he wanted to be sure." If their wedding anniversary video is anything to go by, neither have looked back since.