The Heartbreaking Death Of Kirk Douglas' Wife, Anne Douglas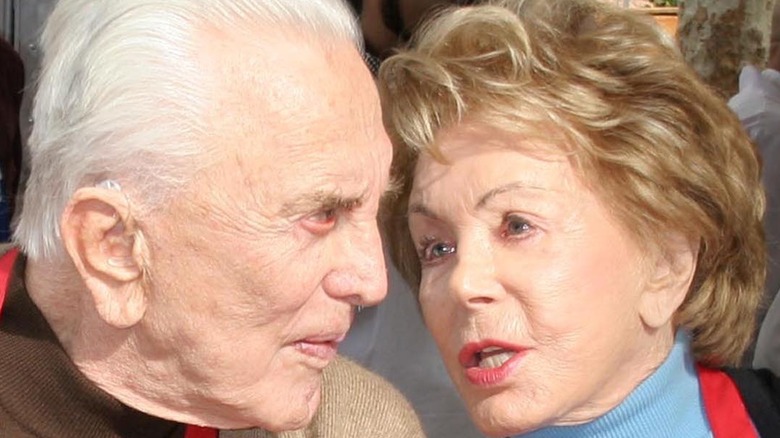 Shutterstock
Anne Douglas, widow of iconic Hollywood actor Kirk Douglas, has died. Her family confirmed the news, on April 29, sharing, "It is with great sadness that the Douglas family announces the passing of their matriarch, Anne Douglas, peacefully at home in Beverly Hills this afternoon at age 102," advised family spokesperson Marcia Newberger in a statement per The Hollywood Repoter.
As CNN notes Anne's death comes just a little over a year after Kirk, who was famous for his roles in "Spartacus" and "20,000 Leagues Under the Sea." He was 103 at the time. 
Kirk and Anne Douglas tied the knot in 1954, with two sons, Eric and Peter Douglas, following in the years after. Kirk had actor son Michael from a previous relationship; Anne was his stepmother. 
Anne worked prolifically as a philanthropist and publicist, and was well known and liked in Hollywood circles. In fact, that's how she met Kirk, her husband of 66 years, on a movie set in Paris.
Anne Douglas was a beloved philanthropist, publicist, and mother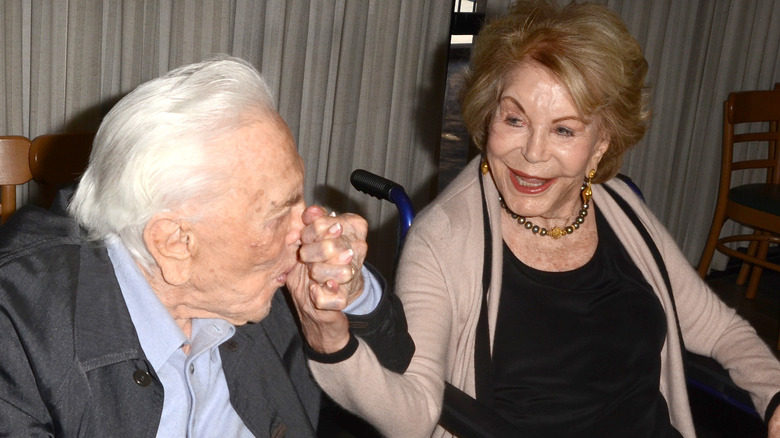 Shutterstock
As The Hollywood Reporter notes, Anne Douglas met her long-time husband, the legendary actor Kirk Douglas, in 1953 on the set of "Act of Love." Although Kirk was considered more famous, Anne enjoyed a fascinating career in Hollywood, as well. She started out as a location scout for director John Houston before transitioning to working as a publicist at the Cannes Film Festival and finally running Kirk's production company. She was well known for her philanthropic efforts, too, with the couple pledging $50 million to five non-profit organizations in 2012, through their foundation. They subsequently donated another $15 million just a few years later. 
When they first met, Kirk offered his soon-to-be wife an assistant job but she refused him. The actor reminisced, in their 2017 book, "Kirk and Anne: Letters of Love, Laughter, and a Lifetime in Hollywood," Anne "finally agreed to work with me on a trial basis, making it clear our relationship would be strictly business." 
However, they immediately hit it off, eloping to Las Vegas in 1954. Kirk's actor son, Michael Douglas, to whom Anne was a beloved stepmother, gave the following statement to People in the wake of her passing, "Anne was more than a stepmother, and never 'wicked.' She brought out the best in all of us, especially our father. Dad would never have had the career he did without Anne's support and partnership. Catherine [Zeta-Jones] and I and the children adored her; she will always be in our hearts."