The Truth About Miranda Kerr's Skincare Routine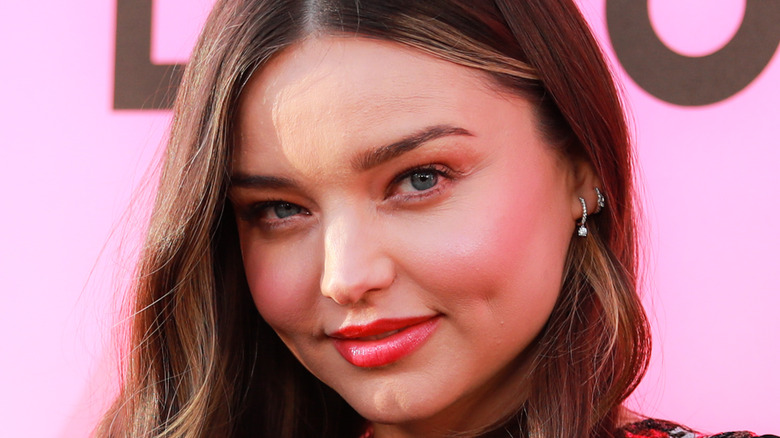 Rich Fury/Getty Images
There's more to Miranda Kerr than just being one of the most prominent supermodels in the world — though that is what makes her instantly recognizable. The native Australian has been racking up accomplishments in the world of modeling since being discovered at age 13, having been vaulted to international fame when she signed as a prestigious Victoria's Secret Angel in 2007. Kerr went on to work with design houses like Prada, Dior, Givenchy, Chanel, and Louis Vuitton, among many other huge names — it's safe to say her fame in the world of modeling is secure.
Of course, Kerr has grown her presence to become multi-faceted, using her lifelong love of organic living and her studies in nutrition and health psychology for KORA Organics, a skincare brand she launched in Australia in 2009. So how does this mom of three stay active in multiple careers and still maintain one of the most sought-after, flawless complexions in the industry? She attributes it to nothing more than commitment to her own line of organic products.
Miranda Kerr keeps her routine 'simple and clean'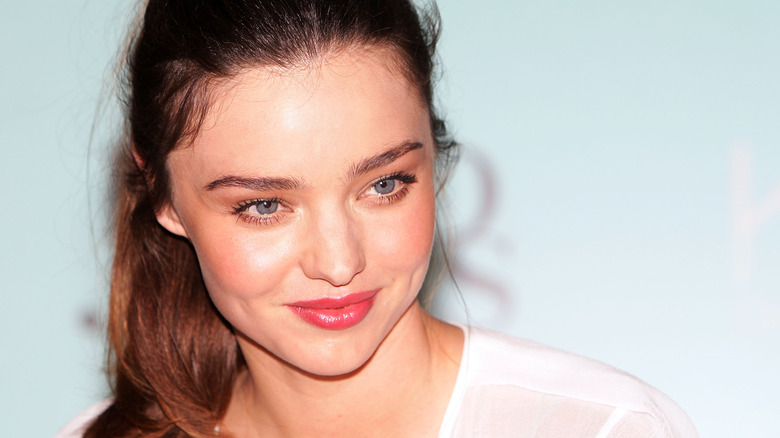 Lisa Maree Williams/Getty Images
In a 2020 interview with Haute Living, Miranda Kerr dished on her own skincare routine and her favorite products, claiming she relies entirely on her own creations to create the dewy, impressive complexion that's well known in the modeling industry. With her skincare routine, Kerr said she likes to "keep [it] simple and clean." She starts off in the morning with a foaming cleanser, then a spritz of Energizing Citrus Mist in place of toner. She follows that up with vitamin C serum and an eye oil. The final step to start the day is a couple drops of face oil blended with a moisturizer and rubbed not only into her face, but her neck as well.
According to her Haute Living interview, Kerr's evening routine follows a similar pattern, adding a second round of cleansing with cream cleanser and switching the Energizing Mist for Calming Lavender Mist for a better nighttime energy. From there she adds a bit of night serum and then follows the rest of the morning routine to a tee, keeping it straightforward and simple.
Miranda Kerr stands behind her skincare brand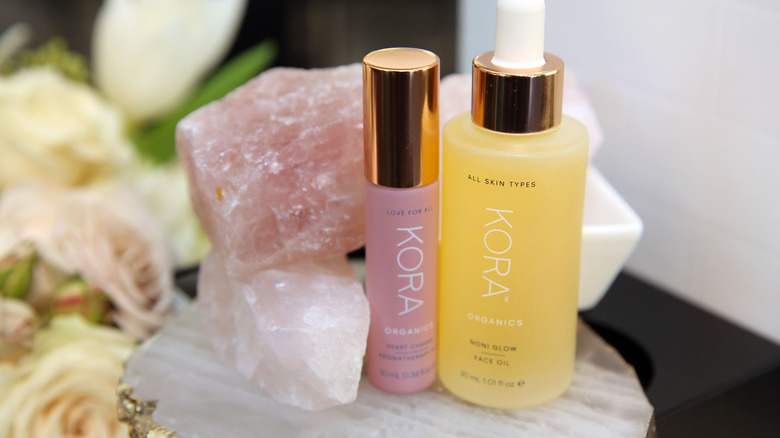 Rachel Murray/Getty Images
Founder Miranda Kerr believes strongly in her own skincare line, KORA Organics. In a 2020 interview with Haute Living interview, she raved about her products. "Using certified organic ingredients naturally creates more powerful skincare because certified organic ingredients contain higher antioxidant levels; therefore, they produce more potent and powerful results than non-organic skincare, or even 'clean' skincare for that matter."
KORA Organics is certified by ECOCERT Greenlife, which reportedly ensures that "no toxic and synthetic pesticides, herbicides, or chemicals are used in production of ingredients or in manufacturing." Even Miranda Kerr's husband and sons, who enjoy the body wash and lotion, use her product line.
The products are also unique in a few other ways, including their signature ingredient. According to Kerr, each and every KORA Organics product uses noni extract, which comes from noni fruit and has strong antioxidant properties, among other purported health benefits. The ingredient is supposedly rather unique to KORA Organics, and may just be a secret to the brand's success, though it's safe to say Kerr's impressive vision and commitment to organic products likely have a lot to do with that too.