Here's What You Should Know Before Choosing A Coffin Nail Shape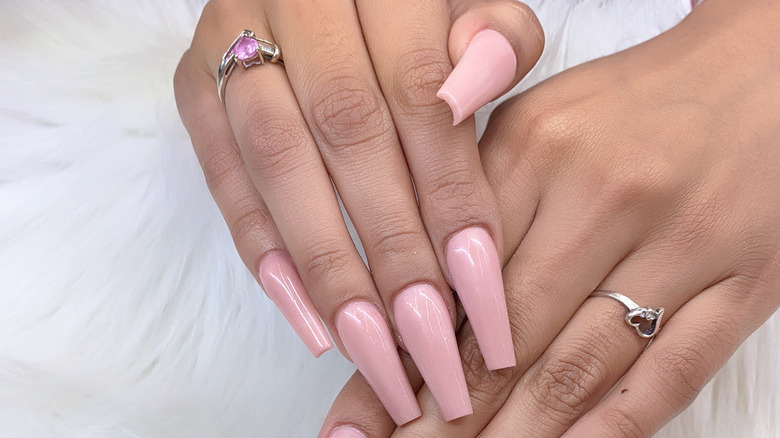 Shutterstock
If you love Kylie Jenner's signature manicures she regularly posts on her Instagram stories, then chances are you will love coffin nails. A favorite of Jenner and Khloe Kardashian alike, coffin nails are defined by being long and tapered like stiletto nails, but with a squared-off, coffin-like tip (via Harper's Bazaar). Coffin nails are also known as ballerina nails because they remind some of pointe slippers, and can vary from edgy to super-femme. Interested? There are a few things to know before booking your next nail appointment.
As POPSUGAR explains, coffin nails are the perfect alternative if you think pointy stiletto nails are a bit too "extra," or even if you're just scared of scratching yourself accidentally. Plus, the squared-off tip makes them a bit softer, especially since the sides are rounded-off. A truly chic nail style, coffin nails will elongate the fingers as much as stiletto nails, and are thought to be one of the most universally-flattering styles.
If long nails scream high-maintenance to you, not to fret — coffin nails are notoriously easy to keep up. As nail artist Miss Pop told POPSUGAR, "since the ballet shape does not file off the sides completely, like the stiletto [mani], this nail does not break as easily." Moreover, Groupon makes the point that coffin nails' flat edge makes more space for nail art. If you're interested in getting an adorable nail design like Kylie Jenner or even Rosalía (via W Magazine) coffin nails are perfect for you.
All about coffin nails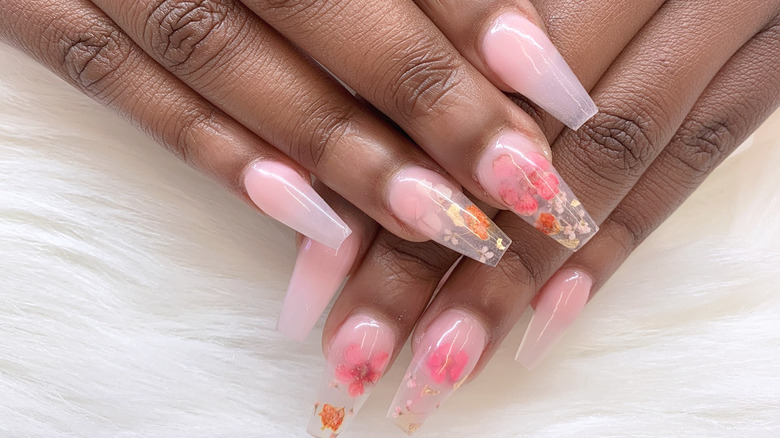 Shutterstock
Although coffin nails are more low-maintenance than other long nail styles, they still require a complex process. According to Clutch Nails, few of us can get a coffin shape with natural nails, so most technicians will recommend other alternatives. Your technician might create the shape with a gel treatment, molding the gel into a coffin shape on top of your natural nail. This process is relatively quick with just the help of UV lamps, but a gel treatment will only get you a few extra millimeters in length.
If you already have long nails, a gel coffin shape will work great, but anyone with short nails should consider acrylics. As Clutch Nails explains, the acrylic process is similar to gel but will give your nails more strength and make them as long as you desire. Unlike gel, acrylic tips are simply glued on and shaped by filing. Although acrylics are more durable than gel, both processes can take an hour-plus, and will run $40 and up.
Moreover, as Groupon warns, this nail shape might make regular day-to-day activities more difficult. Just like stiletto or almond nails, coffin nails might mean saying goodbye to sports, easily opening packages, or even typing. That being said, as celeb manicurist Jin Soon Choi described to Harper's Bazaar, coffin nails are "a favorite among people who are really into nails and fashionistas in general," and is an elegant, edgy nail shape that's clearly here to stay.