Inside Colin Jost's And Michael Che's Friendship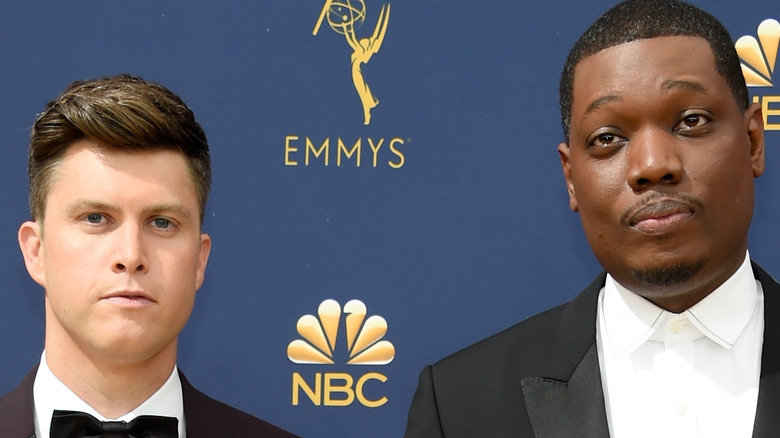 Kevin Mazur/Getty Images
Over the decades, some classic duos have anchored the "Weekend Update" segment of "Saturday Night Live": Jane Curtin and Dan Aykroyd, Amy Poehler and Seth Myers, Tina Fey and Jimmy Fallon, Poehler and Fey (as the show's first two-woman team). Since 2014, that spot has been held by Colin Jost and Michael Che, making them the longest-running team to host the segment, and tying for overall longevity with Dennis Miller. Jost and Che fire off jokes about the past week's news stories with expert timing, and try (unsuccessfully) to keep their composure during the times they each write jokes for the other to read (via Celebrity Cheat Sheet). The two make such a natural team that they were invited to host the 2018 Emmy Awards.
There's a reason the two work so well on the show; Che and Jost are good friends off-camera as well. In an interview with GQ, the two explained that they both started off as stand-up comics and met at some point on the touring circuit. "In comedy you work with people so often that they just become familiar faces — it's like a fraternity," Che said. After Jost was cast on "SNL," he invited his friend to come aboard as a head writer. The rest was comedic history.
Colin Jost wanted Michael Che to do something unusual at his wedding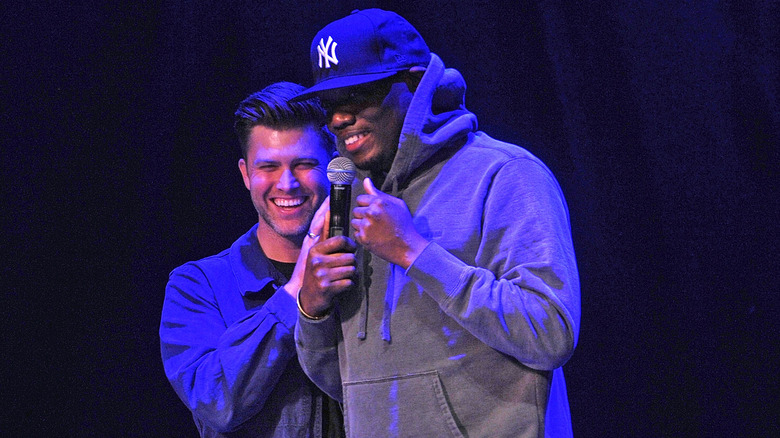 Bobby Bank/Getty Images
Having worked together for so long, the two friends don't hesitate to push the envelope on and off the job. One of the most outrageous joke-swapping pranks on "SNL" was a zinger about Martin Luther King Jr. that Michael Che knew would make his pal squirm on air. In an interview with NPR, Colin Jost called it "a unique moment," adding, "[A]mong comedians, the jokes you love the most are the worst, meaning either most offensive or the darkest jokes. ...So to force another person to tell one of those jokes is just — is very satisfying."
Jost also trusted his friend enough to invite him to his wedding to Scarlett Johansson in the fall of 2020, knowing that it might result in chaos. Che told Ellen DeGeneres on her show that he planned on "disrupting everything." Jost's reaction: Bring it on. "What I really want from Che, I want to ask him to do an objection at the wedding," he told DeGeneres in another segment of her show. "So few people utilize that moment to object. I think he could do a really great objection" (via People).
And when it comes to gifts, don't expect these two to give each other boring shirts or books. Appearing on "The Tonight Show Starring Jimmy Fallon" (seen here on YouTube), the comic friends revealed the most unusual birthday presents they've given. Che sent a party clown to the restaurant where Jost was having dinner (she made balloon animals!), and Jost gave Che a cast-iron cash register.