You've Been Cleaning Microfiber Furniture Wrong This Whole Time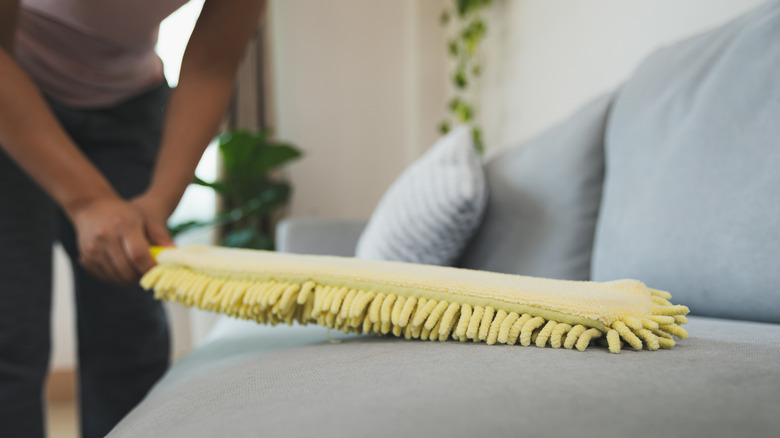 Shutterstock
Suppose you have microfiber furniture or you're thinking of buying some. In that case, one of the big selling points might be that it is typically easy to clean, unlike other furniture fabrics (via Apartment Ratings). Supposedly, this popular and affordable furniture upholstery is durable and doesn't easily stain, but One Good Thing advised that that's not always the case. If you spill something or see stains on your microfiber sofa or chair, maybe you grab a damp cloth to wipe it off, but depending on your manufacturer, that could leave water stains.
Although microfiber is marketed as easy to clean, chances are, you've been cleaning it wrong all along. Believe it or not, there isn't a one-size-fits-all approach to cleaning the popular upholstery choice. But good news! With a few easy changes, you can keep your microfiber sofas and chairs looking as good as new for years to come as long as your pets and household members cooperate.
Here's how to clean your microfiber furniture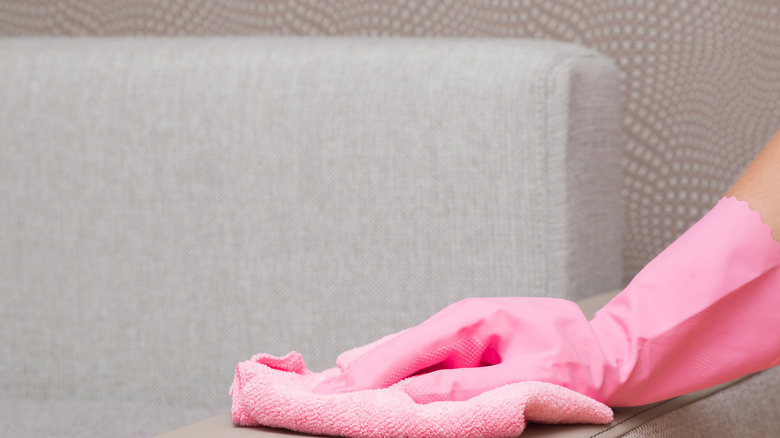 Shutterstock
Microfiber upholstery can be pretty easy to clean with a few primary considerations, according to One Good Thing. The fabric is stain-resistant, and it repels water (via Apartment Ratings). However, not all microfiber is created the same. One Good Thing revealed that you should look for the label on your furniture that shares the codes: W (water-based cleaner), S (solvent cleaner), S-W (both types of cleaner), and X (vacuum-only). These codes give you a starting point for keeping your furniture looking as good as new in the event of a spill or other grime. 
If your pieces have a W code, then you can clean them with water-based products without the fear of leaving any water stains. Unfortunately, if you can't find a tag or you have one with an S, you have to be more careful when removing stuff from your microfiber furniture. If you need to use a solvent cleaner, rubbing alcohol works well, and it's usually affordable (via One Good Thing).
To clean either type of microfiber (S-W), simply spray the spot with cleaner, and blot it with a clean cloth. For tabs with the X code, all you can do is run a vacuum over the area. Repeat until stain lifts. If your fabric feels stiff after cleaning, all you have to do is fluff it up with a soft brush (via Better Homes & Gardens). If you're careful, your microfiber furniture should look great for many years.