Who Is The Actress In The State Farm Commercial?
Shutterstock
If you've seen State Farm's "Jake from State Farm" TV commercial, you may have wondered about the woman who plays the jealous wife character so flawlessly. The actress is Melanie Paxson. And if her name and face seem familiar to you, there's a good reason for that. Paxson has built a career on working in commercials, and her distinctive voice is often what lands her those roles. In fact, you may remember her from several Red Robin commercials. However, commercials aren't the only work Paxson has done.
The actress played Fairy Godmother in Disney's "Descendants" in 2015, and she reprised her role in "Descendants 2." Paxson also had a role in the TV series "Underbelly," and it definitely sounds like her voice is a big part of what audiences remember about her. In her 2007 Entertainment Weekly review of the show, Gillian Flynn described her character as, "Lauren's other friend, baby-voiced Julie (Melanie Paxson from the Glad trash-bag commercials), a chipper, pregnant housewife who's about as appealing as a butter mint stuck in the back of the throat — one of those irritating characters who exist only so we can roll our eyes and groan knowingly."
Melanie Paxson is a hometown celebrity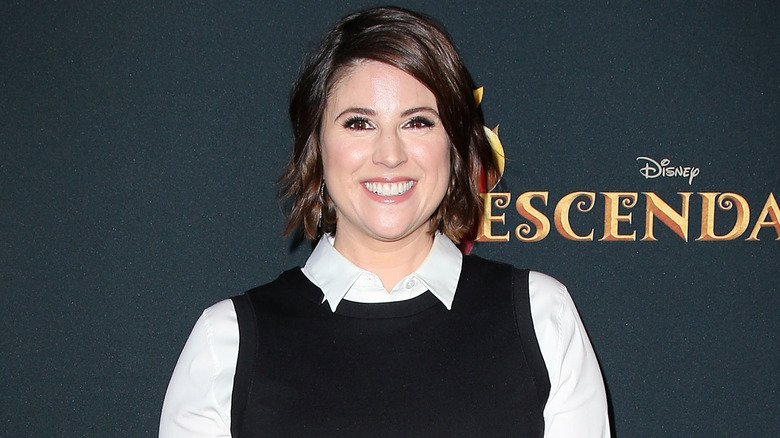 David Livingston/Getty Images
Melanie Paxson's work has definitely garnered her a lot of attention over the years, and some of that has been right in her hometown. Paxson was born in Champaign, Illinois, and grew up in Mahomet, Illinois. When she had a role in 2013's "Saving Mr. Banks" alongside Hollywood heavyweights such as Tom Hanks, Emma Thompson, B.J. Novak, and Jason Schwartzman, Champaign's local paper celebrated.
Paxson's parents, Gay and Randy Moore, saw the movie on opening night and then spoke to a writer at The News-Gazette about the film. Gay Moore was particularly happy that her friends liked the movie, too. "They loved it. And I got the nicest email from a friend in Florida who thought Melanie sparkled and did really well."
The paper also noted that Melanie Paxson attended the Hollywood premiere with her husband and her brother, Ryan Moore, who is an aspiring actor. Melanie Paxson's mom also referenced her notable voice, telling the paper that "People who know her say when she's appearing in a TV commercial and they're in another room, they run in to see it because they recognize her voice."