Here's What The Laundry Guy's Mall Of America Store Is Really Like
While doing laundry seems like a tedious chore we are all forced to do but never look forward to, there is one man who has made laundry his passion and that passion has led to a new show on Discovery Plus. Patric Richardson, known as "The Laundry Guy" on TV and "The Laundry Evangelist" in his home state, according to the Duluth News Tribune, is that guy.
While laundry and washing your clothes and other textiles is what Richardson is known for across the country, thanks to his TV show and 2021 book, "Laundry: Finding Joy in a Common Chore," in Minnesota he is known for a store at the famed Mall of America. While laundry is often a common topic of conversation in the store, Richardson sells vintage clothing and accessories at Mona Williams (via the Duluth News Tribune). It seems simple enough, but what can you really find on a visit to this unique store?
Get designer wear and lessons on how to take care of it at Mona Williams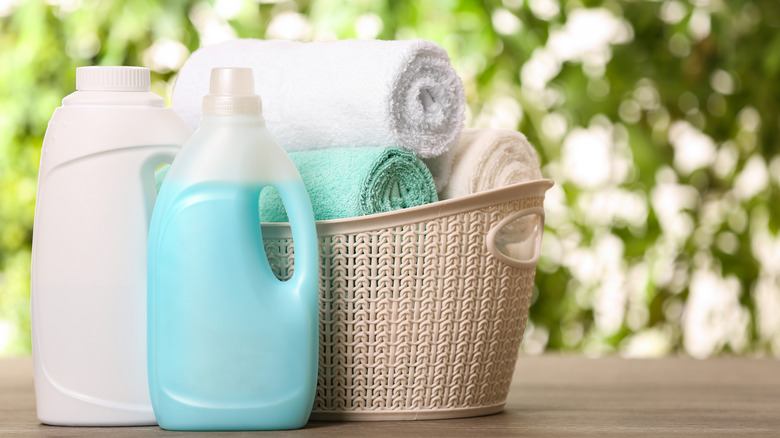 Shutterstock
Patric Richardson grew up as a fashion enthusiast who earned a degree in fashion merchandising, apparel, and textiles at the University of Kentucky, which won him jobs in high-end department stores like Nordstrom and Neiman Marcus when he moved to Minnesota, according to the Mona Williams website.
When you walk into the store, you can find a variety of vintage designer fashions, but you can also find the best in laundry products. A grandmother who was a laundry perfectionist who hand-washed everything helped instill a passion for clothing care in Richardson, according to the Chicago Sun-Times. Richardson told the Sun-Times that his clientele wanted to learn how to care for these delicate items they were buying, so the idea for Laundry Camps was born.
And Laundry Camp is another popular attraction that gets Mall of America shoppers into Mona Williams. The Sun-Times describes them as social gatherings where you learn more about how to care for your clothes.
Between the Gucci and Chanel, you'll also find the best in laundry care products, something you'll also find on Richardson's website. From premium laundry brushes to plant-based detergents, The Laundry Guy's Mall of America store delivers on fashion and fashion care.