Who Is Marshmello's Girlfriend?
Roy Rochlin/Getty Images
People around the world love Christopher Comstock, a.k.a. Marshmello, and it shows: The DJ has worked with artists such as Halsey, Chris Brown, Surf Mesa, and Bastille. A lot of fans of the DJ want to know more about his personal life, including who he is in a relationship with and how well that's going.
It's tough to know exactly what Marshmello is up to these days, but as of 2020 he was in a relationship with influencer Kelsey Calemine. There isn't a lot of information out there about Calemine, but she became internet famous in 2016 when Lucy Hale shared a meme of Calemine that claimed she looks like the child of Kylie Jenner and of Hale herself. Hale wrote, "WHAT. Is this a real person or morphing?" and people quickly plugged Kelsey Calemine's own Instagram account (via Guest of a Guest).
Calemine hasn't made many references to Marshmello on her own Instagram feed, but she did share an unmasked photo of the DJ on Valentine's Day 2020 (via Instagram).
Why that unmasked photo of Marshmello was such a big deal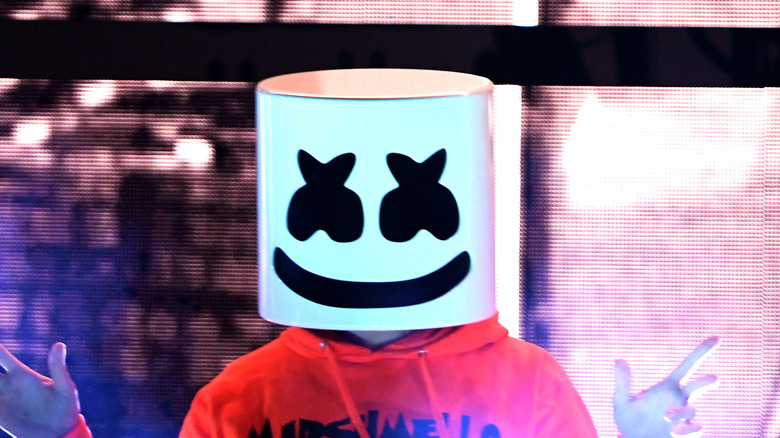 Kevin Winter/Getty Images
Predictably, fans were all over Kelsey Calemine's photo of an unmasked Marshmello almost as soon as she posted it. One fan worried about the potential fallout from Calemine sharing the photo, writing, "We can finally see what marshmello is like without the mask, but the bad thing is that many people will recognize a marshmello without the mask from the photo" (via Instagram). Luckily, it seems like most people didn't mind at all.
One reason the fan might have been worried is that Marshmello himself has shared the reason why he stays masked, and it's a really good one. As many people can understand, contending with intense fame and notoriety can be a lot for one person to deal with, and it sounds like Marshmello agrees. In 2017, he explained on Twitter, "I don't take my helmet off because I don't want or need fame. I'm genuinely trying to create something positive for people to connect with."