The Truth About The Chainsmokers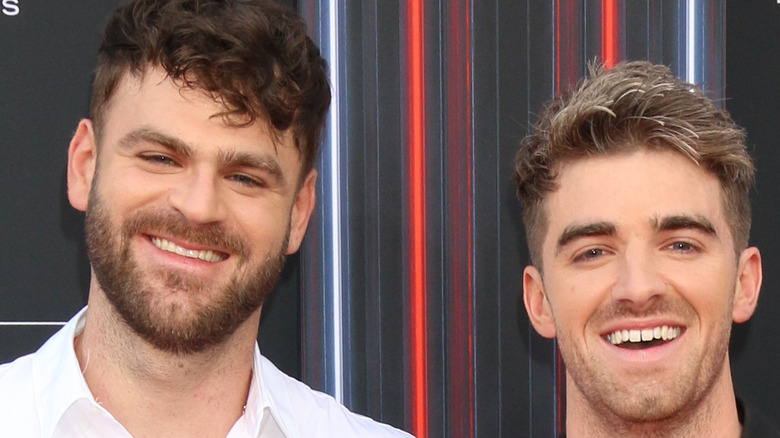 Shutterstock
The Chainsmokers – who are worth millions — are one of the most polarizing acts out there, mixing frat-boy-aesthetics with super-catchy beats. Andrew Taggart and Alex Pall blend genres like pop, EDM, and indie-rock (via AllMusic), getting their start with 2014's "#Selfie." The video for that first single accumulated half a billion views, both criticizing and glamorizing narcissism, and immediately put them on the map — except they did get some backlash from other EDM artists like Deadmau5 (via Billboard). In short, The Chainsmokers had their work cut out for them to gain artistic respect. 
Although The Chainsmokers look like an overnight success, with critics pointing out their "basic" songs (via Buzzfeed) or their privilege, their rise to fame was a long time coming. As per Rolling Stone, Pall is from Manhattan's Upper East Side, and although he had "Picassos and Lichtensteins" on his family home's walls, he worked at an art gallery "getting paid $500 a week" as he pursued music. Although Pall clearly came from wealth, the 35-year-old is adamant about working hard for his success. Meanwhile, 31-year-old Taggart was raised in Freeport, Maine by a teacher mother and a father who sold prosthetics (via Billboard), saying in a YouTube vlog that he is "not from money" and accrued debt while attending Syracuse University.
Although Pall and Taggart's upbringings are opposites, the pair were a quick match — they met in 2012 in New York City through a mutual friend when Pall was trying to be a local DJ and Taggart was an aspiring producer (via Rolling Stone).
The Chainsmokers have had an incredible journey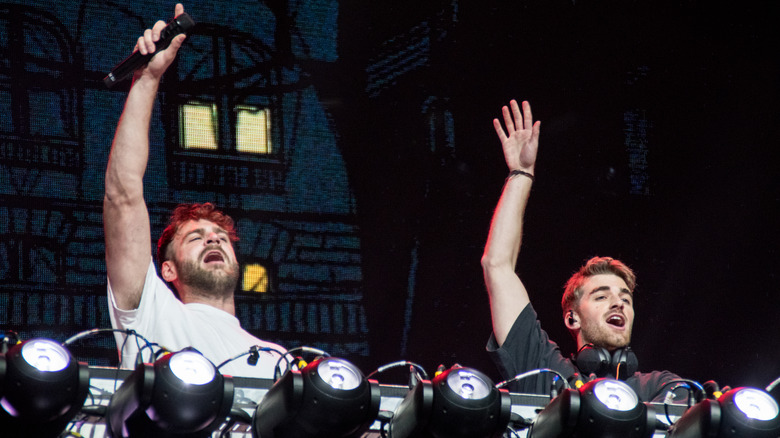 Shutterstock
The Chainsmokers are transparent about the work they've put in to achieve success. Alex Pall, who works on the band's development and on scouting talent for collaborations told Interview Magazine that the pair worked every day from 9 a.m. to 7 p.m. until they created their "identity," knowing they had "a lot to learn."
Now that The Chainsmokers each have their own multimillion dollar Los Angeles homes (via NME) and a whopping 10 multi-platinum singles including "Closer" and "Don't Let Me Down" (via AllMusic), it seems like the pair are evolving. Even though their infamous Billboard interview was criticized for quotes like, "Even before success, p***y was number one" and "you'll never see us getting carried out of a club. We're way too good at drinking," the duo told NME that they're just "making fun of bros" and "not a**holes."
About their love lives, Andrew Taggart confirmed his relationship with model Chantel Jeffries last year, but they split in March 2021 (via Us Weekly). Meanwhile, Pall was caught cheating by his girlfriend of four years Tori Woodward in 2018, which she posted about on Instagram Stories (via People), and now seems to be single, too.
The pair are currently recording their next album after a hiatus (via EDM), but while their music is more mature, they're still divisive. Their summer 2020 drive-in concert was criticized for not following pandemic safety precautions, with promoters fined $20,000 for violations (via NBC). Yep, they're as controversial as ever!