Here's What Shawn Mendes' Tattoos Really Mean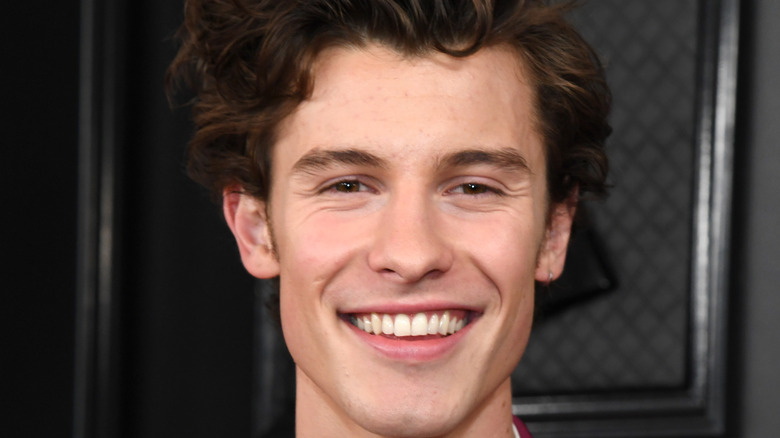 Kevin Mazur/Getty Images
Quarantine hasn't stopped Canadian singer-songwriter Shawn Mendes from adding new documentaries, new songs, and new tattoos to his ever-growing collection of masterpieces. The 22-year-old star got his first tattoo back in 2016, around the time of his first world tour, by Toronto-based tattoo artist Livia Tsang. 
"It's obviously a guitar and there's the city here with the CN Tower Toronto, and then, trees," Mendes said in an interview with Today. "But this is actually a sound wave of my parents and my sister saying 'I love you.'" In other words, the musician recorded a voice note of his family saying "I love you" and used it as example for the shape of his arm tattoo. If that's not the sweetest thing we've ever heard. From then on, the singer got several other tattoos to commemorate his music, his fans, and his loved ones. So what are the stories behind some of Mendes' tattoos?
Some of Shawn Mendes' tattoos might be inspired by Camila Cabello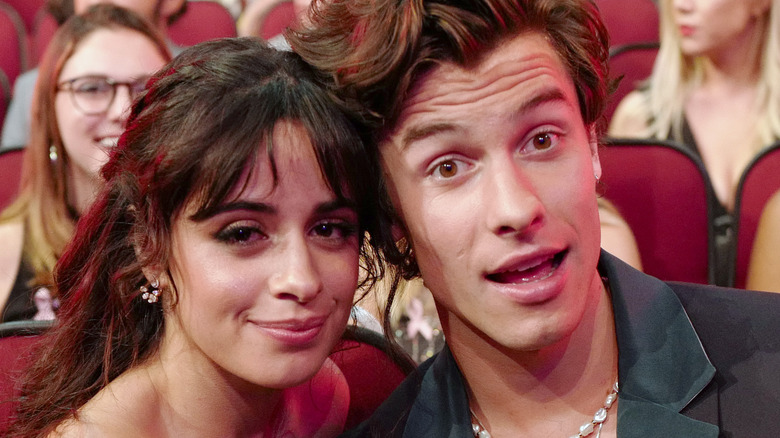 John Shearer/ama2019/Getty Images
Shawn Mendes has spent quarantine with his girlfriend, Camila Cabello, in their Los Angeles home. That's not to say everything's been easy — Mendes admitted to having a strained relationship with Cabello at one point, and to top things off, their home was robbed in late March — luckily they're safe and sound and enjoying every minute together (via Cosmopolitan). Mendes has admitted on several occasions that Cabello has been an inspiration for his music and has pushed him to love himself first, according to his interview with Elle.
Considering how important Cabello is to Mendes, it's no shock that he got a tattoo to commemorate her. His ink, located on his side ribcage, reads "little sunflower" which could make reference to the Cuban-American's favorite flower, per J-14.
There's some speculation that Mendes has another tattoo inspired by his girlfriend. Mendes has inked the word "Wonder" on his left arm, making reference to the title of his latest album and his Netflix documentary. Some fans think that it's written in Cabello's handwriting (via Seventeen).
Shawn Mendes has a couple of tiny tattoos on his hands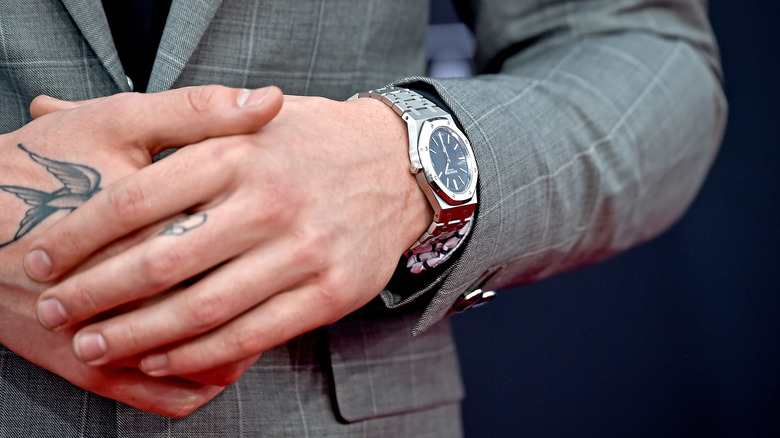 Frazer Harrison/Getty Images
Besides some notorious artwork on his arms, Shawn Mendes has a couple of smaller tattoos on his hands. He has the outline drawing of a tiny elephant on the inside of his left middle finger. The cutest part is that this is a matching tattoo with his mom, and apparently, the only design she wanted out of all the options Mendes suggested. "I was trying to convince [my mom] to get a tattoo for a while, and this is kind of the only thing she would do because she's obsessed with elephants — and they're pretty cool animals actually if you read about them," Mendes told GQ. He has another finger tattoo, a number "8," which he got with Hailey Baldwin — at the time they were rumored to be dating (via W Magazine).
Mendes' hands are also home to a swallow tattoo. According to Capital FM, Mendes might have a special connection with this bird, as he spends a lot of time away from home. Just like the swallow, he's always trying to remember home and his roots.