The Drugstore CC Cream TikTok Just Can't Get Enough Of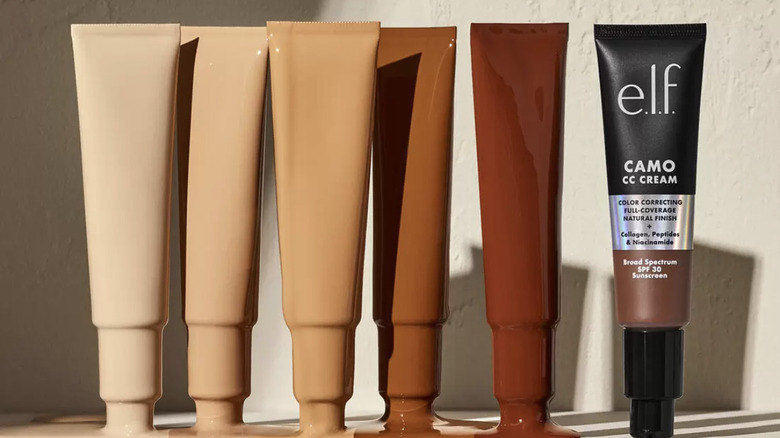 E.L.F.
TikTok births trends every day it seems, from viral recipes to lifestyle hacks, to eye-whitening trends and DIY painting tips. TikTok is exploding over different makeup products, too — just think about the KVD Good Apple foundation. But if you'd prefer a quick trip to Target rather than a splurge at Sephora, don't worry, because drugstore makeup products are having their moment on TikTok, too.
The Camo CC Cream from E.L.F. may only cost $14, but it is making a big splash. It comes in 20 shades and is described as "medium-to-full coverage color correcting foundation with SPF 30 protection." E.L.F. also always offers their Shade Match Guarantee, so you can check out this CC cream with confidence. CC creams are great for days when you don't want to wear a full face of makeup or even put on a full foundation, and with "camo" in the name, this cream does have a big promise to live up to — and based on TikTok, it appears as though it delivers.
What makes this drugstore CC cream so special?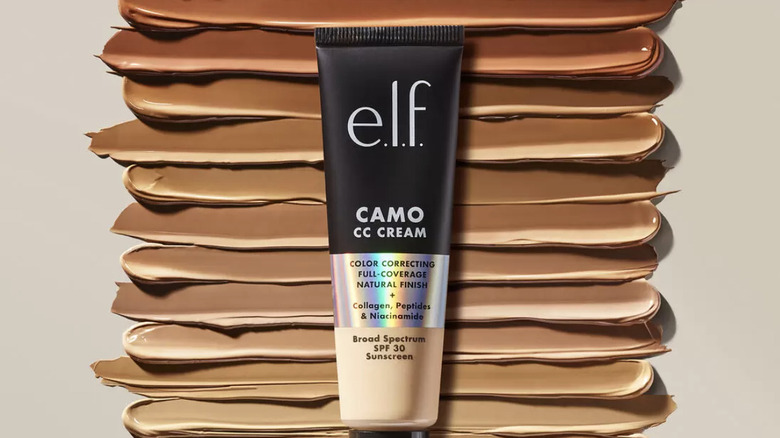 E.L.F.
In addition to coming in many shades, the Camo CC Cream from E.L.F. is packed with ingredients that benefit the face. The product's webpage shows that this cream is infused with collagen and contains hyaluronic acid, peptides, and niacinamide to create an experience beyond ordinary makeup. Together, these ingredients hydrate the skin, build and protect the surface of the face, enliven one's complexion, and brighten. E.L.F. also offer multiple options for undertones — the product not only nourishing the face, but E.L.F. has done everything they can to match natural tones.
Byrdie described the Camo CC Cream as a "skincare-makeup hybrid," saying that it gives "both full coverage and a natural finish." The "CC" in CC cream stands for color-correcting, so it only makes sense that this product would provide the services of both a cream and a foundation. Its full coverage and fresh after-effect is a combination that will likely make this product popular for more than a little while.
The reviews are in, and everyone is raving about this drugstore CC cream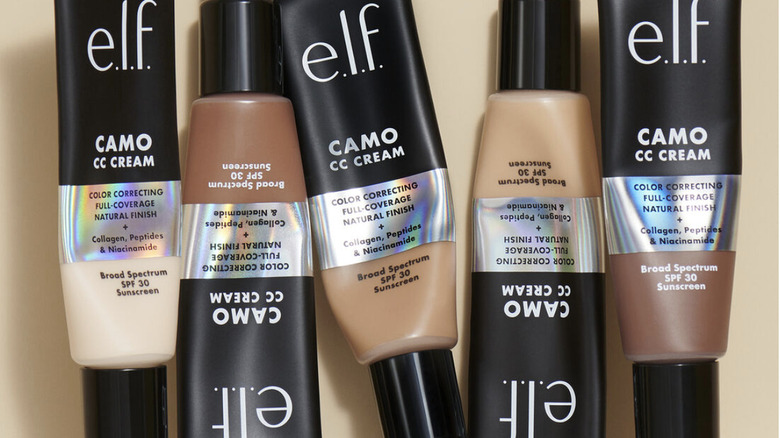 E.L.F.
It's no surprise since the Camo CC Cream from E.L.F. went viral that reviews for it are coming in — and coming in hot. Allure's Nicola Dall'Asen used the product to see what all the raving was about, and had some pretty stellar comments. Dall'Asen said that she was able to build the cream in layers in areas where she would normally add concealer, so she got a lot big bang for her buck. She further added that it's "wildly comfortable," but does warn that it's a perfect fit if you're skin is on the oily side. If your skin tends to be dry, you'll want to wear this CC cream on a moisturized face. 
Byrdie's editorial team also found ample positive things to say about this CC cream. They noted that they liked the packaging because no product goes to waste, but one of them did notice it bringing out texture in their forehead. The other reviewer noted that it covered any and all redness on her face in a smooth matte finish, and both reviewers specifically mentioned reaching for this cream during the summer when they want to look matte and collected.
You can check out all of the rage for this CC cream on TikTok, and who knows, it might be a makeup product you want to try out yourself. Just make sure not to wear makeup every day, as there can be some major skin impacts.