What Happens If You Get The Wrong Second Dose Of The COVID Vaccine?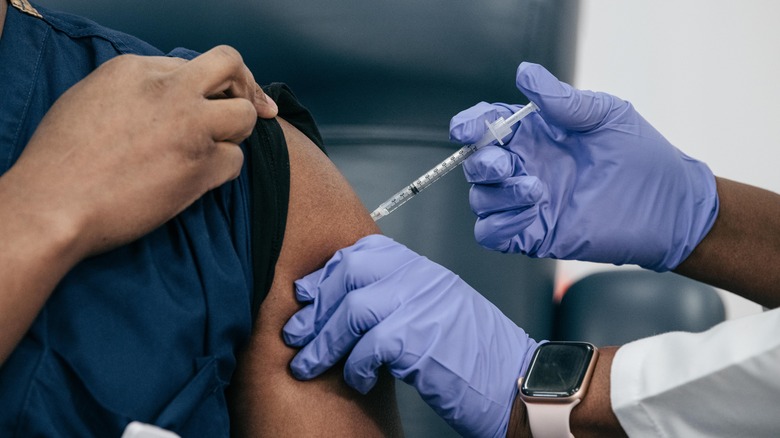 Scott Heins/Getty Images
With increased public fear around the Astra Zeneca vaccination's potential side effects, Canada's department of health, Health Canada, wants to know whether mixing and matching COVID-19 vaccines is safe (via Global News). Dr. Theresa Tam, the country's top doctor is also looking closely at whether mixing vaccines may be more effective than getting two dosages of the same vaccine. In the UK, a trial is studying just that. According to BBC News, we may have some results by June or July 2021.
Until then, what we have are stories. Take, for example, the woman in California who received one Pfizer vaccine and one Moderna by mistake (via KVOR TV 6). As of April 28, 2021, she was feeling fine. In Oregon, the same thing happened to a new mother. But the CDC told her not to breastfeed her three-week-old son as a precaution (via Katu 2). The List sat down exclusively with Dr. Cristina M Amado, Infectious Disease Physician at Orlando Health Infectious Disease Group, to ask her exactly what physicians know about vaccine mixing, now.
"Researchers are doing studies now looking at mixing vaccine doses, but we do not have any results yet," Amado emphasized. She further stipulated that "Even though they have a similar mechanism of action, the Centers for Disease Control & Prevention (CDC) does not recommend mixing mRNA [for example, Pfizer–BioNTech and Moderna] vaccines. It is unclear what will happen if you accidentally mix the vaccines, but it is unlikely that you will have severe side effects."
What should you do if you get the wrong vaccine brand for your second dose?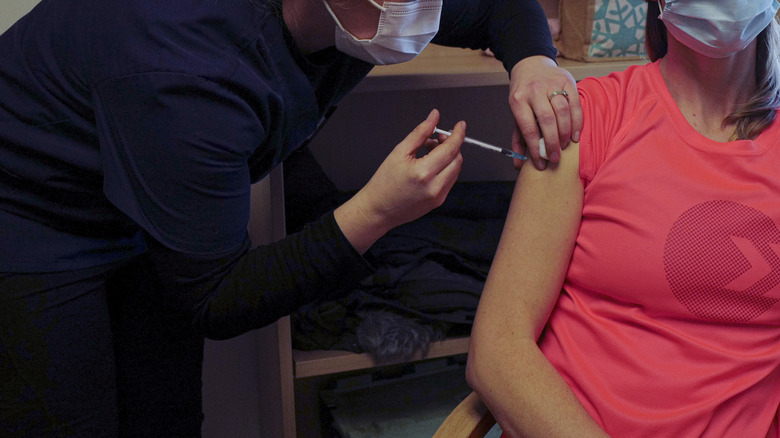 Hugh Hastings/Getty Images
Dr. Cristina M Amado told The List that the CDC still advises that getting two doses of the same vaccine is best. "The side effects and efficacy of each product has been studied individually," Amado, explained, making it hard to predict the efficacy of a vaccine combination. Furthermore, she signaled, "If a patient has a unique side effect, then we would not know if it is from a specific vaccine brand or from the combination."
If your first vaccine brand isn't available at your vaccination site when it's time for a second dose, waiting up to six weeks is preferable to mixing. If, on the other hand, you've experienced a severe allergic reaction to an mRNA vaccine, Amado told The List that "there are recommendations to receive the Johnson & Johnson vaccine as [the] second dose." In these cases, said Amado, "it is recommended to wait 28 days after receiving the grist vaccine dose before receiving the J&J vaccine." 
What happens if you've already gotten two doses of different vaccines by mistake? In that case, don't worry about getting an additional dose. "You would still be considered fully vaccinated," Amado clarified. There is something you should do. "Patients should keep their vaccine cards for their records in case they develop any side effects. If they have any concerns, they should contact their medical providers," said Amado. "They can also report any side effects to the Vaccine Adverse Event Reporting System website.