Why Liz Cheney's Position In The GOP Is Being Threatened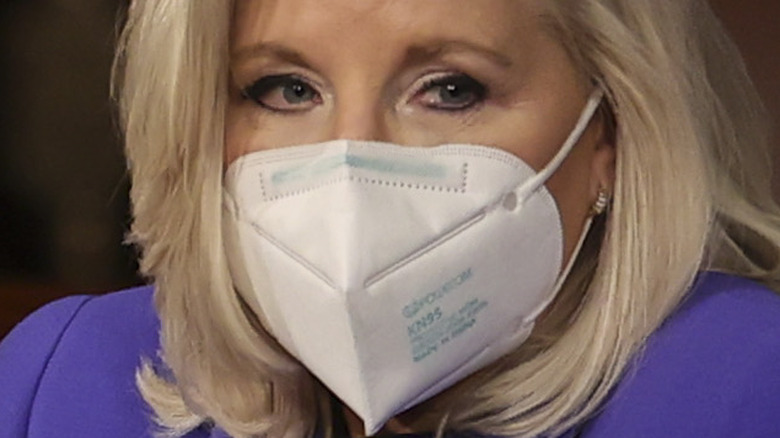 Pool/Getty Images
Wyoming's Republican House representative Liz Cheney has an image problem — and it's not with the public at large, but with the congressional leadership of her own party. The GOP's problem with her isn't with her voting record, because Liz Cheney is a strong policy conservative, it is, as The Washington Post pointed out in a strongly-worded editorial, that she refuses to accept or stay silent about former President Donald Trump's claims that he won the November 3 presidential election. 
The latest moves against Cheney, who voted to impeach Donald Trump over the January 6 insurrection, was triggered on May 3 when she tweeted: "The 2020 presidential election was not stolen. Anyone who claims it was is spreading THE BIG LIE, turning their back on the rule of law, and poisoning our democratic system." The comment, which attracted more than 136,000 likes, turned the heads of senior congressional leaders within the GOP, including that of House Minority Leader Kevin McCarthy, who had once agreed with Cheney and has said that "The president bears responsibility for Wednesday's attack on Congress by mob rioters. He should have immediately denounced the mob when he saw what was unfolding" (via NBC). 
McCarthy has since changed his mind about that, and now he and Minority Whip Steve Scalise are pushing for Cheney to be replaced as the most high-ranking Republican woman in the House, and her touted replacement, New York Republican Elise Stefanik, has received Trump's endorsement (via Spectrum News NY1).
Replacing Liz Cheney may not be straightforward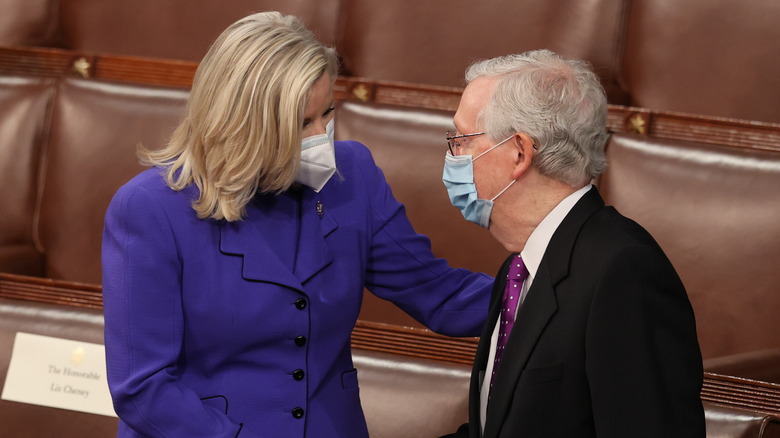 Pool/Getty Images
But resolving the issue may not be as simple as replacing Rep. Liz Cheney with a Trump loyalist. Carlos Curbelo, a former GOP House representative, told MSNBC that Cheney had support within the party, and while they may not be as vocal, they "quietly encourage her to continue speaking the truth, to pushing back against the former president" (via Mediaite). 
CNBC also says Cheney's donors are standing by her; some have even said they will not open their checkbooks to anyone who goes against her. "She's one of the last hopes that the Republican Party hasn't lost its mind. If she's ostracized, a lot of people will go with her," an unnamed campaign donor has said.
Cheney once again made her position clear in an Op-Ed for The Washington Post, where she explained why she saw the GOP's relationship with Trump as being such a destructive force. "I am a conservative Republican, and the most conservative of conservative values is reverence for the rule of law," she wrote. "Each of us swears an oath before God to uphold our Constitution. The electoral college has spoken. More than 60 state and federal courts, including multiple Trump-appointed judges, have rejected the former president's arguments, and refused to overturn election results. That is the rule of law; that is our constitutional system for resolving claims of election fraud.
"We Republicans need to stand for genuinely conservative principles, and steer away from the dangerous and anti-democratic Trump cult of personality."