Who Is Bill And Melinda Gates' Daughter Phoebe Gates?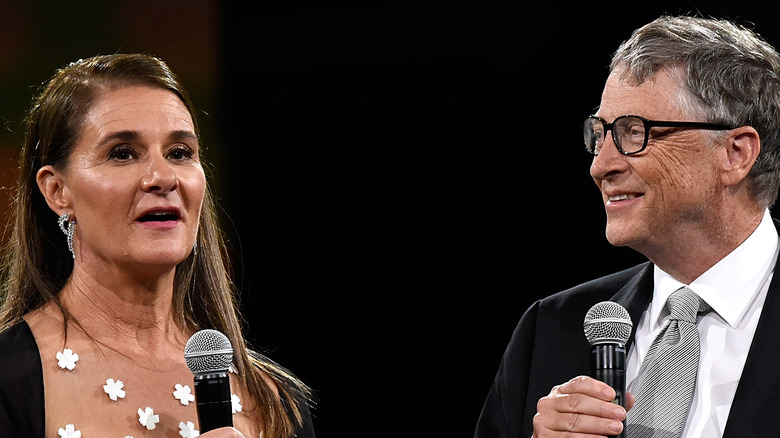 Kevin Mazur/Getty Images
It's never easy growing up in the public eye, but Bill Gates' daughter Phoebe has managed to keep her life fairly private. However, with the news of her parents' divorce making headlines, eyes are now turning to the Gates kids to see how they're taking it. Unfortunately, according to big sister Jennifer Gates, the oldest of the three Gates kids, it hasn't been easy for anyone.
"It's been a challenging stretch of time for our whole family," Jennifer shared in a statement with ET. "I'm still learning how to best support my own process and emotions as well as family members at this time, and I am grateful for the space to do so."
Like her dad did before her when he made the public announcement about his split from wife Melinda Gates, Jennifer requested privacy for the whole family "while they navigate the next phases of their lives," and it looks like Phoebe Gates is all about privacy right now, too. Though she's on social media, her Instagram account with 84,000 followers is currently set to private — but she's still got some pictures up on her family's accounts.
Bill Gates' daughter Phoebe is close with her siblings and her parents
After Phoebe Gates turned 18 in September 2020, her big sister took to Instagram to help her celebrate. Posting a handful of pictures of them together over the years, Jennifer welcomed her to adulthood.
Dad Bill has posted a picture or two with Phoebe on his own Instagram page, including one where he shared one activity they like to do together. "My daughter Phoebe and I love reading all kinds of books and are big fans of [John Green]," he wrote. "We both couldn't put down his new novel, 'Turtles All the Way Down,' which tells the story of a young woman who tracks down a missing billionaire." As the daughter of a billionaire, it seems Phoebe had a personal connection to the story, and her dad shared how the book "hit closer to home" for her than others from the novelist.
In addition to reading, she also reportedly loves dancing. Insider says she attended Seattle's Lakeside High School, while Gossip Cop says she also spent time at the Professional Children's School in New York City, The School of American Ballet at Lincoln Center for the Performing Arts, and The Juilliard School. But while Phoebe may have become something of an Instagram influencer with her thousands of followers, her life isn't all about technology. In a 2017 Mirror interview, dad Bill talked about limiting his kids' screen time — and he's been open about limiting their inheritance, too. Instead, he's setting his kids up to follow their own dreams, and it seems like Phoebe is chasing hers.