What Does Monsters By All Time Low Ft. Blackbear Mean?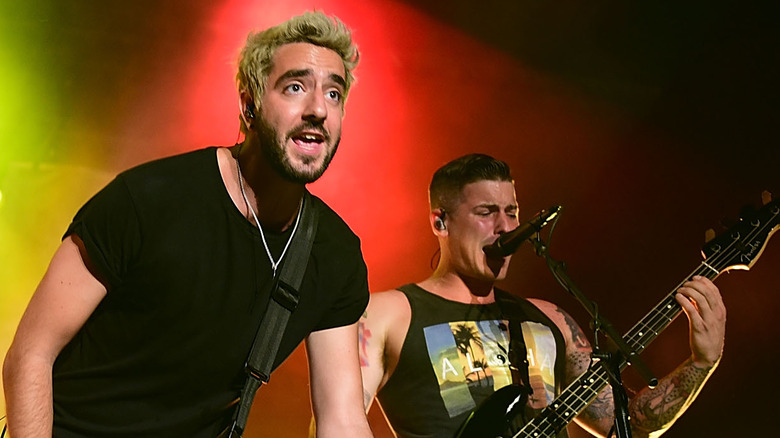 Lisa Lake/Getty Images
All Time Low's name is something of a contradiction these days. The punk-rock band from Towson, Maryland, started performing in high school, and by the time they graduated, they'd signed with a record label and released an EP (extended play) record. Their subsequent albums have all reached Top Ten spots on the Billboard Top 100 lists, with notable songs including "I Feel Like Dancin'" and "Dirty Laundry." Although they veered into pop territory in 2017 with their album "Last Young Renegade," they returned to their harder sound in 2020 with their eighth album, "Wake Up, Sunshine" (via AllMusic).
One of the notable singles from "Sunshine" is "Monsters." It features a verse from rapper blackbear, himself a musician who's worked in various genres (via Complex). The song was an instant hit, staying in the No. 1 spot on Billboard's Alternative Airplay list for 18 weeks. Then in December 2020, it got new life in a re-release featuring new vocals by Demi Lovato. It seems the "Really Don't Care" singer really does care about All Time Low's music, since she's been a punk fan for years. The feeling is mutual: Band frontman Alex Gaskarth has said that she's one of his favorite musicians (via Euphoriazine). If you've heard the song, you realize that "Monsters" isn't actually about a zombie invasion or a Halloween bash. But what does it really mean?
The song is about an irresistible but toxic relationship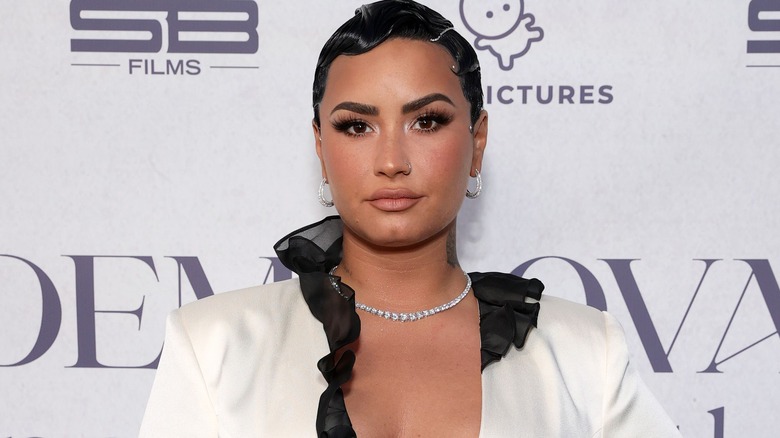 Rich Fury/Getty Images
The lyrics to All Time Low's "Monsters" describe the hell of being in a toxic relationship that seems impossible to escape. "Why am I a sucker for all your lies?" the song asks. "Strung out like laundry on every line / Why do I come back to you, like I don't care if you f*** up my life?" The narrator likens the experience to being in a "hangover hotel" where he wakes up every day with a headache. He then says, "Gettin' used to the rhythm, yeah, I know this beat too well," which implies that the ups and downs of the relationship have become predictable.
The narrator's feelings about the relationship seem to be strongest when the sun goes down — perhaps when he's alone and has a chance to reflect on his situation. "I'm wondering why do all the monsters come out at night?" he says. "Why do we sleep when we want to hide?" Rapper blackbear's verse affirms this: "I swear everything look worse at night, I think I'm overthinking." 
It's suggested that he has tried to break up with this person in the past, but he can't stay away for long: "Dead, thinking about you, you're in my head / Even without you, I still feel dead." So he comes back, resigned to living the drama for a while longer: "So, tell me pretty lies, look me in my face," he says. "Tell me that you love me, even if it's fake."
With such evocative lyrics and top-notch talent involved, it's no wonder that "Monsters" has All Time Low at an all-time high.