The Real Reason Pete Davidson Is Getting His Tattoos Removed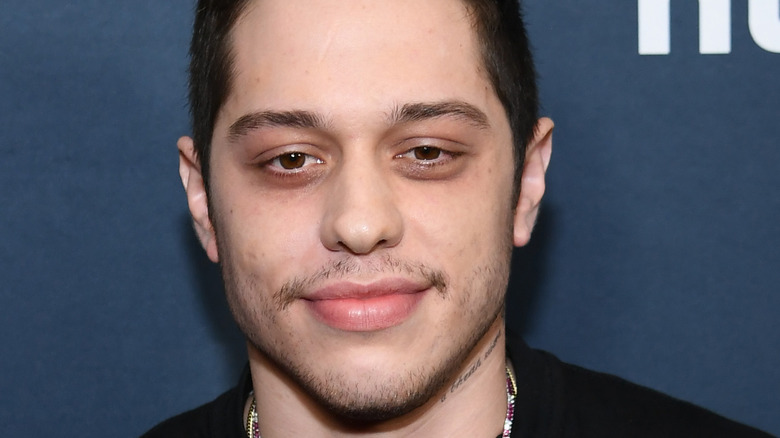 Dimitrios Kambouris/Getty Images
Pete Davidson may be a fan favorite on "Saturday Night Live," but the actor is also making a name for himself with bigger projects like comedy specials and movies. Davidson, who is known for his hilarious skits on the NBC sketch comedy series, often jokes about his own life (like when he described what it was like to live in his mother's basement). However, he's also branching out in his career, and has already earned roles in movies such as Amy Schumer's "Trainwreck," Netflix's Motley Crew biopic "The Dirt," and 2019's "Big Time Adolescence" (via IMDb).
In 2020 he co-wrote and starred in the semi-autobiographical comedy/drama "The King of Staten Island," which was directed by Judd Apatow, per Rotten Tomatoes. In the movie, Davidson portrayed a young man living with his mother in Staten Island, New York. Although unmotivated, he had dreams of becoming a tattoo artist. The movie co-starred Steve Buscemi, Marisa Tomei, Bill Burr, and Maude Apatow. While Davidson's character, Scott Carlin, showed off his tattoos in that film, the same can't be said for the actor's other movie roles. The situation has now caused Davidson to take drastic measures.
Pete Davidson explains why he's removing his tattoos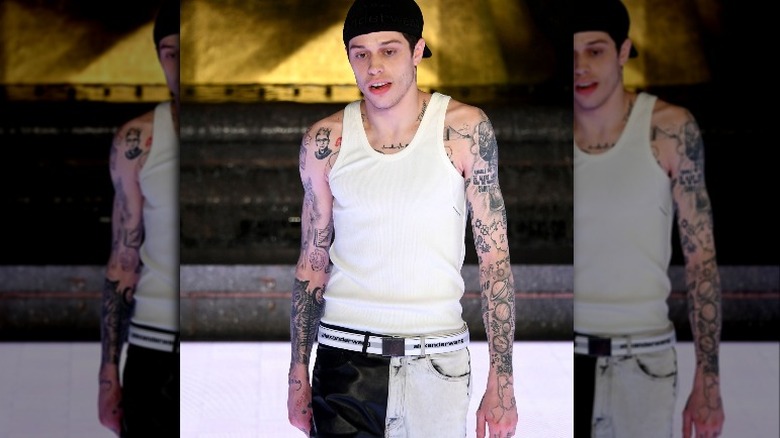 Mike Coppola/Getty Images
Pete Davidson has become known for the ink up and down his arms, on his neck, and covering his chest. Through the years, the tattoos have seemed to grow and change depending on the "SNL" star's stage of life. However, Davidson's ink is changing yet again. This time, he's opting to remove many of his tattoos in order to prevent the rigorous makeup routine it takes to get rid of them when he's filming movies (via People). Davidson recently sat down for an interview with Seth Meyers and explained the thought process behind getting laser removal of his ink. "I honestly never thought that I would get an opportunity to act and I love it a lot. It takes like three hours — you have to get there like three hours earlier — to cover all your tattoos. For some reason, people in movies, they don't have them that much," he admitted.
Davidson went on to joke about how "embarrassing" it is to hear the doctor removing the ink describe his tattoos out loud. "So I'll just be sitting there all high off the Pro-Nox, which I actually quite enjoy. It's actually pretty fun. And then, all of a sudden, I'll just hear, 'Are you keeping the Stewie Griffin smoking a blunt?'" he quipped. Meanwhile, Davidson's next film role will be as punk singer Joey Ramone. After that, he'll star in the "Suicide Squad" sequel.