Why Ellen DeGeneres Is Now Living With This Friends Star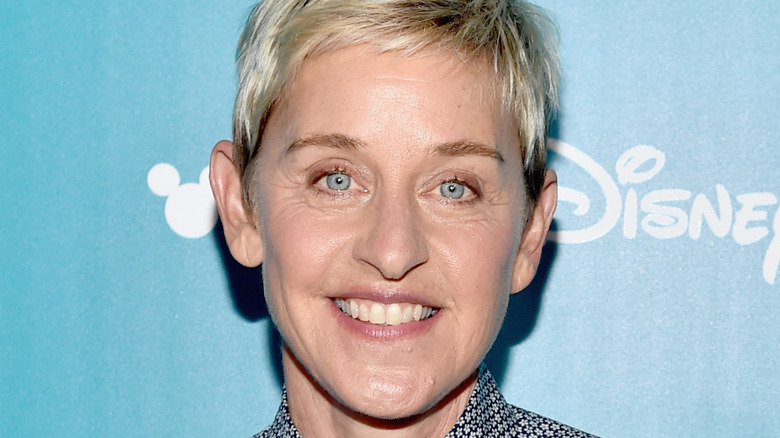 Alberto E. Rodriguez/Getty Images
Ellen DeGeneres has become known for her gaggle of famous friends. The daytime talk show host seems to have a large group of A-lister pals who are willing to appear on her show, hang out with her at events, and even support her when things get tough, (via Us Weekly). 
One such friend is singer Katy Perry. "I know I can't speak for anyone else's experience besides my own but I want to acknowledge that I have only ever had positive takeaways from my time with Ellen," Perry tweeted of her pal in 2020. "I think we all have witnessed the light & continual fight for equality that she has brought to the world through her platform for decades." Another singer who is in DeGeneres' corner is Pink. The Grammy winner even re-recorded her song "Today's The Day" so that DeGeneres could use it as the theme to her talk show.
In addition, other stars such as Jerry O'Connell, Justin Timberlake and his wife Jessica Biel, Jimmy Kimmel, Kristen Bell, and Reese Witherspoon have all enjoyed close friendships with DeGeneres. However, in the past, the TV personality has called Jennifer Aniston her "most favorite friend." Aniston was even invited to be DeGeneres' first-ever guest when her talk show launched in 2003. Now, DeGeneres is said to be living with one of Aniston's former "Friends" co-stars, but why?
Ellen DeGeneres is currently living with Courteney Cox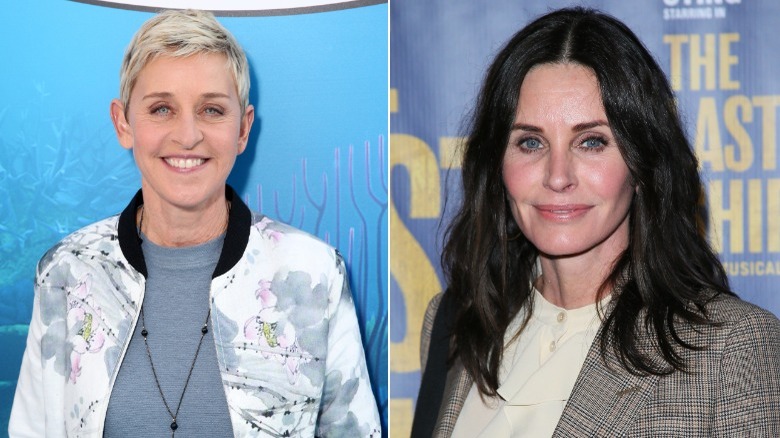 Todd Williamson, Jean Baptiste Lacroix/Getty Images
During the May 6 episode of "The Ellen DeGeneres Show," Ellen DeGeneres revealed that she was currently staying at the home of former "Friends" actress Courtney Cox (via Page Six).
 Of course, the host was quick to debunk any rumors of a split between her and wife Portia de Rossi; she did admit that she needed a place to stay for the time being. "I'm not having marital troubles. I'm not living with Courtney Cox because I'm kicked out of my house," she confirmed, explaining that she needed a place to crash after selling her Beverly Hills home. Cox appeared on the episode and joked that DeGeneres was a difficult house guest. 
"I moved everything off of the right side of the bathroom, so you'd have your space in the drawers. I was just really ready for you, And all of the sudden it was like, 'Wait a minute. Ellen's toothbrush is on my side!' I had [her assistant] open the drawer and I was like, 'Well, where's my makeup?' So essentially you're a terrible roommate. You took over my side and your side," Cox quipped. DeGeneres later went on to blame her wife for taking over Cox's side of the bathroom. 
LA Magazine reports that DeGeneres has become known for buying homes, decorating them, and then selling after getting tired of the look. DeGeneres admitted in 2018, "We buy a house then we get a little bored because we like a different style."