The Hidden Meaning Behind Kourtney Kardashian And Travis Barker's Body Language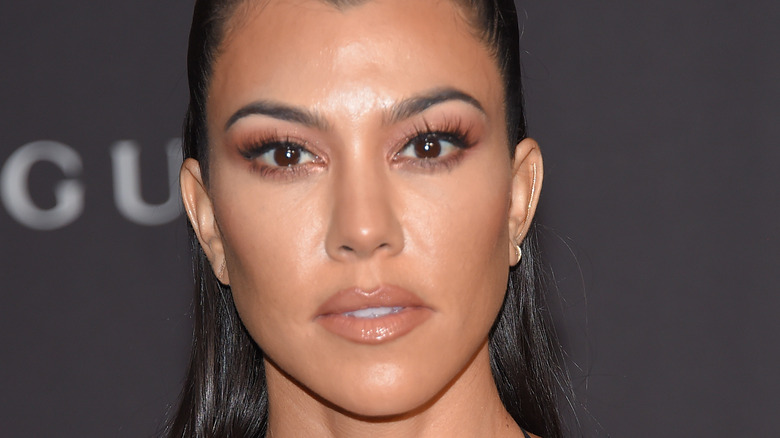 Shutterstock
While we may no longer be able to keep up with the Kardashians by way of their TV series, we're still privy to all their business that they care to share on Instagram – which, lucky for us, is a lot. 
Are the pictures we see always telling the whole story, though? Well, when you get past what the Kardashians are wearing – or not wearing, since none of them seem afraid to show a little skin – that leaves their body language.
Life coach and relationship expert Nicole Moore has plenty of experience in reading the body language of her clients, and she agreed to put it to use for The List to give us some inside info on one of the latest Kardashian hot topics: Kourtney's new relationship with Blink-182 drummer Travis Barker. Even though the couple has only been together for a few months, Entertainment Tonight reports that they're already talking marriage. While Moore wouldn't go so far as to predict wedding bells, her take on the twosome's body language is that there's a real bond there.
Kourtney and Travis' relationship is not all about sex
Anyone who's been following Travis Barker's or Kourtney Kardashian's Instagram profiles have seen plenty of PDA pics of the two of them – most, interestingly enough, appearing to have been shot by a third party. Who, you may ask? Inquiring minds would want to know, but body language can tell us so much. 
What's really going on here? Are they staging these displays for the 'gram, or are they just so carried away they don't care if the whole world is watching?
That we can't say, but Nicole Moore says she can see that behind all the hot and heavy action, noting "There's actually a sweeter side to the Kourtney Kardashian and Travis pairing that goes beyond just sex." In an Instagram video of some public finger-sucking Barker is doing at a UFC fight, Moore notes that Kardashian is crinkling her nose like a little girl and says, "Her body language in this clip shows that she's not just hot for Travis, she adores him."
Both partners feel safe in the relationship
Another photo posted to Travis Barker's Instagram (he seems to be posting the lion's share of the couple pics), shows him hugging Kourtney Kardashian and kissing the top of her head. 
Moore points out that Kardashian's eyes are closed. She explanis, "Her body language here is almost like a little girl getting a hug from a family member she feels safe with." She also describes Barker as looking like "an adoring father kissing his daughter on the head."
While she acknowledges the couple's chemistry, Moore seems to feel the relationship is deeper than that. She thinks Barker allows the 42-year-old Kardashian to "let her young, childlike side shine," and adds that "Kourtney and Travis feel safe with each other. From their body language it appears as if they connect on a level that feels like they are already family. " Well, let's just hope the rest of the family feels that way about Barker, as well.