Isla Fisher's Beauty Secret For Looking 10 Years Younger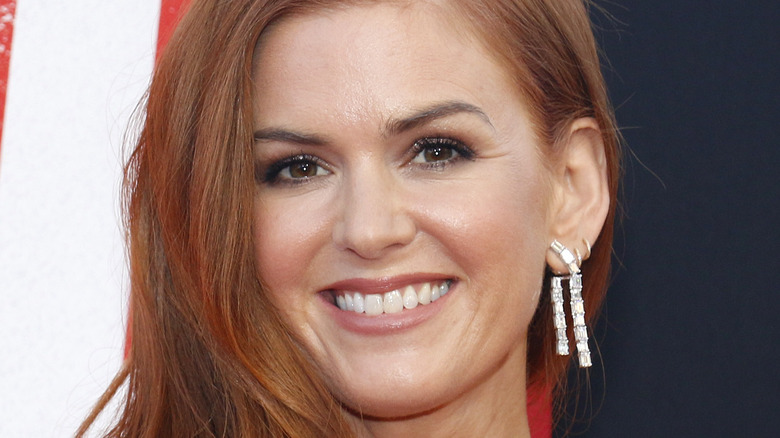 Shutterstock
Isla Fisher is a well-known Australian actor with iconic roles in movies such as "Wedding Crashers," "Hot Rod," "Definitely Maybe," and "Confessions of a Shopaholic." She got her start on Australian television on a soap opera called "Paradise Beach" before landing a role on soap opera "Home and Away," which eventually led her to Hollywood (via Empire).
After marrying comedian Sacha Baron Cohen in 2010, Fisher became even more well known — not just for her acting skills and marriage, but for her fresh-faced, young-looking skin.
The mother of three still looks as young as she did when was starring as the naïve Rebecca Bloomwood in "Confessions of a Shopaholic," a movie that came out in 2009. Recently, the actor went on Instagram to give insight to how she keeps her young, vibrant complexion.
Isla Fisher uses beauty products from Naomi Watts
Naomi Watts is a fellow actor also known for her gorgeous skin. According to Women's Health, Watts has been working on a clean beauty platform since 2016. She recently shared a box of her favorite products with Isla Fisher, who gave credit to those products for her flawless looks.
According to The Daily Mail, the box featured products like a gua sha facial oil, which is used for lymphatic drainage, and Saya argan body oil, which provides ultimate hydration for skin. The box also contained Henné lip balm, Hayo'u beauty restorer in rose, and Ayu perfume oil. 
Fisher, Sacha Baron Cohen, and their children relocated to Sydney, Australia, citing America's political climate as the reason for their departure (via Daily Mail), but wherever she lives, we will continue to look to Fisher for tips on how to stay looking 35 no matter what age we really are.