The Truth About Aldi's Award-Winning Wine
Scott Olson/Getty Images
Trader Joe's may be known for its unique items (green tea-infused mints, anyone?), affordable prices, and dirt cheap wine (via Reader's Digest), but Aldi is proving to be quite the competitor. According to Retail Times, Aldi was awarded "Wine Supermarket of the Year" at the International Wine & Spirits Competition (IWSC) Supermarket of the Year Awards 2021. This will be the third win (for wine and spirits) in just three months for Aldi. The company snagged "Drinks Retailer of the Year" at the Retail Industry Awards and "Multiple Wine Retailer of the Year" at the Drinks Retailing Awards 2021 (via LancsLive).
But wait, the praise does not end there! Last year, Aldi was awarded two trophies, two gold, two silver, and six bronze at the 2020 Royal Adelaide Wine Show (via Aldi Unpacked). "The Max Schubert AM Trophy for Most Outstanding Red Wine in Show, is regarded as one of the most prized trophies in the Australian Wine Industry," Aldi wine buyer and resident wine expert, Jason Bowyer, said in a statement. "The Blackstone Paddock Margaret River Cabernet Sauvignon trumped many prized Australian Cabernets from some of most iconic Cabernet regions like the Coonawarra and Margaret River, some selling in excess of $100 and more!"
Price doesn't always equal perfection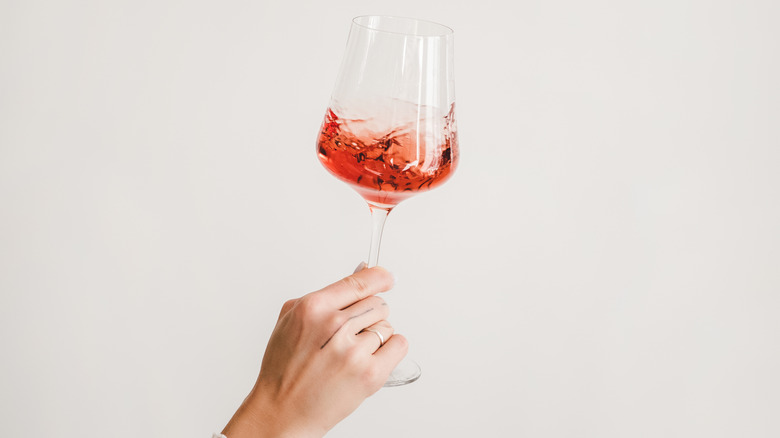 Shutterstock
Sure, buying an uber expensive wine is cool and it may taste better than its cheaper counterpart. But, according to a study conducted by researchers at the University of Bonn and INSEAD Business School, taste has a lot to do with marketing (via EurekaAlert). During the experiment, researchers asked 30 volunteers to taste and rate a variety of wines. The only thing the participants were shown was the price of each wine. After seeing how expensive each choice was, the participants claimed that the higher priced wine tasted better.
So, what does this mean? Not all cheap wine is terrible. According to Decanter, Aldi's Buenas Vides, Shiraz, San Juan, Argentina 2019, is one of Aldi's best wines. Tasted by Decanter content editor and regional editor, Tina Gellie, this Argentinian wine has a "lifted nose of blackberry, plum, sweet spice and potpourri which follows on to a more savoury yet still plush palate." And, here's the kicker: It's only £6.99, which is roughly $9.68 USD.