The Truth About Rudy Giuliani's Dating History
Shutterstock
In recent years, Rudy Giuliani has been known as a staunch defender of former president Donald J. Trump, as well as his personal lawyer who is now under investigation by the Southern District of New York U.S. Attorney's office, according to The New York Times. But at one time he made New York headlines not just as the leader known as America's Mayor, but also as a man with quite the dating history.
Giuliani got his start on the New York gossip pages and dating scene as an attorney with SDNY in the 1980s who brought down various mafia crime families (via CNN). His high profile cases made him a high profile name and the women he was with earned recognition as well. However, most of Giuliani's relationships have been long-term ones and most of them turned into long marriages as well.
Perhaps his most publicized union was with Donna Hanover, whom he was married to between 1984 and 2002, according to FamousFix. Hanover was a well-known New York name in her own right as an on-air reporter and anchor for local stations. She even appeared regularly on the New York morning program, "Good Day New York," according to The New York Times. Hanover gave birth to Giuliani's two now-grown children during the marriage. Son Andrew is now 35 (via CNN) and daughter Caroline is now 32 (via People). Still, Giuliani's dating and marriage history had been fraught with drama before his union with Hanover and after.
Yes, Rudy Giuliani married his cousin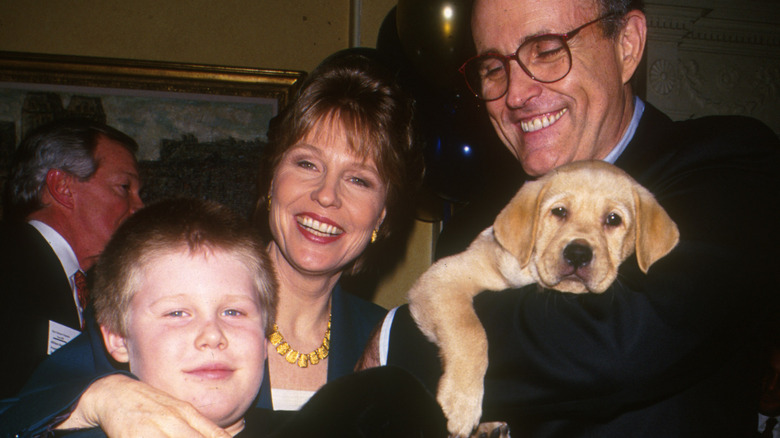 Arnaldo Magnani/Getty Images
There have been Internet memes floating around for years that Rudy Giuliani married his cousin and it turns out that's true. According to PolitiFact, Giuliani's first wife, Regina Perrugi, was his cousin and they had known each other since childhood. Giuliani married Perrugi in 1968 and they divorced in 1982. As PolitiFact notes, Giuliani and Perrugi were second cousins and she was the daughter of his father's first cousin, and in New York, marrying your second cousin is perfectly legal. The facts of the marriage came to light during Giuliani's 1993 mayoral campaign.
The couple didn't have any children and soon after they dissolved their union, Giuliani entered into his second marriage with the aforementioned Donna Hanover, who he was married to during his tenure as New York City mayor, making Hanover first lady of New York. The marriage to Hanover ended Giuliani's affair with the woman who would go on to become his third wife, Judith Nathan. Giuliani was also said to be having an affair with his press secretary, Christyne Lategano, during the 1990s, according to FamousFix.
The third time was not the charm for Rudy Giuliani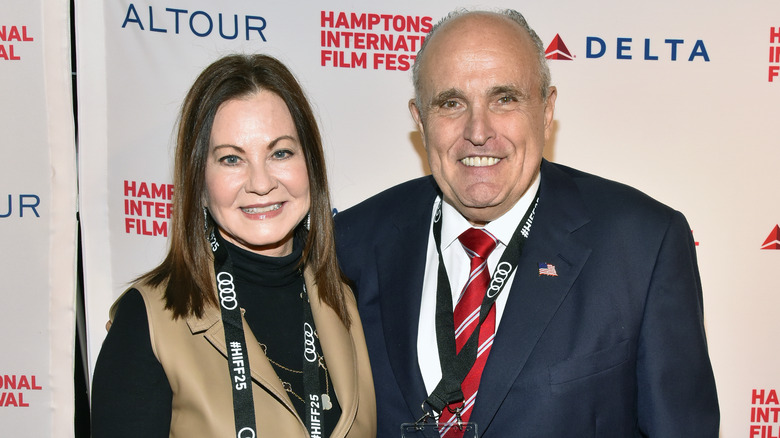 Eugene Gologursky/Getty Images
Giuliani was still New York's City's mayor when he wed Judith Nathan in 2003, so she became the city's next first lady after Hanover. He was already a household name across America by then, as much of the country saw him as a force to be reckoned with after the 9/11 terrorist attack on NYC's World Trade Center. When Giuliani announced his divorce from Hanover, he also mentioned his good friend, Judith Nathan, who he said would possibly soon become more than a good friend (via The New York Times).
The pair wed in 2003, but in 2018, it was Nathan who filed for divorce and they entered into a bitter court battle where they fought in court over things as trivial as fountain pens and cigars, according to The New York Times. The divorce was finalized in late 2019 (via ABC) and Giuliani hasn't been linked to anyone romantically since then.