How To Use Blue Color Corrector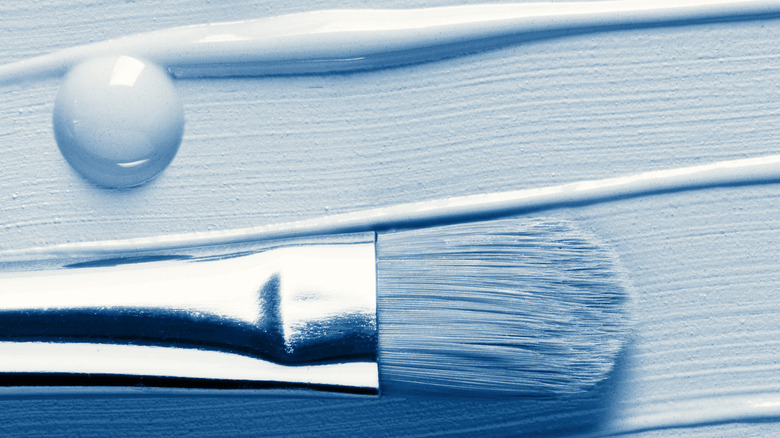 Shutterstock
They say opposites attract, but in the case of makeup, opposites neutralize as color theory can help correct skin discoloration (via L'Oreal). In your primary school painting class, you might remember mixing complementary colors, or colors opposite to each other on the color wheel. So, blue and orange paint would cancel each other out when mixed. Similarly, blue corrector can neutralize orange tones in your skin.
You may have seen makeup artists and beauty influencers use yellow, orange, or green color correctors before applying their foundation. There's one color of corrector, however, that doesn't get as much hype, but is just as useful — blue. Fashionista noted that blue correctors can help with any sallowness, or skin with overly yellow undertones, just like lavender corrector. The blog recommended Algenist Reveal Concentrated Color Correcting Drops, while noting that the blue shade helps brighten the skin. Glamour also recommends the Algenist drops to brighten sallow skin, or perk up washed-out skin on a sick day.
Tammy Yaiser, Vice President of Product Development at Algenist, told Glamour, "Drops like these are super-versatile, since you can pretty much apply them however you want to." While you can use it on its own, Yaiser recommended mixing a drop into your primer. Fashionista agreed and also recommended mixing the drops with foundation, adding that what makes the product stand out is a special ingredient — microalgae. According to the blog post, the microalgae boost the pigmentation of the tint itself. 
Here are other uses for blue color corrector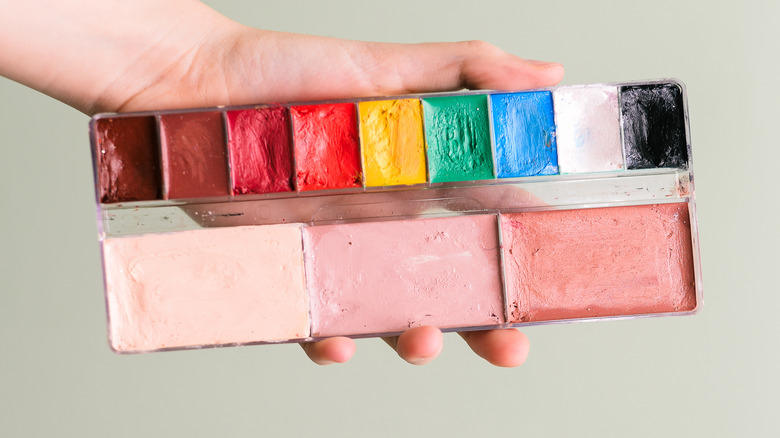 Shutterstock
There are several primer options if you want to correct overall sallowness like the NYX Color Correcting Liquid Primer in Blue, the Make Up For Ever HD Step 1 Primer Color Corrector in Tone Up, and the AOA Wonder Primer Color Correcting Primer in Blue. Makeup.com noted that blue corrector can also help offset the orange tones in hyperpigmentation from being out in the sun, as well as patchy discoloration from sunless tanner. And even if you have gone completely overzealous with your self-tanner, blue corrector can come to the rescue to save you from looking like a walking tangerine (via Beautiful with Brains).
On the other hand, if you've lost your tan from lockdown or have olive undertones and find that your foundation is too orange on your face, you can mix in a blue corrector into your foundation, like the L.A. Girl PRO.color Foundation Mixing Pigment in Blue. According to L.A. Girl, the blue mixer will help neutralize foundations that are too warm in their undertones. 
Green color corrector is usually the best way to correct for extreme redness and inflammation from acne (the chin acne struggle is real), but blue correctors can also work to tone down overly red spots, per Beautiful with Brains. So you heard it here — snag a blue color corrector before they all sell out!