Here's What Katy Perry's Tattoos Really Mean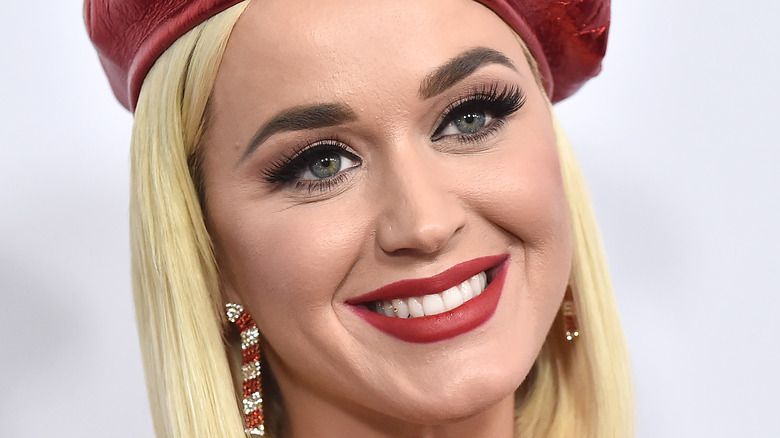 Shutterstock
Katy Perry's music has defined the late 2000s and 2010s with pop hits like "Teenage Dream," "Roar," and "Firework" to name a very few. Born October 25, 1984, Katy Perry originally got into the music world to perform gospel music, per her debut album "Katy Hudson" which featured a blend of Christian rock, gospel, and contemporary. However, her beginnings seemed bleak as she stated in an interview with Entertainment Weekly. "It reached literally maybe 100 people, and then the label went bankrupt" (via Biography).
However, her big break came in 2008 with the release of her second album, "One of the Boys" which featured hit songs like "Hot N Cold" and "I Kissed a Girl." After that, she shot into superstardom with sold-out world tours, six studio albums, and two films about her amazing tour life. Most recently, she dove into motherhood with actor Orlando Bloom, after welcoming their daughter into the world in August 2020 (via CNN). Along with a great voice and killer style, the singer-songwriter has amazing body art on her.
Katy Perry loves floral tattoos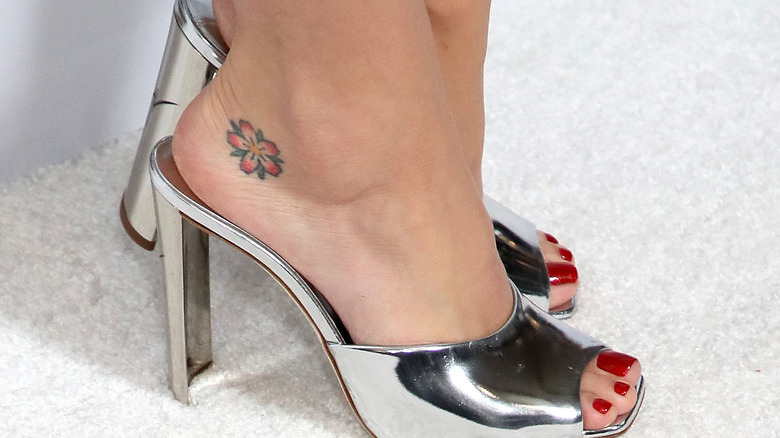 David Livingston/Getty Images
Perry got her first tattoo at age 18, with 'Jesus' tattooed on her left wrist. Before her pop anthems, Perry wanted to be a religious singer due to her very religious background. One of Perry's earliest tattoos is a matching Sanskrit tattoo with ex-fiancé Russell Brand, on her right bicep, that translates to "Go with the Flow." She also has a small Hello Kitty tattoo on her finger, which she got when she found out Hello Kitty is a Scorpio like herself (via Body Art Guru).
Along with spiritual tattoos, Katy Perry is a fan of floral tattoos. On her wrist is a simple lotus flower and a cherry blossom on her ankle, both of which have never been commented on (via Steal Her Style). Now her first daughter, with actor Orlando Bloom, was given the name Daisy Dove Bloom (via The Times). So will a daisy tattoo be on the horizon? Fans hope so!
Most of her tattoos represent her musical career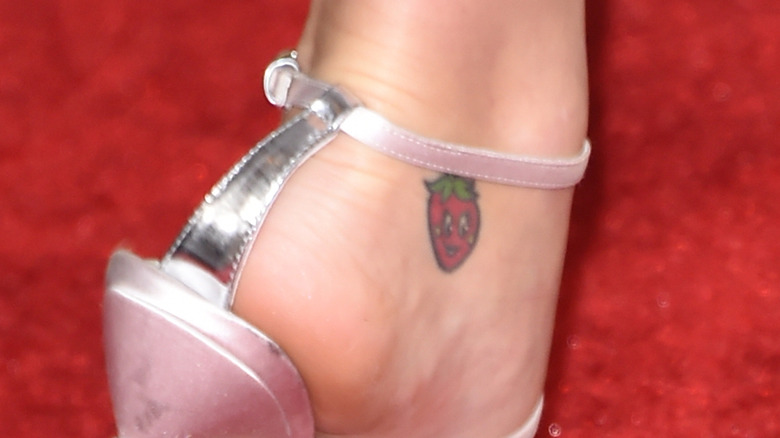 Jason Merritt/Getty Images
Most of Perry's tattoos are based around her music career, and they're adorable. She got a smiling strawberry tattoo on her ankle to represent her success on her 2008 album, "One of the Boys." She also got a peppermint tattoo in the same style, on her right ankle, to commemorate her "Teenage Dream" album. The last one in the same style is a rainbow triangle on her left ankle for her "Prism" album. However, she has two more musically inspired tattoos including the Roman numeral XLIX, to commemorate her Super Bowl performance (via Steal Her Style). 
Her newest addition is a unique, planetary version of an eyeball, designed by celebrity tattoo artist Dr. Woo. The tattoo is based around her "Witness" album in 2017, and according to her Instagram post, she got this matching with 45 other crew members on her tour (via StyleCraze).