The Real Reason Whitney Houston Turned Down A Role On The Cosby Show
Frank Micelotta/Getty Images
In the 1980s, "The Cosby Show" became the number one rated sitcom on television and Whitney Houston became a musical superstar, but at one point, their paths may have crossed if Houston had had a different focus in her life.
Houston was just 22 years old in 1985 when her first album debuted. Titled simply "Whitney Houston," the album launched her career and produced several chart-topping hits, including "Saving All My Love For You," "The Greatest Love Of All," and "How Will I Know?" Two years later she did it again with the album, "Whitney," which produced hits like "I Wanna Dance With Somebody" (via Britannica).
Meanwhile, "The Cosby Show" made its NBC debut in 1984, one year before Houston became a singing sensation. The sitcom led the NBC Thursday night lineup for eight seasons, with its premiere episode jumping to number one in the ratings. The show revolved around obstetrician Cliff Huxtable (Bill Cosby), his lawyer wife, Claire (Phylicia Rashad), and their five children, the oldest of whom was Sandra, played by Sabrina Le Beauf. However, that role was originally offered to Houston, who was not yet a household name at the time (via Encyclopedia.com).
Whitney Houston opts out of doing 'The Cosby Show'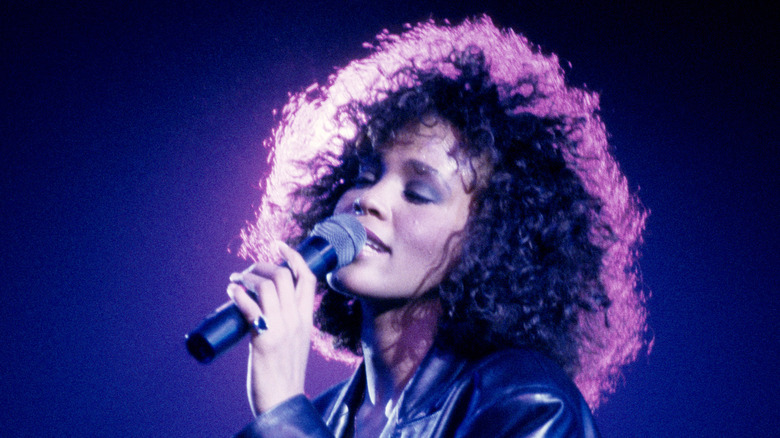 Graham Wiltshire/Getty Images
While "The Cosby Show" would have shot Whitney Houston to worldwide fame as it did for its entire regular cast, as a young adult Houston wanted to sing more than she wanted to act. Her first album had not yet debuted and Houston feared that committing herself to a sitcom would have derailed her music career, according to Brain Sharper.
There's no way of knowing whether the late Houston could have had a simultaneous acting and singing career in the 1980s, but by the 1990s she was able to maintain both. During that decade she starred in several hit feature films, including "The Bodyguard," "Waiting To Exhale," and "The Preacher's Wife," according to IMDb.
Sadly, problems with drugs derailed her career in the early 2000s. She released a well-received comeback album in 2009, but tragedy struck a few years later. In 2012, Whitney Houston was found dead in a bathtub, according to Britannica. The official cause of death was drowning. Cardiac issues and cocaine use were listed on the coroner's report as contributors to the singer's death.