How Often Should You Really Be Replacing Your Beauty Blender?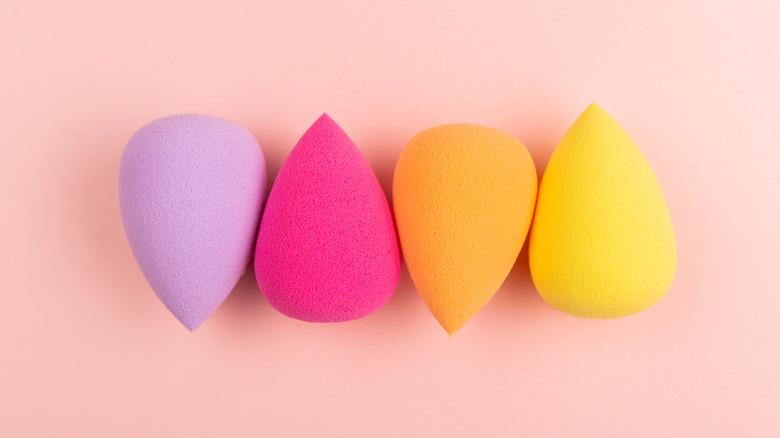 Shutterstock
It's no secret that many people keep beauty products in their collection longer than they should, and beauty blenders are no exception. The soft, brightly colored tool has changed the way makeup is applied and become a staple in millions of makeup bags all over the world since its invention in the early 2000s on the set of "Girlfriends," according to Business Insider. The beauty blender is here to stay, but don't let it stay for too long before you replace it. Just how long should you wait to replace your beauty blender?
First, examine your blender. Is it still smooth and egg-shaped, or has it lost its shape a little? Do you see nicks and tears across the surface, or stubborn stains that don't come out, no matter how hard you clean it? While it may still be usable, a beauty blender that's looking a little worse for wear is nearing the end of its usefulness. Naturally, the more often you use it, the sooner you'll need to replace it. But if you've been slacking on regular cleaning, you may need to get a new beauty blender more often.
Regular cleaning makes your beauty blender last longer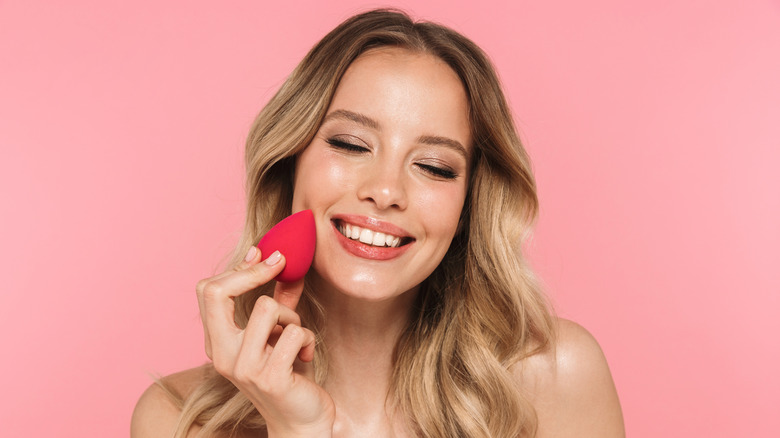 Shutterstock
The Beautyblender website advises that your blender will last between three and six months before it's time to get a new one. To lengthen the life of your beauty blender and minimize product absorption, as well as increase its effectiveness in helping you achieve a smoother complexion, creator Rea Ann Silva advises wetting your beauty blender a little bit before use, per Byrdie. Regular, thorough cleansing is helpful as well, and you should always clean your beauty blender after each use if you can.
A little bit of refresh goes a long way, and it's good to know that your blender can sometimes be brought back to life with a deep clean. After all, a clean beauty blender is an efficient beauty blender, but eventually you will need to purchase a new one. Once your beauty blender does reach the end of its life, be sure to recycle it. According to the Beautyblender site, both the sponge itself and the canister it comes in can be recycled, and Silva herself notes that an even more fun way to recycle your beauty blender is to use it to create ombre nail designs once you're no longer using it on your face, reports Byrdie.
The beauty blender has long been an MVP of the makeup application process. Just be sure to keep yours clean and replace as needed to keep your skin smooth and your makeup flawless.