How Kate Middleton Is 'Fighting Back' Amid Prince Harry And Meghan Markle Drama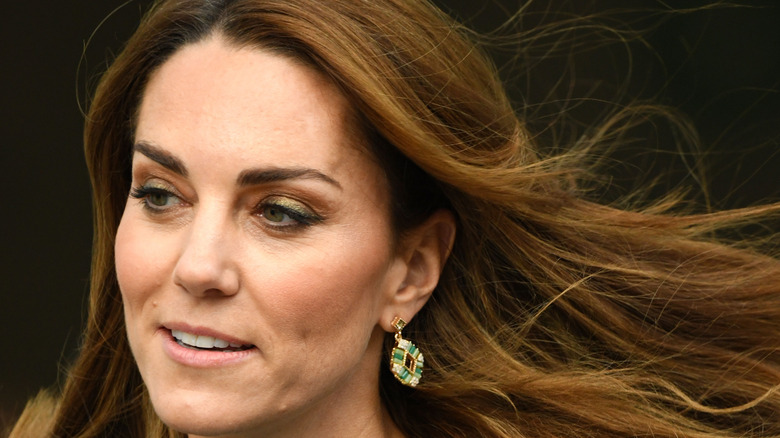 Shutterstock
Prince William and Kate Middleton's relationship has been under a microscope since they got married in 2011. Since then, the pair have appeared to have a picture-perfect marriage. However, when William's younger brother, Prince Harry, began dating Meghan Markle, the media started to report tension between the Duke and Duchess of Cambridge and the American actress (via Insider). Meghan and Kate met in 2017 when Harry introduced the women at Kensington Palace, and things seemed to be going pretty well on the on-set. "The meeting ended with Kate letting Meghan know that she was always welcome to contact her if she needed anything," Omid Scobie and Carolyn Durand wrote in their Meghan and Harry autobiography, "Finding Freedom." Later that year, William and Kate said that they were "thrilled" when the couple announced their engagement.
Despite the official messaging coming out of the palace, tabloids continued to run stories about a feud between Meghan and Kate. When a story ran about the women getting into an argument after Meghan allegedly yelled at a staff member, the palace got involved and debunked the rumor, claiming the incident never happened. In 2019, Meghan and Harry surprised many by splitting their household with William and Kate, and by early 2020, they announced they were exiting as senior members of the royal family. In March 2021, Meghan and Harry gave a tell-all interview with Oprah Winfrey and dropped many bombshells about the royal family, including a story about how Kate made Meghan cry while they were wedding planning (via USA Today). Now, Kate is said to be quietly fighting back against the Duke and Duchess' claims.
Kate Middleton is not letting royal drama impact her family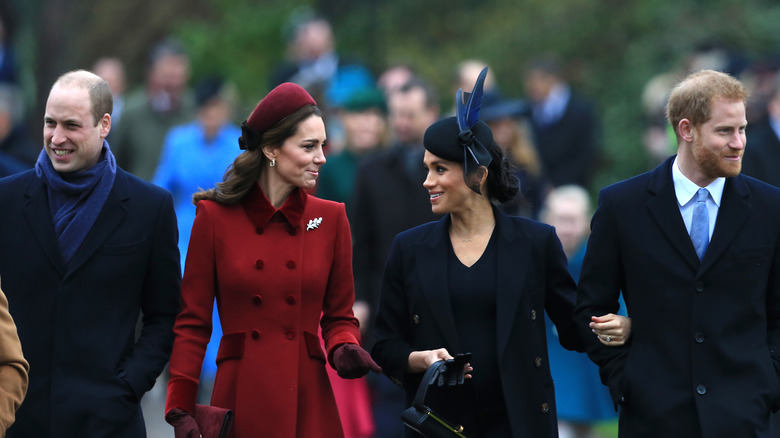 Stephen Pond/Getty Images
Kate Middleton may be the picture of elegance and class, but she's also a protective mother and wife. The Duchess of Cambridge is said to be determined not to allow the mess with Prince Harry and Meghan Markle to have a lasting impact on her life with her husband, Prince William, and their three children, Prince George, Princess Charlotte, and Prince Louis (via Express). Jenny Eclair, commentator told Independent, asserted that Kate won't be a doormat. "Kate, it seems, isn't going to allow herself, William or her children to get walked over. She is fighting back, hence the charming, 'we're so ordinary despite being royal' birthday snaps of Prince Louis's third birthday," Eclair said in her column.
The commentator went on to reveal that if Meghan and Kate are pitted against each other, it's the Duchess of Cambridge who currently has "the upper hand." Eclair wrote, "If I were Meghan, in the unlikely event that they should end up at the same pool party, I wouldn't stand too close to Kate — she's tougher than I gave her credit for."
Meanwhile, Kate has stayed quiet when it comes to both William and Harry's rift and the Duke and Duchess of Sussex's tell-all interview. In addition, Kate was the person who allegedly encouraged the brothers to talk when Harry returned to the United Kingdom for Prince Philip's funeral in April 2021. "She has been heartbroken to see them fall out," Entertainment Tonight previously reported, but from what we can tell from Eclair's commentary, it looks like Kate is taking matters into her own hands.