Kate Middleton Calmed Harry And William's Feud. Here's How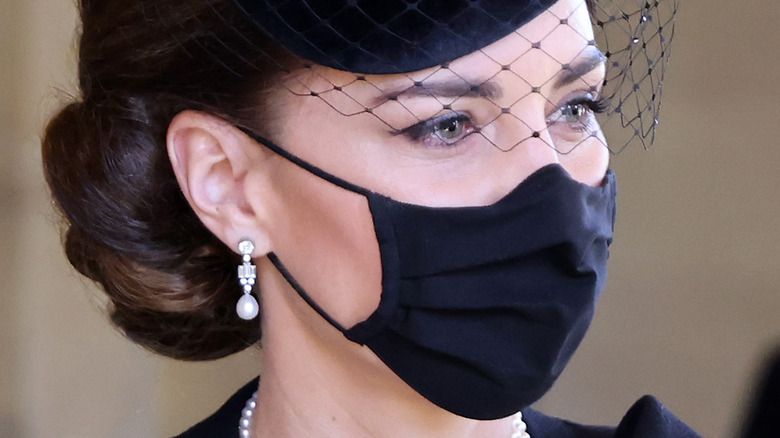 Chris Jackson/Getty Images
Even before the funeral began for Prince Philip on Saturday, April 17, there was talk that the tension between Prince Harry and his brother, Prince William, would likely dominate the celebration of their grandfather's life. While his wife Meghan Markle's pregnancy prevented her from attending the funeral, Prince Harry made the journey back to the United Kingdom on his own, to honor his grandfather and help lay him to rest at St. George's Chapel in Windsor (per the New York Post).
Prince Harry had not stepped foot in Great Britain since leaving his royal duties behind in 2020. What's more, ever since Harry and Meghan dropped several bombshells about the royal family during a March 7 interview with Oprah Winfrey, the relationship between Prince Harry and Prince William had reportedly been tense. During the CBS primetime special, Prince Harry categorized the current relationship with his brother as "space" and said they were on "different paths," according to BBC.
Until the last moments of Prince Philip's funeral, it appeared as though Prince Harry was uncomfortable with the entire situation until Kate Middleton stepped in and engaged in what seemed like an animated chat with her brother-in-law as they walked back to Windsor Castle. According to The Sunday Times, Kate chatted with Prince Harry until Prince William joined them. Then, as if sensing that the pair needed a bit of time alone, Kate pulled back from the two princes. Judging from this interaction, it appears as though Kate is attempting to help the brothers patch up their complicated relationship.
The brothers have struggled to see eye-to-eye in recent months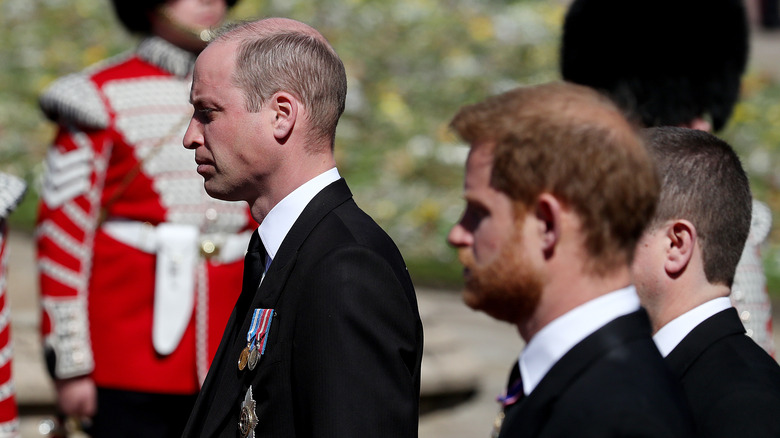 Wpa Pool/Getty Images
After the airing of Prince Harry and Meghan's tell-all interview, it was reported that Prince William was taken aback over the allegations that he was "trapped" in his royal duties and that the royal institution was following racist practices. Approximately a week after the interview aired, the brothers finally spoke to one another about the allegations made during Prince Harry's interview with Oprah Winfrey.
However, as Gayle King disclosed on CBS This Morning, the talk was not as productive as the pair had hoped and Prince William was reportedly furious that his brother leaked their private conversation to King. According to Us Weekly, Prince William accused his brother of putting fame over family after the interview aired. Further, a source told the outlet that William was no longer comfortable speaking to Harry over the phone, considering how their last conversation went. 
This was the situation the royal family found themselves in upon Harry's return, and it would seem that it would fall to Kate Middleton, as the family's "peacemaker," to help the brothers through their rift, even as royal watchers speculated it couldn't have been easy for Kate to do either, given what was said about her during Harry and Meghan's interview with Oprah, too (per the Daily Star). However, as was seen after Prince Philip's funeral, the Duchess of Cambridge was absolutely the key to bringing Harry and William together (at least for a chat), knowing that Prince Harry wasn't to stay in Britain for long before his return to California.
A show of royal family unity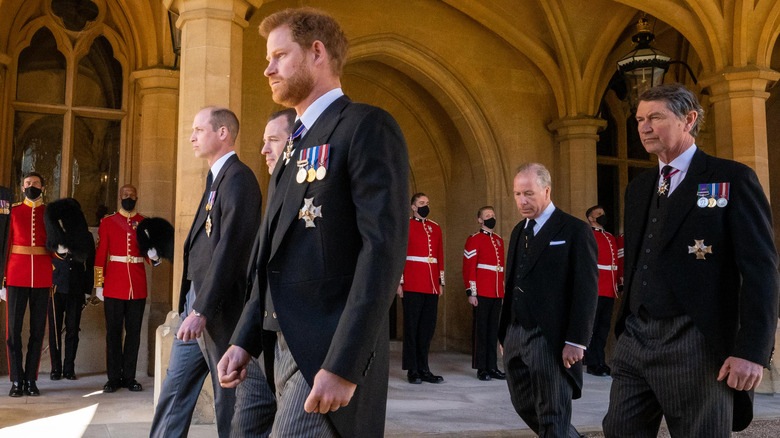 Wpa Pool/Getty Images
Throughout the aftermath of the Oprah interview, and even as seen during the funeral Saturday, Kate Middleton has made it her mission to be a pillar of strength and peace for William and the royal family. By engaging in a conversation with her brother-in-law Harry following the emotional service, Kate made it possible for the brothers to speak and share a moment. A royal source told The Sun that Harry, even while wearing his mask, appeared to be "grateful for the opportunity" to speak to his brother alone, after Kate chose to fall back.
As The Sunday Times noted, seeing all three walking back to Windsor together — with Harry in the middle — was an encouraging sight, considering the fact that the brothers were not "shoulder to shoulder" during the funeral procession, but rather separated by their cousin Peter Phillips, as determined by the Lord Chamberlain's Office.
Body language expert Judi James told The Mirror that, based upon the body language of both Prince William and Prince Harry during their talk after the funeral, there is a bit of hope for reconciliation in the future. "It was only when the service was over and the royal[s] left that we finally saw Harry eye-check William and then walk up between William and Kate to chat," James said. "Kate fell back to talk to another party, leaving the two brothers walking alone talking, in the moment of possible reconciliation that we had all [been] hoping for."