Here's Where Sacha Baron Cohen And Isla Fisher Are Relocating To Get Out Of Hollywood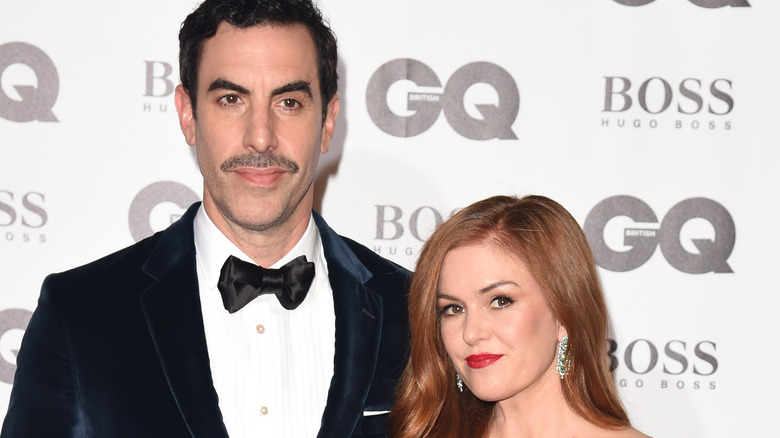 Shutterstock
As one of the longest standing couples in Hollywood yet one of the most private ones, Isla Fisher and Sacha Baron Cohen have plans to set roots far from the U.S. The British comedian met the Oman-born Australian actress in a Sydney party in 2001 and for Baron Cohen, it was love at first sight, as he revealed in an interview with the New York Times. The "Borat" star and "Wedding Crashers" lead got engaged in 2004 but didn't have a wedding until three years later when Fisher converted to Judaism just to marry him (via Business Insider). 
The couple has three children together, daughters Olive, Elula and son Montgomery. While they lived in Los Angeles for years, Fisher admits it's a hard place to raise her kids. "Juggling a family in L.A. isn't easy," Fisher told Marie Claire in 2018. "There's not really a culture of bringing your kids to dinner parties or to restaurants past 6 p.m. I tend to entertain at home because I want to be with my family — it's easier to put your kids to bed and have a wine with friends." 
Sacha Baron Cohen and Isla Fisher are looking for a home in Sydney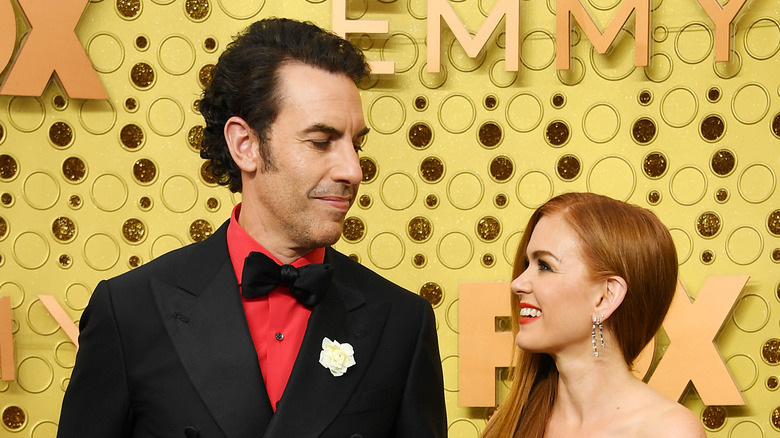 Kevin Mazur/Getty Images
In her 2018 Marie Claire interview, Isla Fisher admitted she wanted to move back to Australia. "I have this secret fantasy of slowing down, moving to Byron Bay, getting off the grid and sitting on the sand with a Vegemite sandwich," she told the outlet. It seems that her dreams are coming true as the couple was spotted looking at multi-million dollar properties in Sydney this year, according to The Sydney Morning Herald.
Baron Cohen has received threats and criticism in the U.S. due to his outspoken political views so it makes sense that the couple wants to relocate somewhere else. However, in a recent interview with Marie Claire, Fisher shared that politics have nothing to do with the decision. When asked whether she was interested in fleeing "Trump's America," Fisher declared that the move was strictly personal, and that she could "be herself" in Australia (via Daily Mail). 
Fisher also wants to keep her children out of the Hollywood cameras as she thinks they have the right to privacy. "If you speak about your children or if you take them to a red carpet event, you can't be litigious later on where there is a picture of them in something and say, 'Hey, they deserve anonymity,' but they do. They have rights, too," she told TODAY. "It's a very conscious decision and truly I would feel really disgusting about myself if I used my family to sell something. It wouldn't sit right with me. It doesn't line up with my values."