Pink Opens Up About What It's Like Being A Mom And A Rock Star
Frazer Harrison/Getty Images
In 2019, pop legend Pink grossed over $397 million dollars for her Beautiful Trauma World Tour which sold over 3 million tickets, (via Billboard).
These impressive figures made the tour the highest-grossing tour for a woman in over a decade and placed her among the top 10 highest-grossing tours in Billboard Boxscore's history. Throughout performing at her 156 dates tour, Pink also filmed the upcoming "P!nk: A I Know So Far" documentary, which offers behind-the-scenes footage of the history-making tour, (via People).
Ahead of the release of her Amazon Prime Video documentary, Pink stopped by People to talk about balancing life as a rockstar and a mother to two young children. She told the publication, "There's not a lot of women headlining stadiums and doing two nights at Wembley Stadium while having a family on the road. [Director Michael Gracey] had never seen a mom changing diapers while having a creative meeting, and just the way that this big life intersects with being a normal, crazy family."
Pink wrote the playbook on touring with kids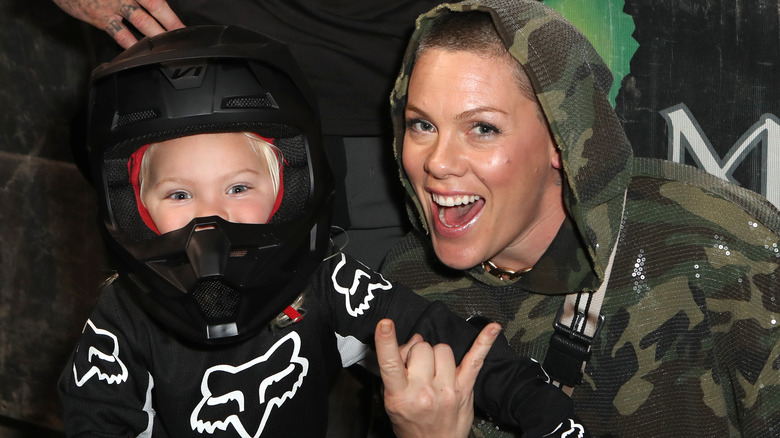 Ari Perilstein/Getty Images
In her interview with People, Pink explained that she is constantly grappling with two completely different lives. She expressed, "I'm always trying to figure out: 'Am I doing the right thing? Can a woman have it all? What does that even mean?' And the answer is no, most of the time you can't, and it feels like you're climbing Mount Everest." However, she added that she wouldn't trade her life for anything and that she feels blessed to be who she is.
Pink noted that while it is almost impossible to tour with young children she's managed to figure out a system that works. She shared, "For a while there were a lot of other pop stars that were emailing me and calling me for the playbook on how to tour with kids, so I wrote a playbook for other moms." 
The star added, "You just keep going. I'm just thinking about: 'Am I raising a kind person? What's it like to be my kid?'"
The musician revealed that while her children live drastically different lives than most people their age, they are still just normal kids. She elaborated, "Jameson wants to be an astronaut. Willow does gymnastics and reads 'Harry Potter' and is convinced she's going to Hogwarts when she's 11, and I don't have the heart to tell her that she's not." Pink closed her interview by adding, "They're totally weird and joyful, and I'm loving every moment of it. Even the hard days are a blessing."