Why Queen Elizabeth Will Likely Never Live At Buckingham Palace Again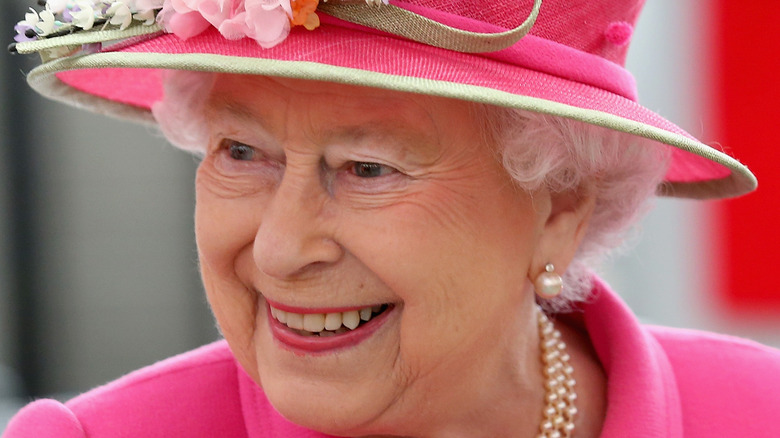 Chris Jackson/Getty Images
It took her 60 years. Queen Elizabeth, who never wanted to move into Buckingham Palace in the first place, has finally put her foot down. The British monarch probably won't be moving back, and good riddance. Hello! recently reported that the royal residence doesn't even deserve a three-star hotel rating due to the technicality that the palace doesn't boast a single ensuite bathroom. Beyond this peculiar oversight, Buckingham Palace has always struggled with certain ... basic comforts? Once, BBC reported mice infestations, although palace staff insisted "the ratio of mice to men is very low." Another time a crumbling piece of the palace fell and almost wrecked Princess Anne's car (via Daily Mail). A third, "significant amounts" of asbestos were found in its basement (via The Sun). In 1953 when Queen Elizabeth and Prince Philip moved from their family home to Buckingham Palace, they cried. You can blame Winston Churchill (aka "The British Bulldog") for it. That's according to royal biographer Penny Junor, who talked to Philip's former butler, who was in the car with them during the move (via Express). 
Now, another royal butler has spoken. Princess Diana's former butler Paul Burrell told the Australian show, "Sunrise," that the queen will "never go back to Buckingham Palace," and will instead make Windsor Castle her permanent home (via Entertainment Daily). Burrell's supposition coincides with what other gossip columns have since speculated. (We're looking at you, Hello!). Thankfully, the British monarch won't have to do much moving. She started the process, per People, in 2020, in the middle of the COVID-19 pandemic. 
The queen's special connection to Windsor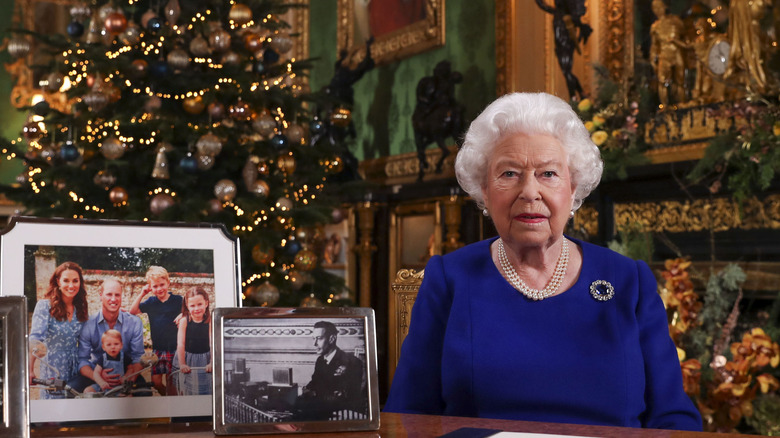 Wpa Pool/Getty Images
Excuse the exaggeration. There are at least a billion reasons that Queen Elizabeth probably prefers to spend the remainder of her days at Windsor Castle, beginning with the fact it's never been her primary place of work. While the queen is still a working royal, she is also 95 years old. Queen Elizabeth and Prince Philip used to spend weekends, Easters, and a week in June at the residence every year according to the royal family's official website. Now, at Windsor, the queen will be closer to her late husband and father, both of whom are currently buried there (via The Sun).
Windsor Castle might be 1,000 rooms large, but it's also full of intimate memories. It was there that Elizabeth (who was 13 at the time) and her younger sister Margaret were sent during World War II to stay safe from the air raids. Their parents remained at Buckingham (via The National World War II Museum). Maybe while at Windsor the sisters played with Queen Mary's Dolls' House that boasts (no joke) a fully stocked wine cellar, running water, and working elevators (via Royal Collection Trust). When she was 18 and still living at Windsor, Elizabeth convinced the king that it was a good idea for her to train to be a driver and mechanic during World War II. It was also at Windsor that she, in 1950, began a corgi breeding program (via Vanity Fair). Anybody who knows Her Majesty knows that being around corgis makes her feel like a million bucks.
Queen Elizabeth is gradually sharing her royal duties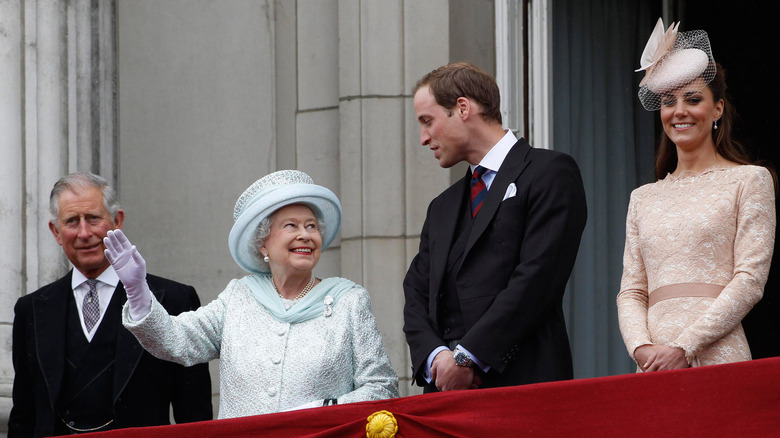 Wpa Pool/Getty Images
Like the rest of the world during the COVID-19 pandemic, Queen Elizabeth has discovered the magic of virtual meetings. Case in point? The Firm recently tweeted out a picture of the monarch's royal audiences with ambassadors from Romania and The Dominican Republic. The ambassadors went to Buckingham, as usual, but were greeted by a computer screen with a video link. The queen received them from the comforts of Windsor.
Hello! speculates that the British monarch will return to the palace periodically for meetings that can't be conducted virtually. But there's a third reason Her Majesty will likely not live at Buckingham Palace again. At long last, she's allowing Prince Charles and Prince William to lend her hand, per the gossip magazine. The 95-year-old monarch has been slowly sharing duties with Charles since 2014, according to CBS. The Sun, meanwhile, suggests that before he died Philip met with Charles to lay a roadmap for the king-to-be to ease the queen's official workload a bit more. 
When Charles becomes king, he might not move into Buckingham palace, either. In 2017 an insider told The Sunday Times that Prince Charles would like to see the palace commercialized as "monarchy HQ." As per a source: "I know he is no fan of 'the big house', as he calls the palace ... He doesn't see it as a ­viable future home or a house that's fit for purpose in the modern world. He feels its upkeep, both from a cost and environmental perspective, is not sustainable."