Inside The Queen's Relationship With Paul McCartney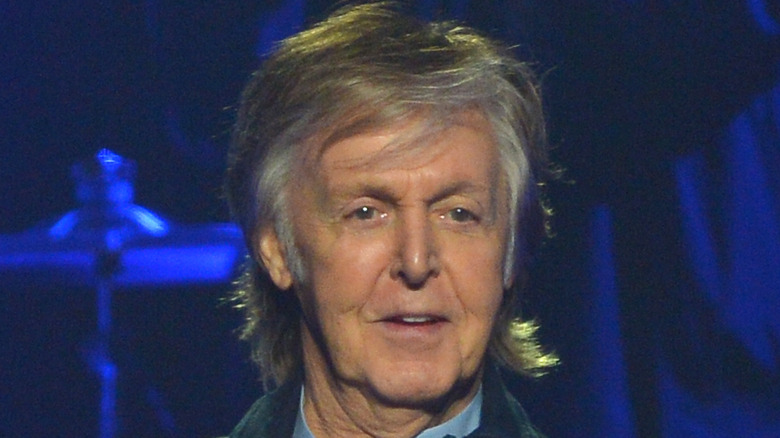 Jim Dyson/Getty Images
It's been a rough few years for Queen Elizabeth II and the rest of the royal family. Early last year, the world was shocked after Prince Harry and Meghan Markle chose to step down from their duties as members of the royal family, and nearly a year later, the former royal couple's explosive tell-all interview with Oprah Winfrey rightfully left a bit of a stain on the royal family's reputation, especially after Markle admitted that she sought help for her mental health and well-being after admitting to having suicidal thoughts and the royals refused to help her (via The New York Times).
During the interview, it was also revealed that there were discussions among unnamed family members about the color of baby Archie's skin tone before he was even born, and on top of that, Queen Elizabeth's husband of 74 years, Prince Philip, died in April of "old age" at 99 (via People).
Although the queen has clearly been going through it the past couple years, CBS' special, "The Queen Carries On: A Gayle King Special," which airs on May 14, will showcase all aspects of the long-reigning royal's ups and downs throughout the years, and will feature prominent public figures like Barack Obama and Sir Paul McCartney talking about their relationship with the queen (via CBS News).
The queen and Paul McCartney actually have a sweet relationship that dates back to when he was 10 years old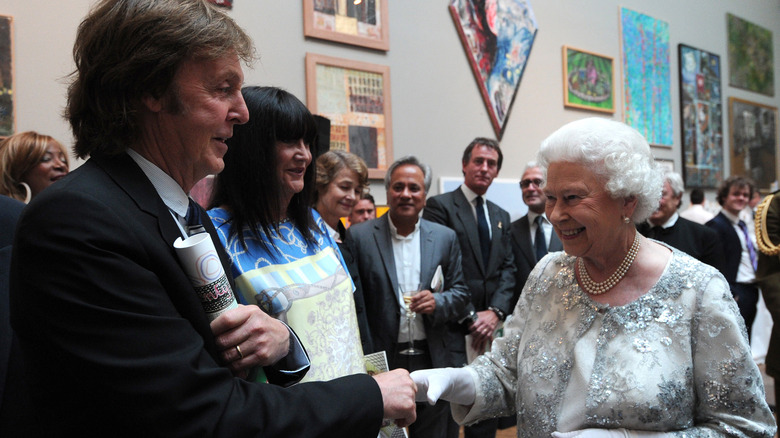 Wpa Pool/Getty Images
In the CBS News special, McCartney reflects on the handful of times he and the queen have interacted, and he admits his love for Elizabeth dates all the way back to when he was just a little boy. "Because the coronation was approaching ... there was a competition for all the schools in England, you had to write an essay on the monarchy," McCartney told Gayle King. "And I liked that idea. And lo and behold, I actually won it. I won my division. And I'm very nervous because they called out my name. ... And I, like, stumbled up with legs of jelly, and it was the first time I'd ever kind of really been on a stage."
The "Penny Lane" singer gave viewers an insight as to how the queen's personality really is, telling King, "I think the thing about the Queen is that she's — she's royal, so you look up to her cause she's royal. But she's very down to Earth."
McCartney was also knighted by Queen Elizabeth in 1997 for his "service to music," as The Beatles is one of the most famous rock groups in history (via History), so it's safe to say that the pair's longtime friendship is rooted in both respect and admiration.