Meghan Markle Told Prince Harry Her Real Feelings About Royal Life Early In Their Relationship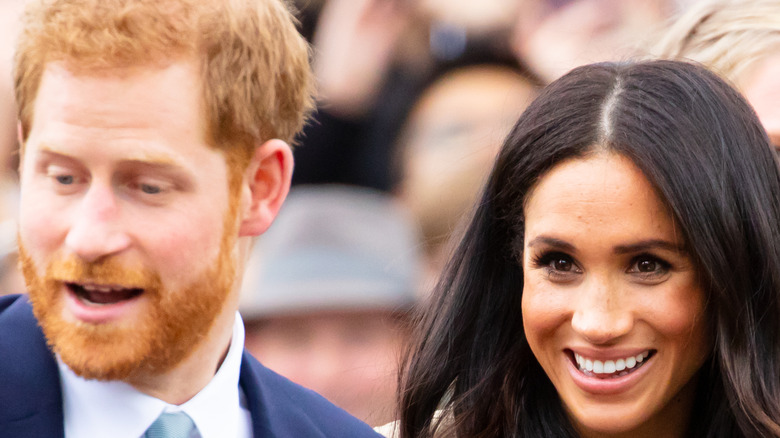 Shutterstock
Prince Harry and Meghan Markle have been open with their thoughts about royal life, and it doesn't look like they're going to stop sharing any time soon. The couple has made it clear that they were unhappy living within the confines of the royal family, as well as all of the media attention and scrutiny that their titles brought them (via People). Meghan particularly had a hard time adjusting to life as the Duchess of Sussex, since the experience was new to her following her engagement to Harry in 2017. During an interview with Tom Bradby in ITV's documentary "Harry & Meghan: An African Journey" in 2019, Meghan opened up about the harsh spotlight.
"[I] never thought that this would be easy, but I thought it would be fair ... If I'd done something wrong, I'd be the first one to go 'Oh my gosh, I'm so sorry. I would never do that,' but when people are saying things that are just untrue and they are being told they're untrue but they're allowed to still say them — I don't know anybody in the world who would feel like that's okay," she stated, per Yahoo!.
For his part, Harry revealed on Dax Shepard's podcast that his life in the royal family felt like he living in a zoo, and it wasn't until Meghan came into his life that he started going to therapy. He also compared it to the movie "The Truman Show," due to the fact that everyone was (and still is) watching his every move at all times, per Page Six. Harry also revealed that Meghan shared her thoughts about royal life early on in their relationship.
Prince Harry revealed Meghan Markle's early thoughts on royal life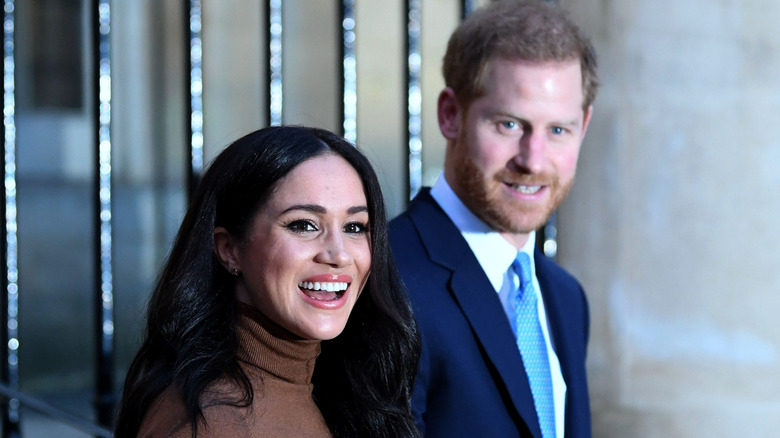 Wpa Pool/Getty Images
Prince Harry told Dax Shepard during an episode of the "Armchair Expert" podcast that Meghan Markle was realistic about entering the royal family early on (via The Sun). Although many believe that being a royal is a fairytale existence, Meghan knew better and quickly told Harry that she didn't need titles to make her happy. "My wife had the most amazing explanation. 'You don't need to be a princess, you can create the life that will be better than any princess.' It's something like that. And that's coming from her own lived experience," Harry said of Meghan's outlook on the royal lifestyle. Harry also admitted that Meghan was a bit surprised about what it was like to be a royal early on in their relationship. "We got together and she was like 'wow, this is very different to what my friends at the beginning said it would be,'" the Duke of Sussex added.
In addition, Harry touched on leaving the royal family and moving to California with Meghan and their son, Archie — from what he shared, life is far better in the United States for the young family, as they're afforded far more privacy. "Living here now I can actually lift my head and actually I feel different, my shoulders have dropped, so has hers. You can walk around feeling a little bit more free. I can take Archie on the back of my bicycle. I never had the chance to do that," Harry admitted (via Mirror).