The Internet Is Buzzing Over Costco's New Kentucky Bourbon Bottles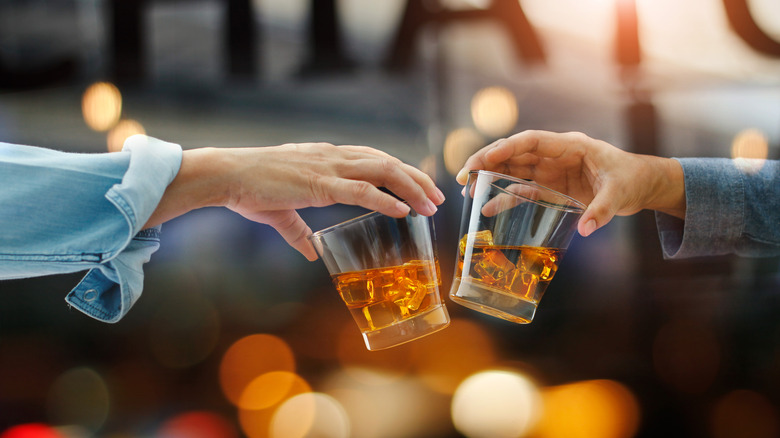 Shutterstock
Being a Costco member comes with many perks, and it looks like a new line of bourbons may be the newest of these perks. Costco fans go wild for many of the company's unique and delicious offerings, such as their boba ice cream bars, but like those bars, fans of Costco's bourbon have noticed a fluctuating presence of bourbon in the store. These fans were left wondering why the Kirkland brand of bourbon hadn't been in stock recently (via Reddit). 
If you don't know, Costco created their Kirkland brand in 1995 to offer products that were both affordable and of good quality (via Costco). However, with Kirkland's bourbon missing from Costco's shelves, many shoppers were left wondering if it was discontinued. 
As it turns out, fans were right to suspect that something was happening. Where people were talking about not being able to find the bourbon on Reddit, another person on the website mentioned that they thought Kirkland was partnering with bourbon company, Barton, on a new offering. Because of this, the assumption was that the old Kirkland bourbon was off the shelves to make room for a new Kirkland-Barton bourbon.
Here's what you need to know about the new bourbon
The Kirkland brand is bringing home a whole new family of bourbons to Costco. Their partnership with Kentucky's Barton 1972 distillery has yielded three distinct bourbon products (via The Whiskey Wash). All three spirits are labeled with Kirkland's Signature name and the Kentucky Straight Bourbon Whiskey adage, but otherwise have different names each featuring its own unique label: Small Batch, Bottled-in-Bond, and Single Barrel.
The Whiskey Wash further reports that the Small Batch bourbon will be the first bourbon to hit Costco shelves when the new whiskey program begins this June. Supplies will be limited at first, so even the Small Batch will only be available at certain locations and in certain states, but the ultimate goal is to get bourbon fans across the country access to all three of these new drinks. 
Fans have understandably been curious about the price point of these new bottles. And while they haven't announced individual pricing yet, it's safe to assume that Kirkland's pledge of balancing affordability and quality holds true, and shoppers should be able to rest easy.