Ellen Star Rosie McClelland Opens Up About Her Life Today
In 2011, 8-year-old Sophia Grace Brownlee posted a video of her singing Nicki Minaj's "Super Bass" with her 5-year-old cousin, Rosie McClelland, on YouTube. The girls went viral and were invited to perform their duet on "The Ellen Show" a month later. On the show, Ellen DeGeneres surprised the girls with Queen Nicki herself, and the trio performed "Super Bass" for an excited audience. This performance currently has almost 145 million views on YouTube and helped McClelland and Brownlee rise to stardom.
Since their appearance on "The Ellen Show," both girls have amassed a large following. McClelland currently boasts an impressive 674,000 Instagram followers. She's also stuck to her musical roots and embarked on a career as a solo artist in 2018 (via Spotify). Her debut single "Handstand" has almost 1 million streams on Spotify, and its music video has over 10 million views on YouTube. The singer has since released four more songs, including her most recent single "Throw It Away."
Rosie McClelland has transitioned to making her own music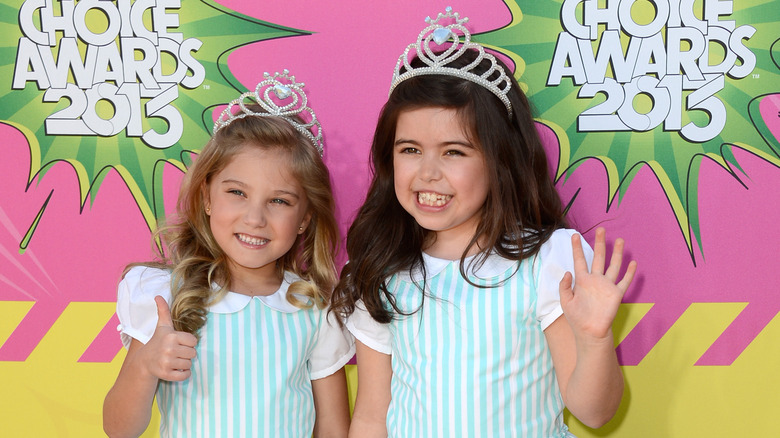 Frazer Harrison/Getty Images
Rosie McClelland recently appeared on the Australian morning show "Today Extra" to speak about what she's been up to recently (via Daily Mail). The star reminded the series' hosts that she is still attending high school in the United Kingdom but is heading to the States this summer. McClelland revealed that she is going to Los Angeles in July to work on her budding music career. She said, "At the moment, I'm at the signing stage and I'm only 14. As I grow up, I'm pretty sure I want to be a full-time singer."
McClelland also revealed that she is still extremely close with her cousin Sophia Grace Brownlee. She shared, "I always see Sophia because she's my cousin, and I absolutely love her and always see her at special events, family events." McClelland added that Brownlee just turned 18 and that the pair celebrated together. Considering the girls are still so close, maybe their fans will finally hear the pair reunited on one of McClelland's upcoming tracks.