Inside Meghan McCain's Relationship With Her Husband, Ben Domenech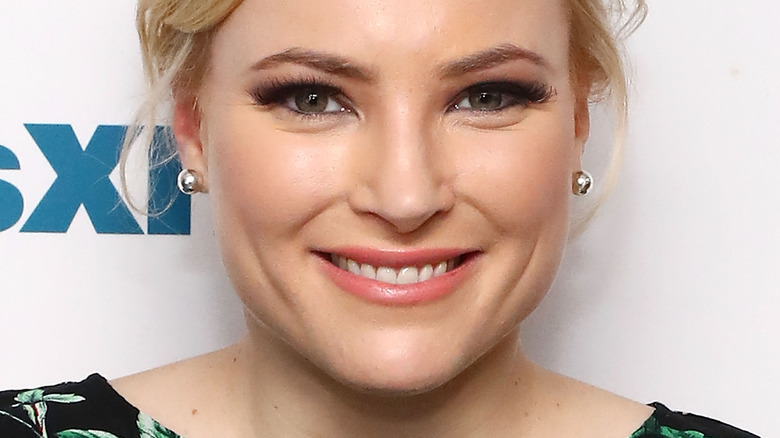 Astrid Stawiarz/Getty Images
In 2020, "The View"'s Meghan McCain and her husband, Ben Domenech became first-time parents. On Twitter, "The View" wrote, "we are excited to share the happy news that our @MeghanMcCain and her husband Ben Domenech have welcomed their first child, daughter Liberty Sage McCain Domenech." Most of McCain's life has been lived out in the public eye. However, Good Housekeeping explains that she's kept her love life out of the spotlight. So, here's inside Meghan McCain's relationship with her husband, Ben Domenech. His career has very closely aligned with the world she grew up in.
Per The Sun, McCain announced her engagement to conservative journalist and commentator Domenech on "The View" in November 2017. "[Ben] works in politics and has for a long time so he wasn't as intimidated and he actually met my dad at my brother's wedding for the first time and ended up talking about health care or something very wonky," Meghan said on the show, "He's so conservative. He's funny in his own way." 
Just a few short weeks later, on November 21, they tied the knot in front of 117 of their closest friends and family. According to Closer, they had the ceremony at sunset at the McCain family's lodge in Sedona, Arizona, and her brother walked her down the aisle before the late Sen. John McCain gave her away.
Speaking to People, Meghan McCain highlighted the one moment when she knew she wanted to marry Domenech.
He stood by her in the bad times
Justin Sullivan/Getty Images
As reported by People, her father's brain cancer diagnosis in July of 2017 made McCain rethink her wedding plans. She told the publication, "There was something about Ben being there for me, at my father's treatments. I was like, 'This is love.' I felt this overwhelming sense of time and my own mortality."
The pair had been dating for two years and she revealed, "we were already talking about getting married, but this made it official. We were originally going to elope before everything happened with my dad, but obviously, all these things have taken on new meaning,"
On "The View" in 2019, following her father's death, Meghan McCain explained to People TV, "I married for love and my husband carried me through my dad's cancer. And if I had married a jacka** that made the most money ever, that was the wealthiest dude I dated, no way I would have survived last year."
Ben Domenech worked in the George W. Bush administration and founded The Federalist. While some may have been intimidated to enter the McCain family, it'd seem he built a close bond with John McCain early on, and Good Housekeeping reported that their similarities extended beyond politics. They went fishing and shooting together. On "The View" in November 2017, John McCain said of Domenech "he's a very fine man. I'm very proud and very happy that they're so happy together."