The Truth About Michelle Williams And Busy Phillips' Friendship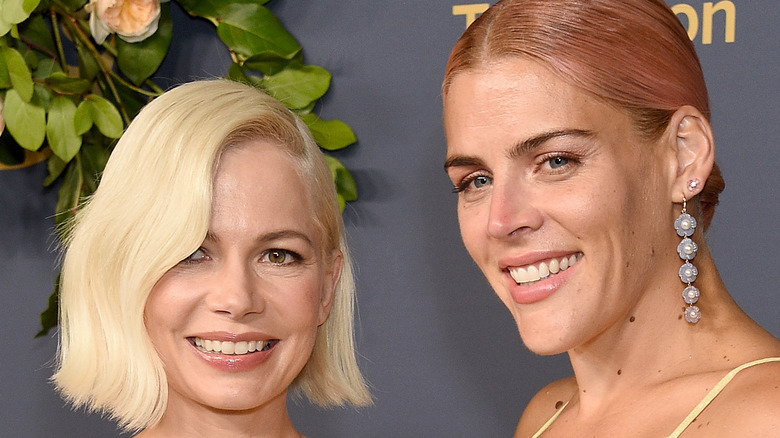 Gregg Deguire/Getty Images
Perhaps even more endearing than the celebrity couple are celebrity BFFs, a different but equally beautiful relationship for fans to get behind. There's Salma Hayek and Penelope Cruz, Cameron Diaz and Drew Barrymore, and even the girls of "The Sisterhood of the Traveling Pants": Alexis Bledel, Blake Lively, America Ferrera, and Amber Tamblyn (via Marie Claire). Over the last few years, fans have also been charmed by the bond shared by actresses Michelle Williams and Busy Phillips, who have called themselves BFFs for over 20 years now (via Today).
The pair first met on the set of "Dawson's Creek". Williams, a long-time cast member, portrayed Jen Lindley, and Phillips joined the show in its fifth season in 2001 as Audrey Liddell and stayed with the show through season six as well (via People).
Over the years, Phillips became a regular fixture on Williams' arm at award shows, starting in January 2006 at the Screen Actors Guild Awards, for which Williams was nominated for Outstanding Performance by an Actress in a Supporting Role for her role in "Brokeback Mountain" (via Vulture). This is a tradition that would continue over the years, with Phillips present for Williams' many nominations, as well as her big Emmy win for portraying Gwen Verdon in "Fosse/Verdon" (via Us Weekly).
Through good times and bad times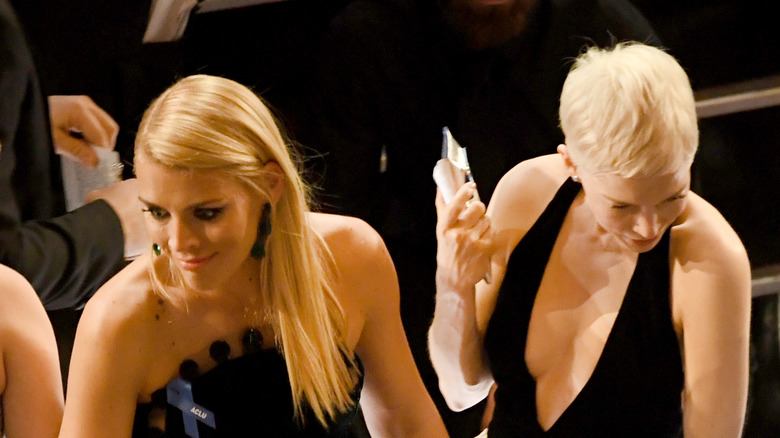 Kevin Winter/Getty Images
Phillips has also been there for her BFF through difficult times as well. Shortly after the birth of William's and Heath Ledger's daughter Matilda, Phillips was named her godmother (while Ledger's "Brokeback" co-star Jake Gyllenhaal was named godfather) (via Vulture). Sadly, only a few years later, Ledger passed away. During this time, Phillips stayed by Williams' side, even living with her in Williams' Boerum Hill apartment, as did Williams' mom, Carla Ingrid Williams.
And a few years later, when Williams needed moral support during her filming of the dark romance "Blue Valentine" (which she co-starred in with Ryan Gosling), it was once again Busy who she called (via PopSugar). And, of course, it works both ways, too: When Phillips' popular show "Busy Tonight" was canceled, Phillips was there for the final show — and she even got Matilda's approval to be there (via Us Weekly).
"Tonight is actually opening night of my daughter's school play. And what I said to her, 'Listen, Aunt Biz needs me. Are you cool if I just come to the middle and the ending?'" Williams, 38, began, referring to her 13-year-old daughter Matilda. "She was like, 'Mom, absolutely. Get on that plane, of course," Williams recalled on air, before sharing that Matilda then asked her "Mom, why are you guys such good friends? You're so different."
20 years later and the two are still creating the mold for how to maintain a friendship in Hollywood.