The Biggest Mistakes You're Making With Over-Processed Hair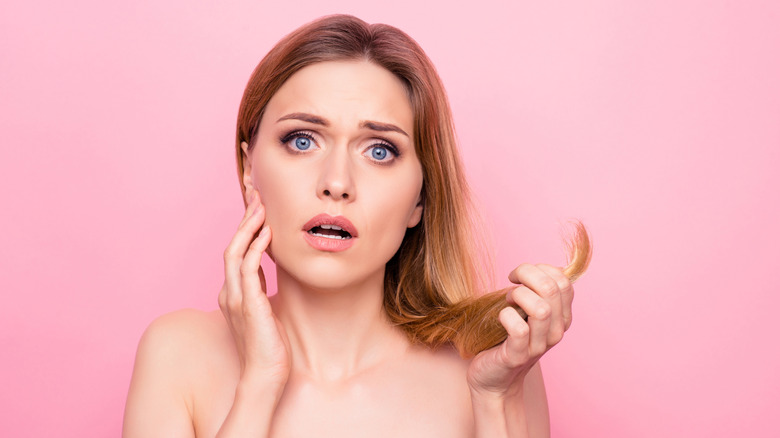 Shutterstock
Going to the salon always makes us feel incredible. Whether we're getting glossy highlights or just a voluminous blowout, there's just something about having your hair look beautiful that instantly makes your day better. However, our mane can definitely take a beating with everything we do to it like using bleach, coloring it and using hot tools for styling. 
The easiest way to know if you've caused damage to your locks is if they look and feel dry when you run your fingers through them, according to Healthline. Another sign is if your hair has quite a few flyaways that you just can't seem to get rid of. Your tendrils may also take on a different texture that can look crimped or curly. If this sounds like you, don't worry, there's a way to fix your over-processed strands. Expert hair stylists explained to Huda Beauty that the biggest mistake you're making is not protecting your tresses with the right products.
Products to help repair your damaged hair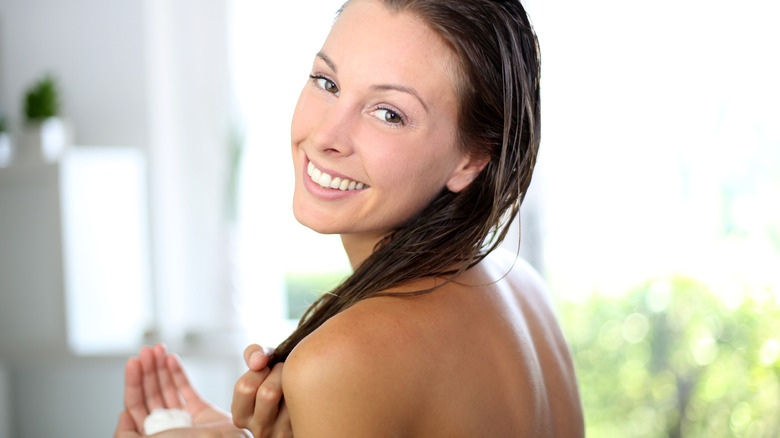 Shutterstock
Celebrity hair stylist, Ted Gibson, told Huda Beauty the best way to help repair your mane is to give it a break sometimes. "Do not over process — [which includes processing and coloring] — and do not excess heat style," he explained. "Also, stop putting it in really tight ponytails or putting it in a ponytail when its wet and make sure you're using the right products to strengthen it." Gibson recommended using a product that will hydrate and strengthen your hair like R+Co's Palm Springs Treatment Mask, which contains butter and oils that will instantly leave your hair looking shiny and new again. 
Before you take out your straightener or curling iron, it's also important to first protect your locks. The hair expert suggested using a product like Drybar's Hot Toddy Heat Protecting Mist, which can protect your tendrils from heat as high as 450 degrees Farenheight. Lastly, another full proof method to silkier strands is to limit how much you're styling your hair. We know it's tough to put down that blow dryer, but if you let your hair air-dry naturally, it will make a world of difference.