Why Lizzo's Bold Birthday Dress Still Has People Talking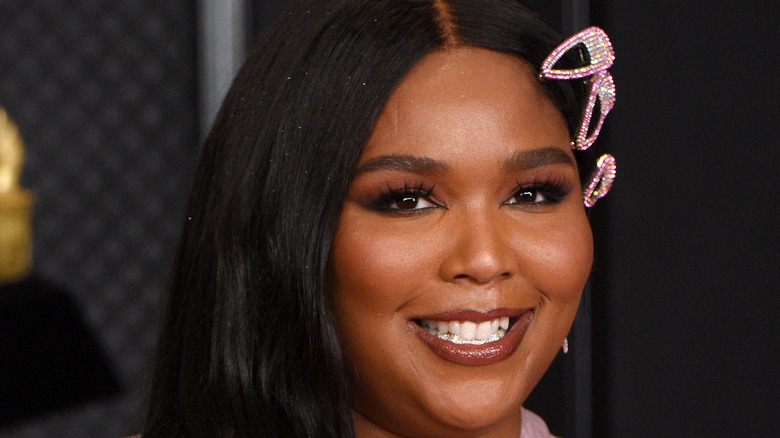 Kevin Mazur/Getty Images
It's a well-known fact that Lizzo – who has a stunning net worth — is the queen of all queens, and ever since she topped the charts with her certified bops like "Truth Hurts," "Juice," and "Good As Hell," the eight-time Grammy Award nominee and three-time winner (via Grammy) has been truly living her best life, and we love to see it! On top of being one of the most popular (and successful) artists in the business right now, Lizzo — who's had a stunning transformation – is also known as one of the most relatable celebs around, and fans fell even more in love with her when she started becoming more outspoken about the body positivity movement and her health journey.
"It may come as a surprise to some of y'all, that I'm not working out to have your ideal body type. I'm working out to have my ideal body type," she said in a TikTok video in June of 2020 (via Independent). She continued, saying that no matter the criticism she receives, she knows that she's beautiful, strong, and good at her job. 
"So next time you want to come to somebody and judge them, whether they drink kale smoothies or eat McDonald's or work out or not work out, how about you look at your own f****** self and worry about your own goddamn body, because health is not just determined on what you look like on the outside," she said. Say it louder for the people in the back. 
Lizzo showed off her incredible curves in a statement-making birthday dress in April
In celebration of her 33rd birthday, Lizzo took to Instagram to show off her amazing body in a Roberto Cavalli dress designed by Fausto Puglisi, which she wore while strutting her stuff around Sin City (via Cosmopolitan UK). The stunning black dress, which had animal print details throughout, featured a risqué high-low cut, gold animal teeth detailing, and skinny straps adorned with studs. The singer finished off her look by adding large gold hoop earrings, gold bracelets, and strappy black sandals with a low heel. 
Fans couldn't stop gushing about Lizzo's Vegas birthday ensemble in the comments of one of her birthday Instagram posts, with one fan telling the award-winning artist, "You are so gorgeous my gosh!!" and another saying, "Wheww hot girl birthday." Tons of fans also left strings of fire emojis and hearts in the comment section of a separate post, which garnered over 570,000 likes at the time of this writing.
However, some fans had a bone to pick with Lizzo's birthday getup, as a few eagle-eyed social media users noticed that her baby toe was sticking out of her strappy heels. "Sooo pretty but I just want to tuck your toes back into the bottom strap," one fan wrote, while another fashion critic added, "It's the lack of containment of them toes for me. Everything else [fire emoji] tho." All we have to say it this — don't come for Lizzo, she's a queen who always serves looks.