This Celebrity Has Harsh Words For Jim Carrey's Acting Method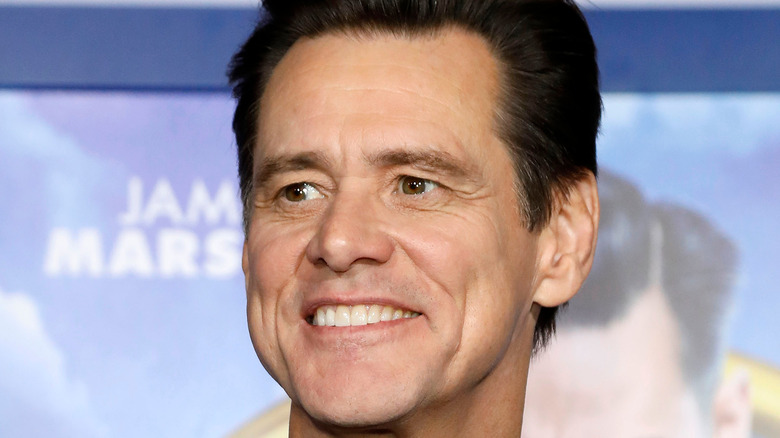 Shutterstock
Actor Jim Carrey has had a fascinating career, full of blockbusters as well as flops. And throughout every film he's been in, it's clear that he puts his heart and soul into his work – but not everyone agrees that this is a good thing. 
A very popular and effective form of acting is called "method acting," in which actors train and study beyond normal convention, pushing themselves to portray their character in an attempt to literally become them. Some of the pioneers of method acting include Leonardo DiCaprio, Kate Winslet, Robert De Niro, and Heath Ledger, (via Collider). Carrey is amongst the A-List actors who have adopted the intensive yet incredibly effective form of acting, but for Carrey, he had received much criticism for the odd behavior that accompanied it.
Martin Freeman recently slammed Carrey for his intense and bizarre character choices in the 1999 film "Man on The Moon," testing the patience and limits of everyone on set.
Here's why Martin takes issue with Jim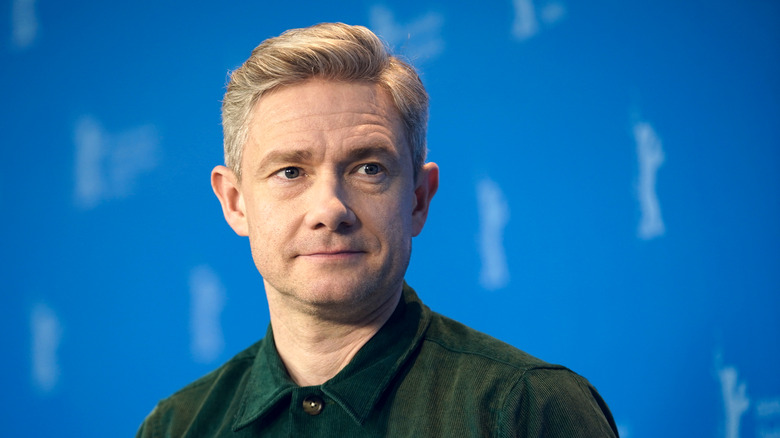 Shutterstock
According to The Daily Mail, Jim Carrey spent over four months embodying the late comedian Andy Kaufman, allegedly never breaking character. Speaking on the "Off Menu" podcast, Freeman opened up about his thoughts on Carrey's acting style, believing it to be less method acting, and more madness.
"For me, and I'm genuinely sure Jim Carrey is a lovely and smart person, but it was the most self-aggrandizing, selfish, f**king narcissistic b**locks I have ever seen," Freeman revealed, (via ET Canada). "The idea that anything in our culture would celebrate that or support it is deranged, literally deranged."
A 2017 Netflix documentary titled "Jim & Andy: The Great Beyond" follows Carrey on set of the 1999 film, documenting the lengths that he went to in order to become Kaufman. In a trailer for the  documentary, Carrey explains that he felt drawn to Kaufman, and was intrigued by the way in which he "turned reality on its head and [would] not stop when the camera stopped." He added that Kaufman's acting style "blew [his] mind." But Freeman was less impressed, saying, "You're not supposed to become the f**king character," per The Daily Mail, adding that it was "highly amateurish" for him to have gone so far.
Martin isn't the only actor who takes issues with Jim's acting methods
Martin Freeman isn't the only person who was made uncomfortable by Jim Carrey's dramatic method acting. 
According to Buzzfeed, actor Paul Giamatti, who played Bob Zmuda in the 1999 film in question, believed his experience alongside Carrey was especially bizarre. "It was a very strange experience," confessed Giamatti. "It was one of the weirdest experiences I've had making a movie, to be honest with you. It was just wacky. Jim was wacky during it."
He proceeded to explain that Carrey would carry cheese around in his pockets when he was acting as Tony Clifton in the film, and of course it smelled "horrible." He would allegedly hug and touch people while smelling of cheese, making the entire cast and crew incredibly uncomfortable. But this, according to Giamatti, was "the least of it."
Freeman told the "Off Menu" podcast that he believes Carry should have been fired for his actions. "You need to keep grounded in reality and that's not to say you don't lose yourself in between action and cut but the rest of it is absolutely pretentious nonsense," Freeman asserted, (via ET Canada). "Can you imagine if he had been anybody else? He would have been sectioned, let alone fired. He would have been got rid of. It's the ridiculous leeway given to some people."