Adele's Outfit For Her 33rd Birthday Still Has People Talking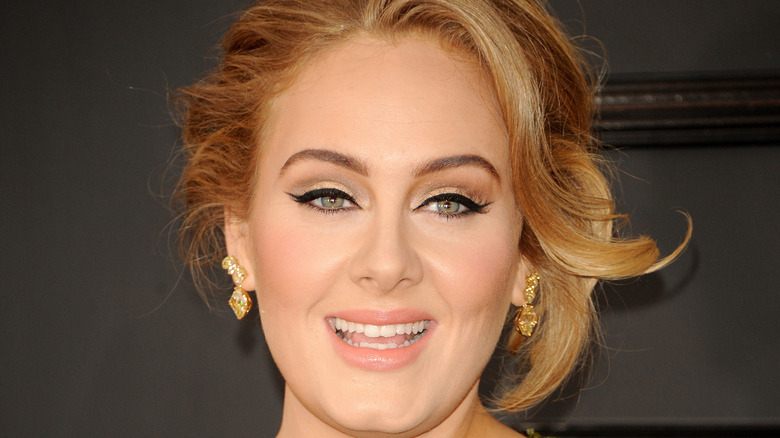 Shutterstock
Adele turned 33 at the beginning of May 2021. On her birthday, she shared some rare snapshots of herself celebrating another year around the sun and people are still talking about her outfit.
The Grammy Award winner captioned the three images, "Thirty Free." The first is a beautiful black-and-white shot of her smiling. The star's golden locks are loose and she looks content. In the second picture, Adele is enjoying a swim in what Hello magazine describes as a "long-sleeved Pucci-style swimsuit and sunglasses." In the third super candid shot she's twirling, her hair and tie dye dress kicked out.
Off of social media, Page Six outlines that the "Rolling In The Deep" singer has gone on a tropical island getaway to celebrate her birthday. The destination is unknown and many fans will recall, the "Someone Like You" performer has taken a break away from social media throughout 2021, per Elle.
On her Instagram, fans showered her with well wishes and noted how happy she looked. One user wrote, "we stan" and added underneath "we love a self loving queen." Another pointed out that the last picture of her dancing by a staircase in an off-the-shoulder dress and hoop earrings looks like a real-life image of the dancing girl emoji!
However, some took it as a chance to remind Adele that her fans are very ready for a new album. One wrote, "where's the album though?" and got nearly six thousand likes. Another said, "thirty, release the damn album, free."
Adele's birthday was packed with throwback pictures
Fans and famous friends flocked to Adele's Instagram post to wish her the most magical birthday. "Stranger Things" actor Millie Bobby Brown wrote, "I love you. That's all." Ella Henderson said she looked "so pretty" and Ellen DeGeneres joined fans calling for new music and wrote, "Happy birthday! I hope that's the name of your next album."
The love didn't stop there of course. Best friend and author Laura Dockrill shared a surprise picture of the pair dressed in full costumes. Dockrill is dressed as Beetlejuice while Adele takes on George Michael. She captioned the photo, "Make sure you BFF with someone that also goes to fancy dress parties not dressed as a sexy cat. [Fulfill] the brief. Nail the assignment. (Flat shoes for life) I love you so much happy birthday."
Adele's friend Michael Ashton also posted a series of personal pictures of the pair over the years. He wrote, "Happy birthday Dusty @Adele How did we think Blackberry pics were ok ?!?! Make up, memories and magic moments."
Alongside her trio of birthday shots, Adele celebrated yet another milestone. Posting a picture of the "21" album cover she wrote, "Well I never! Happy 10 years old friend! It's crazy how little I remember of what it was like and how I felt a decade ago. But thank you from the bottom of my heart for letting us into your lives and letting me be a soundtrack to some of it."
She's taken a social media break after hosting SNL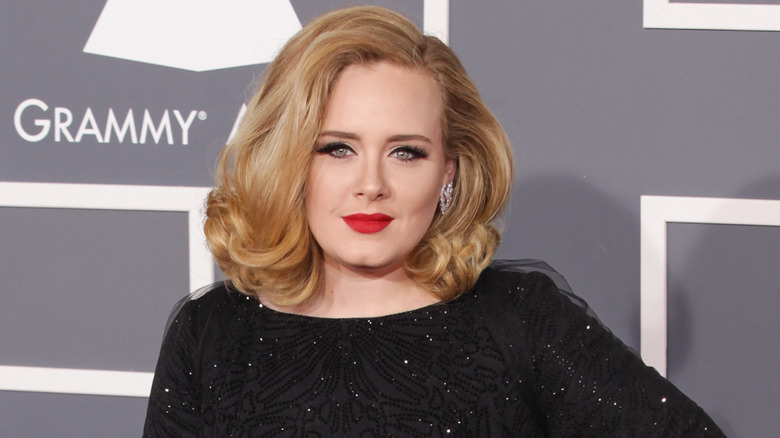 Shutterstock
Elle noted that Adele has had a pretty quiet 2021 when it comes to her public profile. It was reported that she attended Daniel Kaluuya's Oscars after-party along with Drake. In a clip shared on a fan Instagram, the "Hello" singer wore a chic satin mustard outfit singing along to Ja Rule and Jennifer Lopez's 2001 hit, "I'm Real," and having a laugh with the people around her.
Prior to this, she hasn't been seen publicly since Oct. 2020 when she did a stint as the presenter on "Saturday Night Live." Speaking about her experience on Instagram she said, "I did it for the joy of it and I hope you got some from it too! Good luck with the election America I love you so much. Look after each other."
However, the BBC outlined that during her opening monologue she cleared a lot of things up. She said the reason she wasn't there as the musical guest is because her album isn't finished yet, suggesting there is music to come. Fans also got to see her perform live unexpectedly during "The Bachelor" skit where she was the least liked contestant because she wouldn't stop belting out the ballads.
In a comedic nod to her previous albums, she said during the skit, "I'm here because I've had a lot of heartbreak in my life — first at 19 and then, sort of famously, at 21 and then, even more famously, at 25."